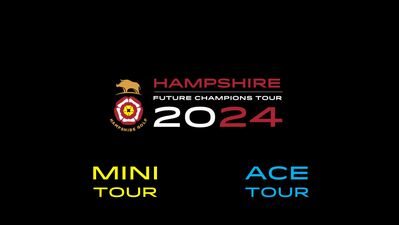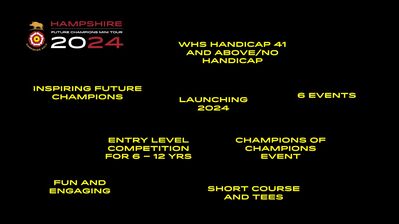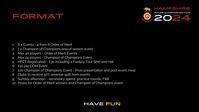 The Hampshire Junior League and Academy League tournaments were concluded at Romsey Golf Club on Wednesday 22nd August. Over the summer months teams from Barton-on-Sea, Bramshaw, Romsey and Wellow have competed at each venue with almost 40 young golfers playing in each match.
The Hampshire Junior League tournament finished with Bramshaw Golf Club taking top spot, remaining unbeaten throughout the season. The Bramshaw Team (photographed below) will compete in the 'Junior Team Golf' Regional Final at High Post GC on the weekend of 08/09 September. Runners-up, Barton-on-Sea will travel to Essendon to compete in their Regional Final.
The Bramshaw Team is pictured here (left to right):
Ben Mayes, Jake Barney, Ciaran Simpkin, Danny Coombs, Joe Buenfeld (Captain), Elliot Thomas and Sam Talbot.
Not playing in the last fixture, having helped the team win the League are Ryan Archer, Dan Clack, Declan Mason and Anthony Sweeney.
The Hampshire Junior Academy League was established in 2017 to enable our youngest juniors, with handicaps up to 54 to have an opportunity to represent their Golf Clubs and develop their golfing skills on different 'shortened' golf courses. Each junior game has an 'Adult' chaperone to help them learn the rules, etiquette etc and generally support and help them enjoy their golf. The 2018 tournament was won by Romsey for the second year in succession with 5 of the squad shown below holding the trophy and their medals.
Pictured below are (left to right):
Jackson Goodhind, Lily Stroud, Daniel Parkin, Hannah Pennells and Arjay Sharma.
In addition, other young Romsey players to have helped the team to win the Academy League are:
Alfie Gregory and Jack Male
Order of Merit awards were presented for best Scratch performance and Handicap performance over the season's fixtures and the winner of both categories was Romsey's Aaron Danson (pictured left).
In the Handicap category, Danny Coombs (1st) and Elliot Thomas (2nd) took the honours (both pictured above).
After 2 years in being, the Hampshire Leagues are still in their infancy and we will be looking to encourage other Clubs to introduce 'academy golf' and enter the Junior Academy League. In addition, we will seek to add one or two Clubs who actively support their juniors to join the Hampshire Junior League in 2019.
We would also like to thank Hampshire Golf Union which has supported and sponsored the Leagues again in 2018. With the original concept of the two leagues being to support those Clubs who genuinely support and grow their Junior Sections, I am pleased to say that this approach will continue for the 2019 season.
Nev James - Hampshire Leagues Organiser, Bramshaw Junior Organiser