Under 12 squad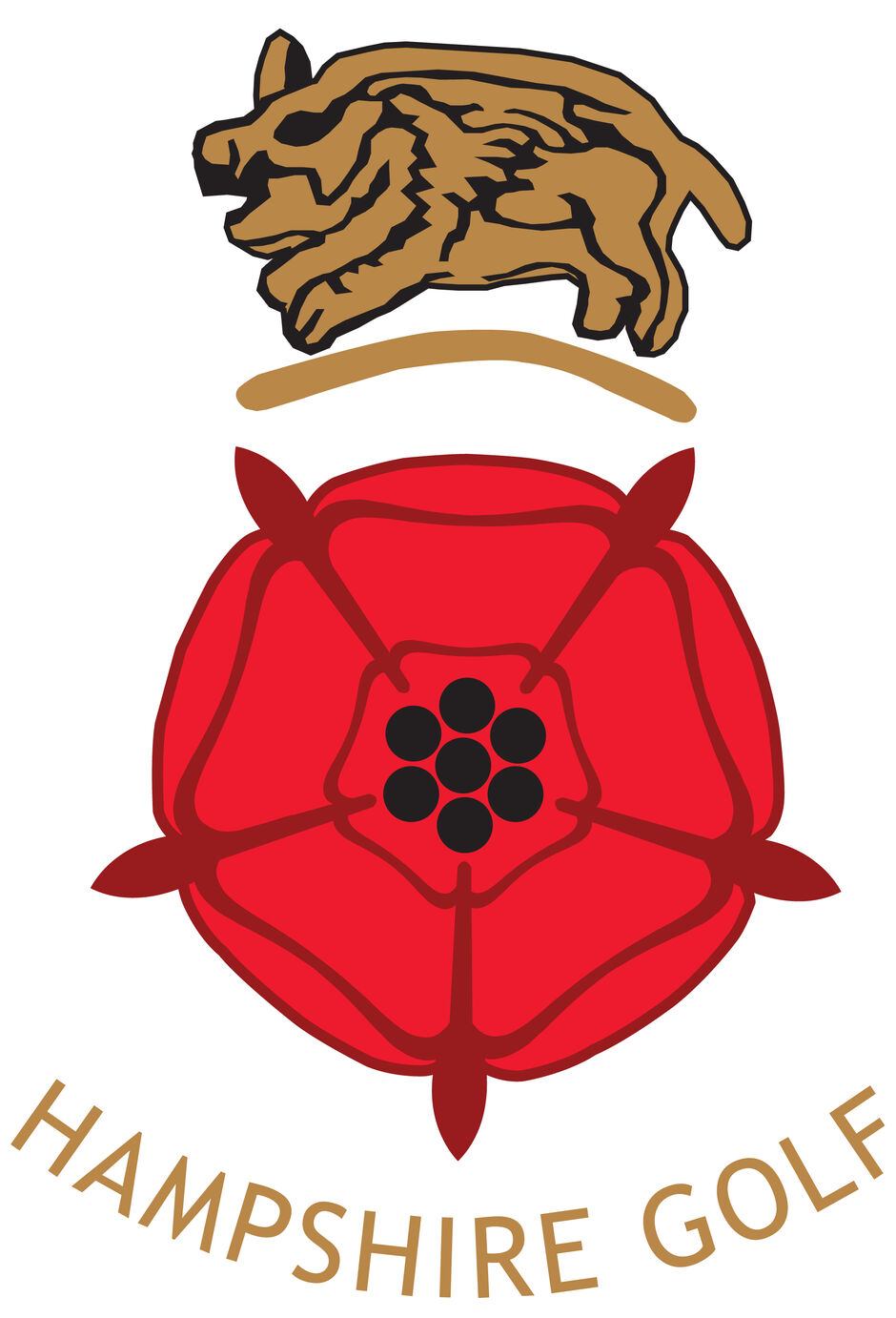 ​


Hampshire U12 Squad 2020



​

Albie Beeston

North Hants Golf Club










​

Jack Elkins

Bramshaw Golf Club










Harry Ayton-Judd

North Hants Golf Club










Harry West

Brockenhurst Manor Golf Club










Alfie Gregory

Romsey Golf Club










​

Sami Almond

Sandford Springs Golf Club










James Redfern

North Hants Golf Club









North Hants Golf Club










Brandon Cordingley

Barton On Sea Golf Club










Ivo Rees

Barton On Sea Golf Club










Fred Gill

Bishopswood Golf Club










Taylor Chandler

Boundary Lakes Golf Course










Connor Babington

Corhampton Golf Club









Goodwood Golf Club



Cams Hall Estate Golf Club










​

Jayden Cole

Rowlands Castle




​ ​



Hampshire Junior Selection Structure



Inspired to play golf for your county?
If you are then check out the Hampshire Junior Selection Structure that shows how you can go from playing club golf to training with and representing your county. Our advice is simple, partake in regular coaching, play competitions at your club, regionally and nationally where possible and you could be in with a chance of playing at county level.
Each year a selection day for each age group takes place allowing the coaches and managers to select the squad for the following year.
Being part of a Hampshire Squad gives you:
Hampshire County matches and practice rounds
Training Days with the squad comprising of coaching on all aspects to support and develop your game and course practice with Order of Merit and Ryder Cup
For more details contact Richard Beeston U12 Manager
richard.beeston@vodafone.com
2020


Matches


Coming Soon...


Training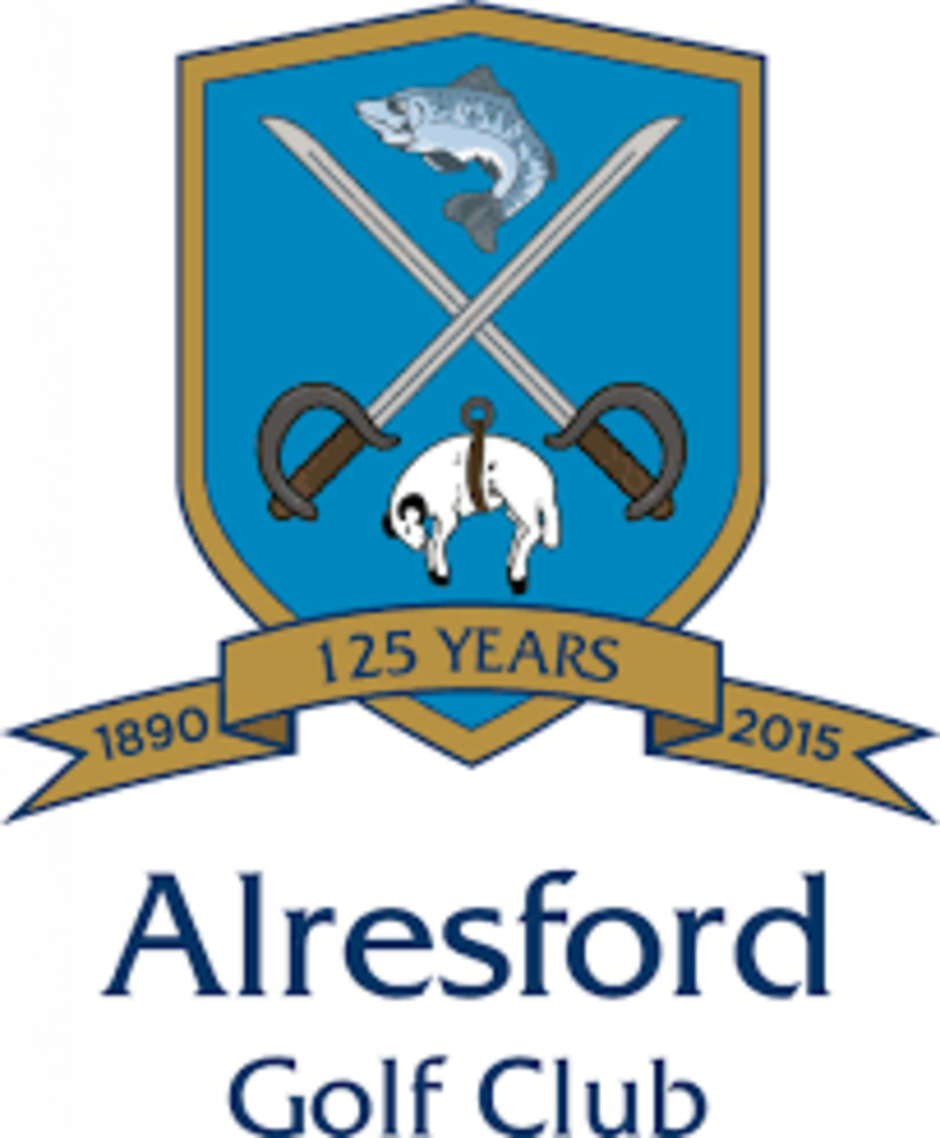 Huge thanks to Alresford Golf Club for hosting and supporting the Hampshire Under 12 squad


Hampshire U12 Coaching Schedule 2020
COVID-19 UPDATE
Due to ongoing COVID-19 lockdown mesaures that have been put in place it has been decided that no further training will take place for the Hampshire U12 squad. A selection day for the 2020/2021 squad will be arranged in the Autumn.
The team manager will be in touch with news of plans for 2020/2021 when finalised. In the meantime we encourage you to play as much as you can, get involved with the Hampshire Lockdown Order of Merit and keep enjoying your golf.
News/Information
Hampshire Lockdown Order of Merit 2020
Following on from the Hampshire Stay Home Stay Safe Challenges we've put together a new challenge for all Hampshire Squad players to play in on a weekly basis starting June 20th 2020.
We're running a Hampshire Lockdown Order of Merit so players can still compete against others within the county not only in their age group but also in an all ages Top 10.
The format is really simple and will operate in the following way:
Step 1
Enter via your Hampshire Squad What's App group or email if you don't have access by simply declaring the day before you play date/course/playing partner before you play. If possible play with another Hampshire Junior or Adult
Step 2
Play the round and submit your completed scorecard via What's Appor Email by attaching a photo or screenshot of the card along with confirmation of score (Nett and Gross)
Step 3
All age group results will be shared via Hampshire Facebook and What's app as well as an overall Order of Merit.
We hope this will be a great competitive addition to the players golfing experience and provide some extra motivation to improve their game playing against the best players in Hampshire.
Below is a FAQ's sheet to cover any questions you may have with all information available on Hampshire Facebook link below: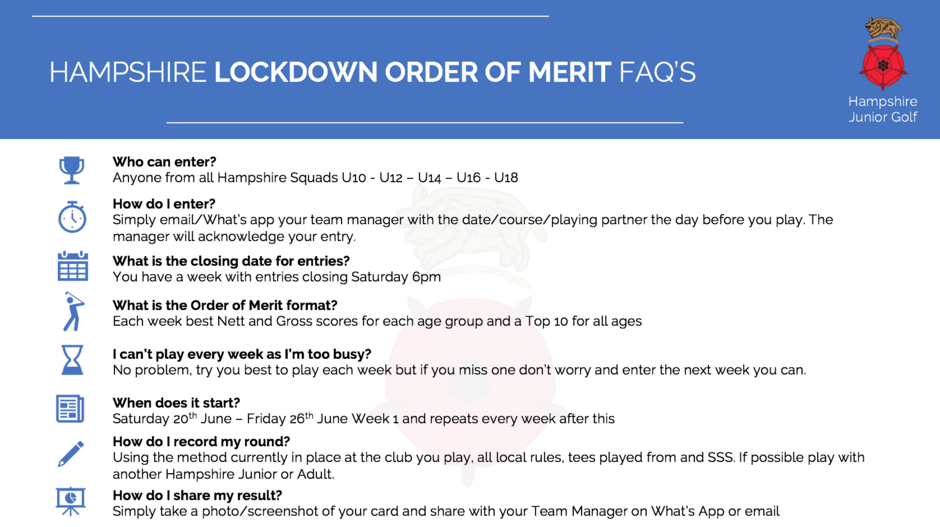 https://www.facebook.com/hampshiregolf2019/
If you have any questions don't hesitate to get in touch with your team manager otherwise we look forward to welcoming you to the Hampshire Lockdown Order of Merit and an exciting few weeks ahead!
Hampshire Lockdown Order of Merit 2020
Results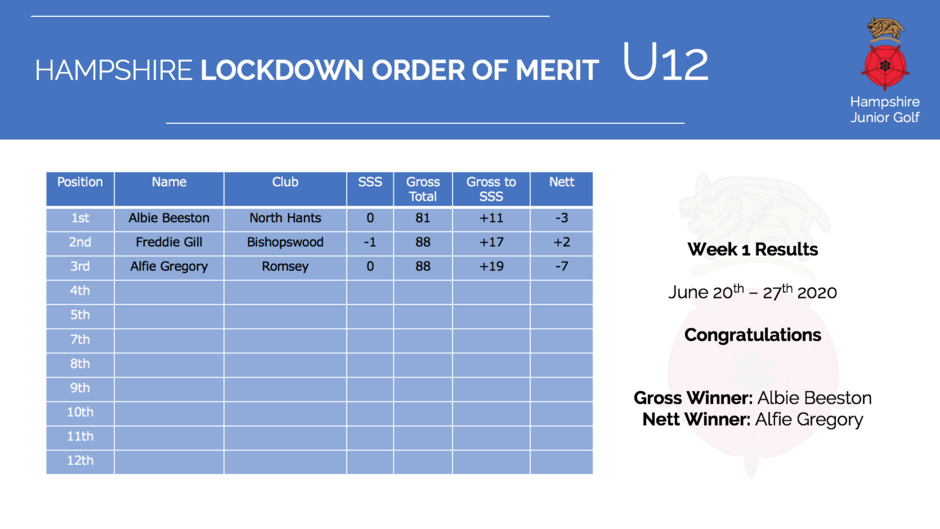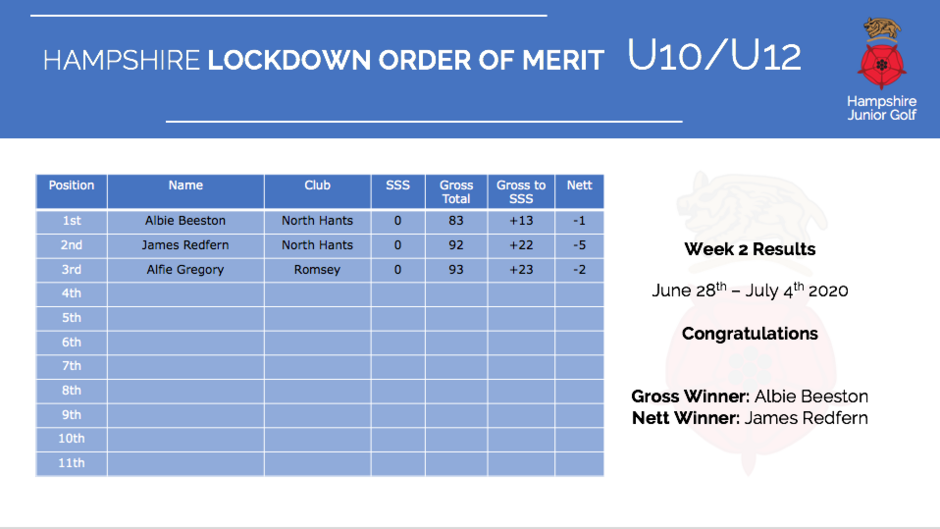 ​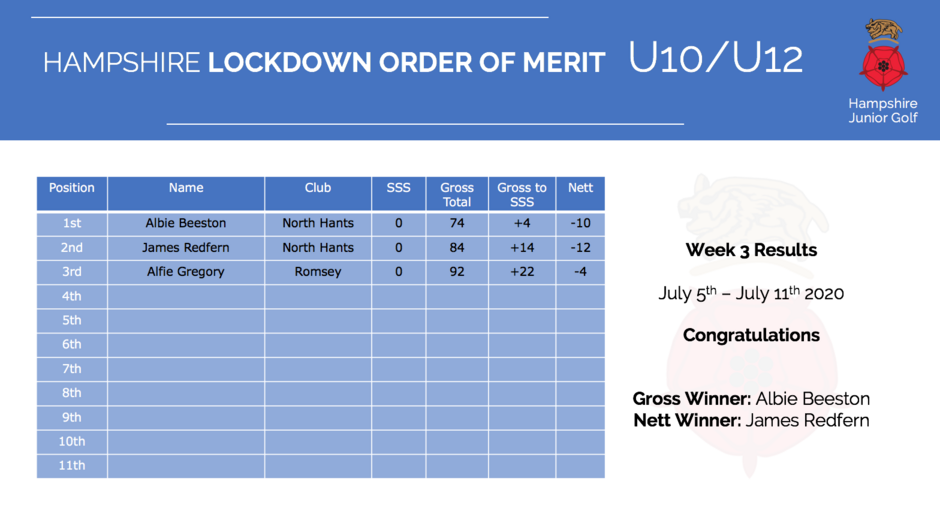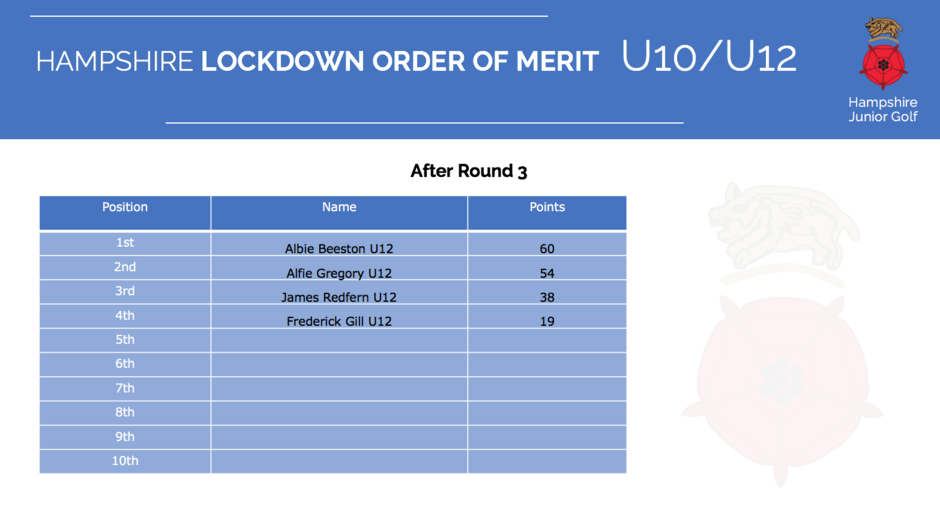 ​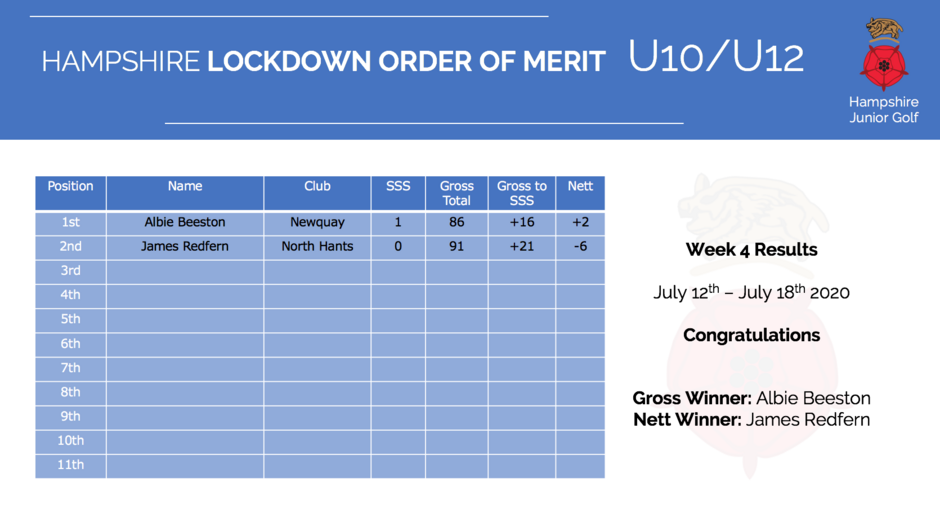 ​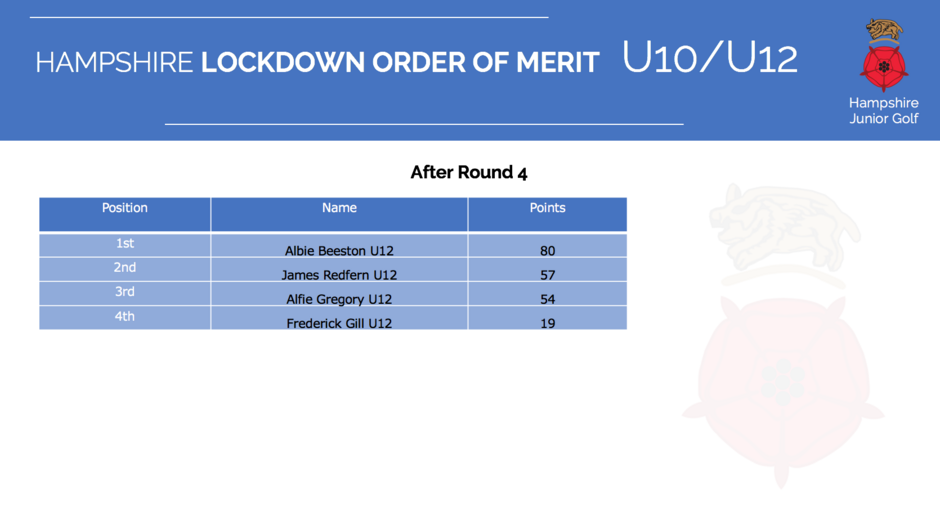 ​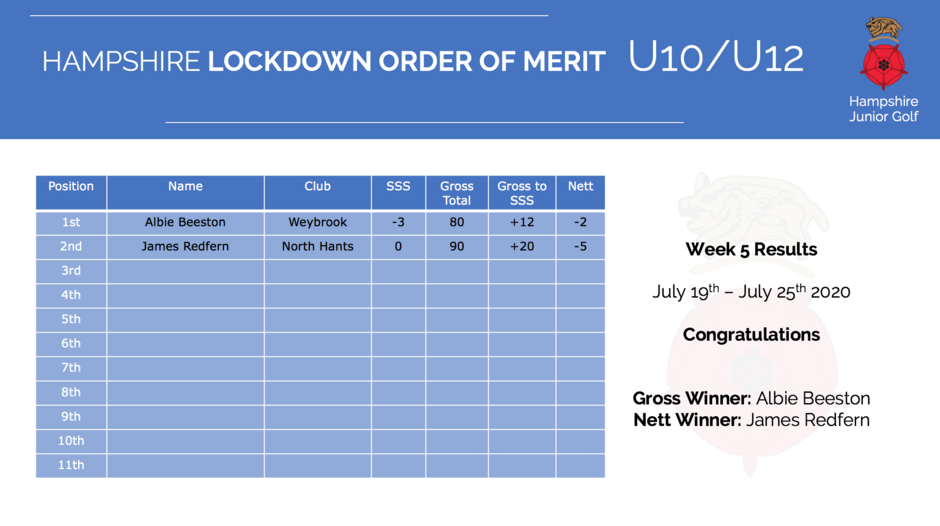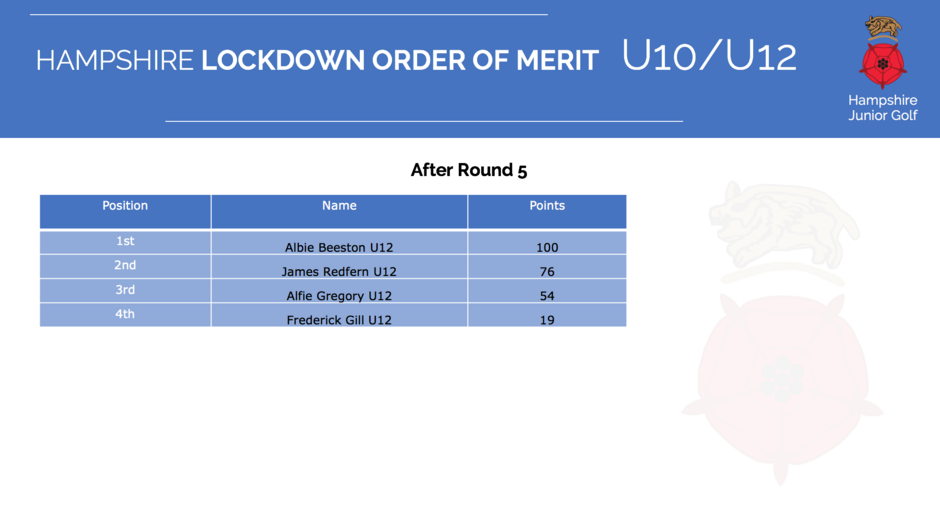 ​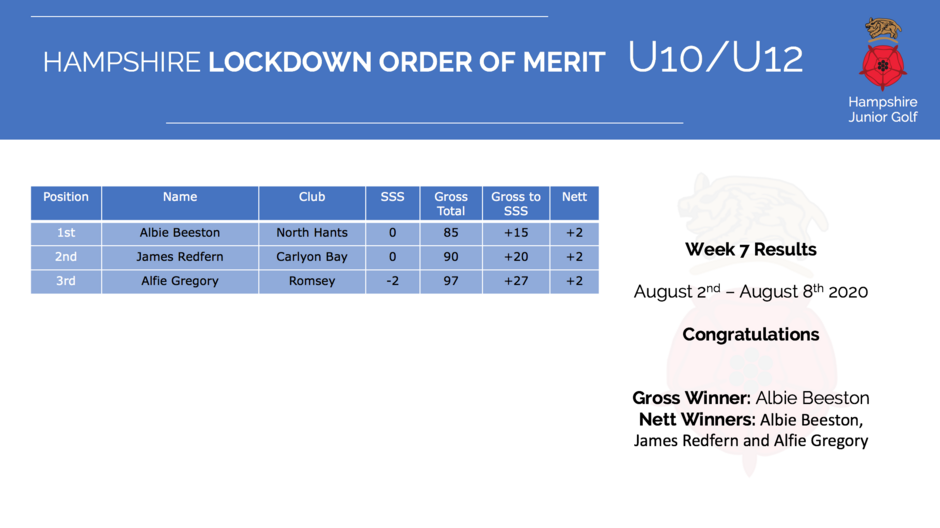 ​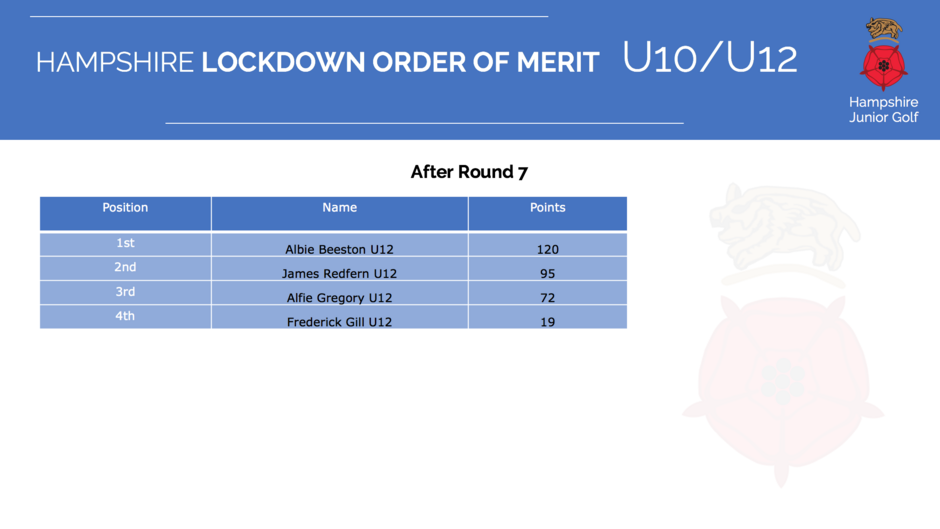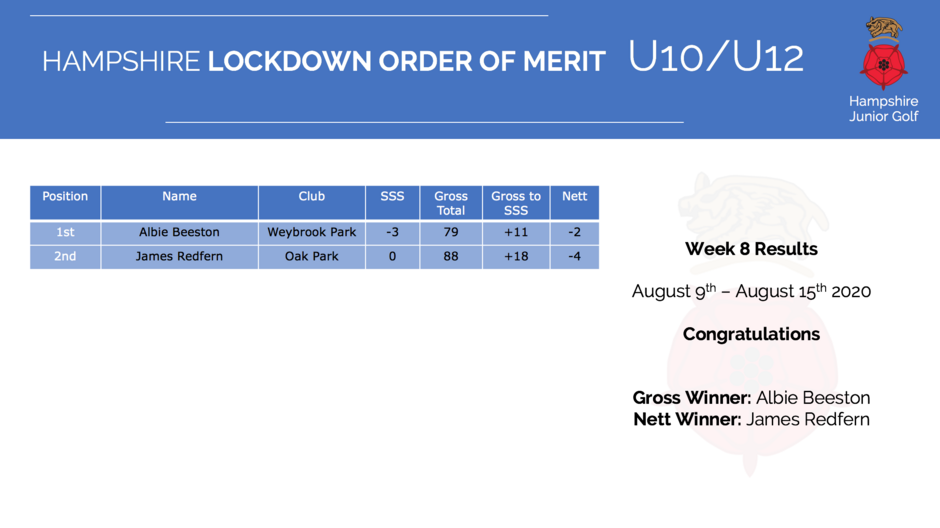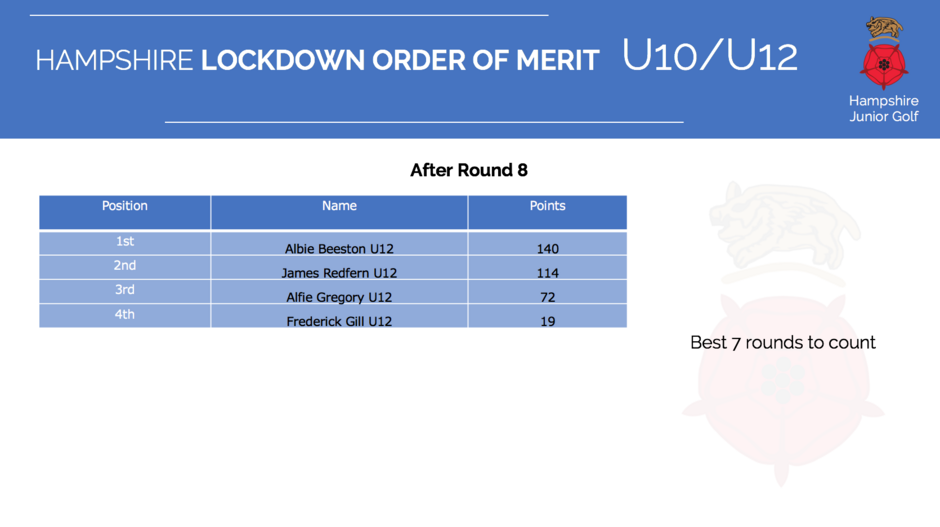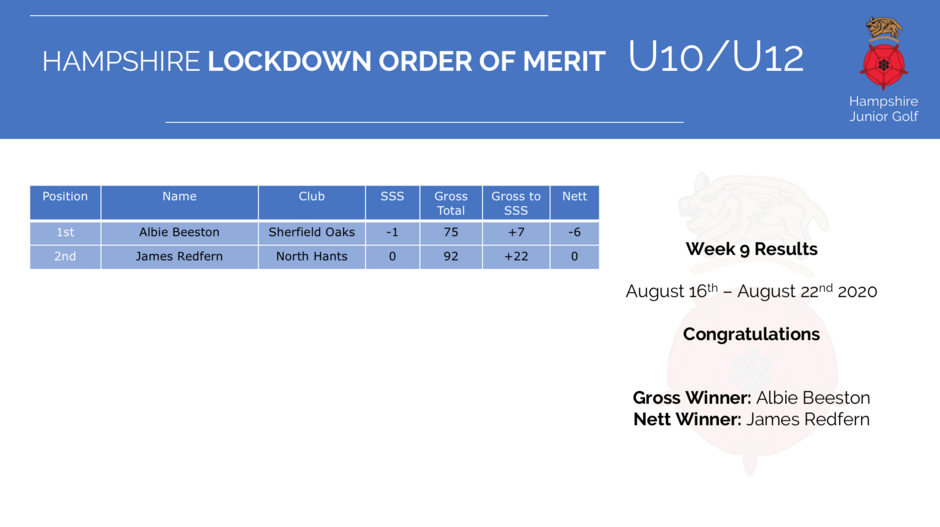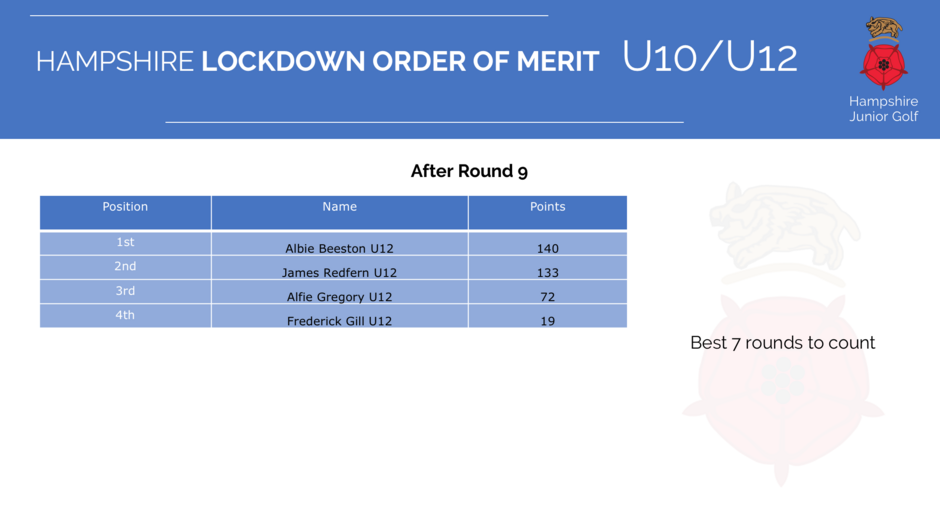 ​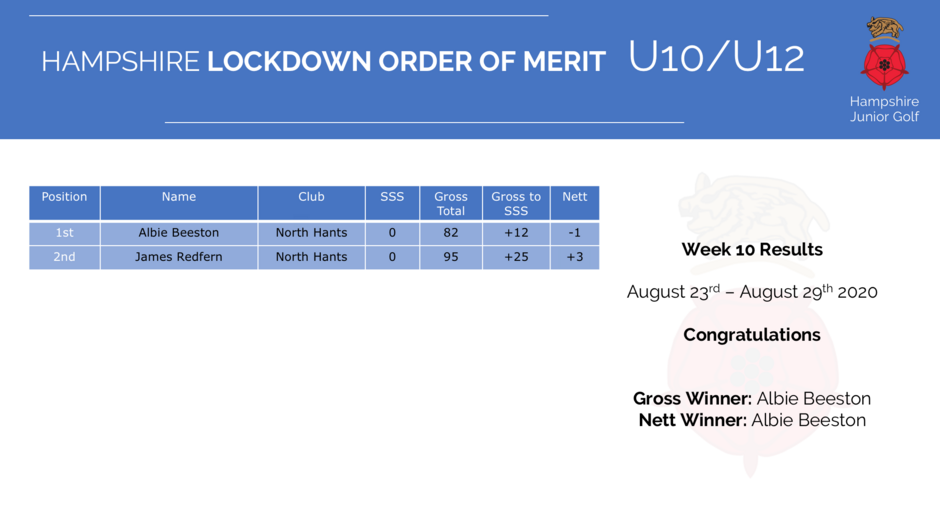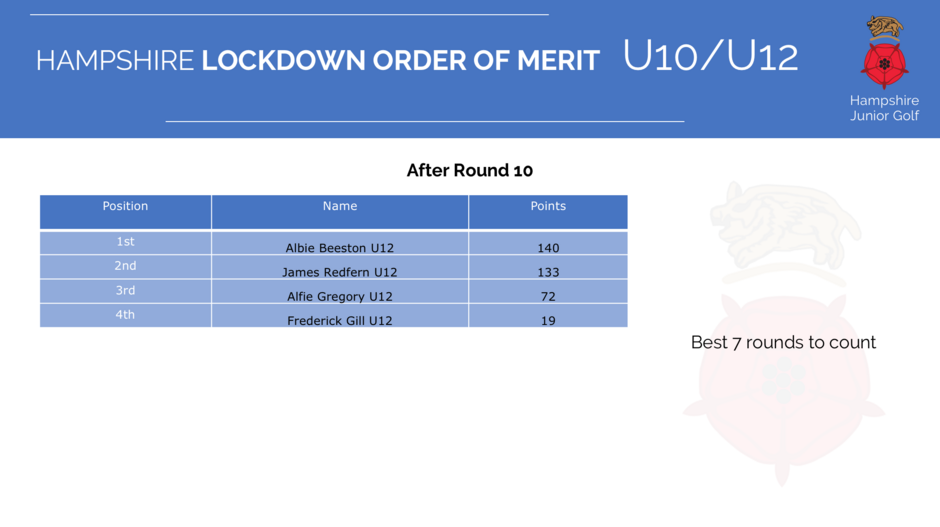 As we look forward to the 2021 season check out the Hampshire Golf Junior Tour dates:
Coming soon...