Under 14S

Hampshire U13s versus Surrey

Chobham Golf Club hosted the final Under 13 match of the season.

The course was beautifully turned out. The teams were very evenly matched and hopes were high. The courses mix of challenging holes would turn out to be a tough test for the Hampshire Team.

Nick Matthews and Tom Chalk got out to a quick lead playing sub-par golf going 2 Up before getting pegged back by Surrey hitting back to back birdies on 8 and 9. The match stayed level until the Hampshire boys got a head on 16 and winning 2 Up on 18. Drew Mackinnon and James Hellyer were looking string 1 Up through four until a 3 put broke their momentum, Surrey ceased their chance and got to 4 Up at the turn, the Hampshire boys dug in and never gave in, winning the back nine and having a put to level the match on the 18th but it was not to be.

Will Green and Josh Mulcahy were down at the turn and rallied to mount a spirited fight back, but just could not peg back their opponents, eventually going down 3&2. Jeremy Brown and Michael Fisher were down at the turn and again tried to get back on terms, but the putts just were not dropping for them, losing out 4&3. Harvey Simpkins and Quinn Bellew were playing steady as they were all square at the turn, they stayed on terms trading blows with their opponents, narrowly missing out 2&1. The anchor pairing of Harvey Denham and Billy Lightfoot fought hard to be all square at the turn, then got to two up before Surrey missed a short putt to win the 15th and from then on in the match was theirs.

Unfortunately it was Surrey's day, as we struggled to make the putts at crucial moments in the match. As we enter into the closed season, some work to be done on the practice ground to come out stronger in 2017.

Thanks to Rob Mulcahy for standing in as I hot footed it to the airport. Sorry for having to leave you guys. Well done for a great season Hampshire.

Result: Nick Matthews / Tom Chalk (Front Halved, Back Won) Match won 2 Up Drew Mackinnon / James Hellyer (Front Lost, Back Won) Match Halved William Green / Josh Mulcahy (Front Lost, Back Lost) Match Lost 3&2 Jeremy Brown / Michael Fisher (Front Lost, Back Lost) Match Lost 4&3 Harvey Simpkins / Quinn Bellew (Front Halved, Back Lost) Match Lost 2&1 Harvey Denham / Billy Lightfoot (Front Halved, Back Won) Match Won 3&2

Surrey 15.5 Hampshire 8.5

Hampshire Under 14s versus Bishopswood Golf Club

The Under 14s took on a very strong Bishopswood Mens team boasting a number of single figure handicappers, the lowest off +1. The course was immaculately turned out, but the wind was always going to mix things up a bit. We were a man down at the start due to sickness. The Ever-Ready Rob Mulcahy stepped in to partner Tom Chalk.
All matches were extremely close. At the head of the field the Bramshaw pairing of Joe Buenfeld and Billy Lightfoot were neck and neck right to the end, Billy making a superb birdie on the 17th to leave them one up with one to play, which was enough taking the match 2 up. The seasoned veterans Sam West and Mitch Macarthur got out of the blocks quickly getting to 3 up, then were given a master class at their opponents hit birdie after birdie (-7 through last 11) to get to 1 up after 17th, they dug in a halved the match on the 18th. Tom and Rob just could not live with their opponents having so many shots, they dug in and ground it out, but came down to a few puts, losing out 3&2.
Josh and Tom were all square for almost all of the match, it could have gone either way, a late surge from their opponents saw them lose out 2&1. Drew and Will got themselves into a 2 hole lead and never looked like giving it up despite some superb putting from the Bishopswood Captain.
The match was halved, a good end to the Under 14 season.
Well done boys!!!
Joe Buenfeld / Billy Lightfoot Won 2up
Sam West / Mitch Macarthur Halved
Tom Chalk / Rob Mulcahy Lost 3&2
Tom Humphris / Josh Mulcahy Lost 2&1
Drew Mackinnon / Will Green Won 3&1
Match Halved 2.5 / 2.5


Hampshire Under 14s versus Sandford Springs GC Seniors
Match Report
On Saturday (3/9) Sandford Springs Seniors hosted the annual match versus the Hampshire Under 14s.
This match has been played for over 10 years and is usually the last match for the Under 14s in the season. The events sponsored by the Seniors themselves, who pay for the food and drinks themselves, this is greatly appreciated. It is always an excellent and competitive fixture. With a number of the Under 14 squad on holiday resting, it was a great opportunity to see a number of the boys that will be in contention for next year's squad in action.
The pairings a mix of experience and up and coming players. It is always going to be difficult against a team of wily senior on their own course. The guys gave the juniors a master class in keeping the ball in play down the fairway. The wind and the rain made conditions very difficult.
The Bramshaw pairing of Joe Buenfeld and Billy Lightfoot put up a great fight, both shooting below their handicaps, but it was not enough losing 5&4. Josh Caffyn with his Barton team mate Michael Fisher put in a captains performance with the boys trading blows and eventually winning 2&1. Sam West and Josh Mulcahy, both Under 14 regulars could not cope with the performance of standing Rob Mulcahy and his partner, losing out 7&6. Nick Matthews and debutant Will Green were 3 down at the turn, crawling their way back to halve the match with Will nailing a 7 footer pressure put on the last. James Freeman and Quinn Bellew played steadily to win 2 up on the last. Jamie Rodger and Tom Humphris were 4 down at the turn, fighting back but it was not enough, losing out 2&1.
Sandford Springs Seniors won the match 3.5 to 2.5. After the match Josh Caffyn gave a speech thanking Sandford Springs for a great day.
Results: Joe Buenfeld/Billy Lightfoot Lost 5&4 Josh Caffyn/Michael Fisher Won 2&1 Sam West/Josh Mulcahy Lost 7&6 Nick Matthews/William Green Halved James Freeman/Quinn Bellew Won 2 Up Jamie Rodger/Tom Humphris Lost 2&1 Sandford Springs win 3.5 to 2.5


Wiltshire U14 Elite versus Hampshire
A glorious day at the Salisbury and South Wilts golf club, Hampshire versus Wiltshire Elite Under 14. Our boys were ready to keep their stellar season going. It started somewhat bitter-sweet with Wiltshire only turning up with 10 players for a 12 player match, we gladly took the point but it meant that our rear gunners Sam West and Drew Mackinnon did not get to play a competitive game, the boys being seasoned veterans were at the back to ensure we had heavy artillery to bring us home if needed. Remember boys preparation is key, they failed to prepare. The Stoneham pairing of James Freeman and Mitch Macarthur lead the team out, fighting a very close match eventually losing 1 down on the 18th. It was a similar ding ding battle for Joe Buenfeld and Josh Mulcahy, all square down the last, Joe getting up and down brilliantly nailing a 6 foot put to half the match. Josh Caffyn and Nick Matthews were coasting at 2 Up and then turned the screw winning three holes on the bounce to win 5&4. Next up Joseph Green and Tim Chalk had shot out of the traps to be three up early on but got pegged back, holding on to win 2&1. The Hayling pairing of Max Clapp and James Hellyer, also got off to a good start building up a good lead, never let up winning 6&5. The boys were magnificent as has been their trademark this season, winning comprehensively 4.5 to 1.5.
Well done!!!!
James Freeman / Mitch Macarthur Lost 1 Down
Joe Buenfeld / Josh Mulcahy Halved
Nick Matthews / Josh Caffyn Won 5&4
Joseph Green / Tom Chalk Won 2&1
Max Clapp / James Hellyer Won 6&5
Sam West / Drew Mackinnon Walkover
Hampshire 4.5 Wiltshire 1.5
Hampshire Win!
Sussex Salver versus Sussex and Surrey
31st July 2016 at Stoneham Golf Club
Stoneham Golf Club hosted the Sussex Salver, a 3 way, 12 player team match, played off scratch.
The Salver was donated by Sussex Golf Union in 2003 and until now Hampshire had never won the trophy. Hampshire were the form team having beaten both Sussex and Surrey in the last Tri Series League match a month earlier. Surrey had vowed to get revenge for the league match and had a strong team out. The course was in superb condition, with lightening quick greens. Who could hold their nerve and take home the silverware.
James Freeman was back in the team after a long absence with a broken arm, he comprehensively beat Surrey, and narrowly lost on the last to Sussex. Sam West second out was imperious destroying Surrey, and beating Sussex on the 17th. Nick Matthews threw everything he could at it, but Surrey were playing sub-par golf and finally lost to Sussex on the 16th. Joe Buenfeld got back into the game turning it around, but narrowly lost on the 17th and 18th to Sussex and Surrey respectively. Tom Chalk was in good form, winning both his matches 3&2. At this point the scores were very close across all three team and it was clear it could go all the way. Next up Maxx Clapp, stayed steady trading blows with both players, he had beaten Sussex 4&3, and on the 17th nailed a 15 foot put to go up the last with a one hole lead, coming out on top. Josh Caffyn fought back from 5 down to taken his match with Surrey down the last, eventually losing out, and also to Sussex 2&1. Mitch Macarthur had an unbeaten record going into the match and did not disappoint bringing in maximum points again. Josh Mulcahy had built up a good lead only to see it pegged back, beating Surrey on the 17th, but losing to Surry on the last. Drew Mackinnon, captain for the day put up a strong performance beating Surrey 6&5 and Sussex 3&1. It was now game on, could it be Hampshire's day. Tom Humphris at the back on the field was walking in having lost against both Surrey and Sussex.
It was now down to James Hellyer and the Sussex versus Surrey result, if we were to get our hands on the trophy. He had won his match against Sussex and going down the last he was one up against Surrey. If he held on to win against Surrey, we needed Sussex to beat Surrey on the last, that match being all square. All players put their balls on the green for 3 on the par 5, James was first to put and put it close for a sure 5. Sussex had an 8 foot put to beat Surrey and we would be champions, they missed and Surrey and Sussex halved the last match.
This meant that Surrey and Hampshire had the same point in total and also versus each other, the trophy was shared for the first time in its history, and importantly it is the first time that Hampshire has its name on the Salver. Well done boys a great performance.
Full results: James Freeman (Stoneham) (Surrey - Lost 1 Down, Sussex - Won 4&3) Sam West (Liphook) (Surrey - Won 5 & 4, Sussex - Won 2&1) Nick Matthews (Meon Valley) (Surrey - Lost 6&5, Sussex - Lost 3&2) Joe Buenfeld (Bramshaw) (Surrey - Lost 1 Down, Sussex - Lost 2&1) Tom Chalk (Hockley) (Surrey - Won 3&2, Sussex - Won 3&2) Max Clapp (Hayling Island) (Surrey - Won 1 Up, Sussex - Won 4&3) Josh Caffyn (Barton-on-Sea) (Surrey - Lost 2&1, Sussex - Lost 1 Down) Mitch Macarthur (Stoneham) (Surrey - Won 4&2, Sussex - Won 2&1) Josh Mulcahy (South Winchester) (Surrey - Lost 1 Down, Sussex - Won 2&1) Drew Mackinnon (Southampton) (Surrey - Won 6&5, Sussex - Won 3&1) James Hellyer (Hayling Island) (Surrey - Won 1 Up, Sussex - Won 4&3) Tom Humphris (Basingstoke) (Surrey - Lost 5&4, Sussex - Lost 3&2) Hampshire 12 points / Surrey 12 points Hampshire 16 points / Surrey 8 points Surrey 16 points / Sussex 8 points Total: Hampshire 28 points / Surrey 28 points / Sussex 16 points Hampshire / Surrey Sussex Salver shared
Hampshire U14 versus Wiltshire
@ Bishopswood Golf Course on Sunday 26th June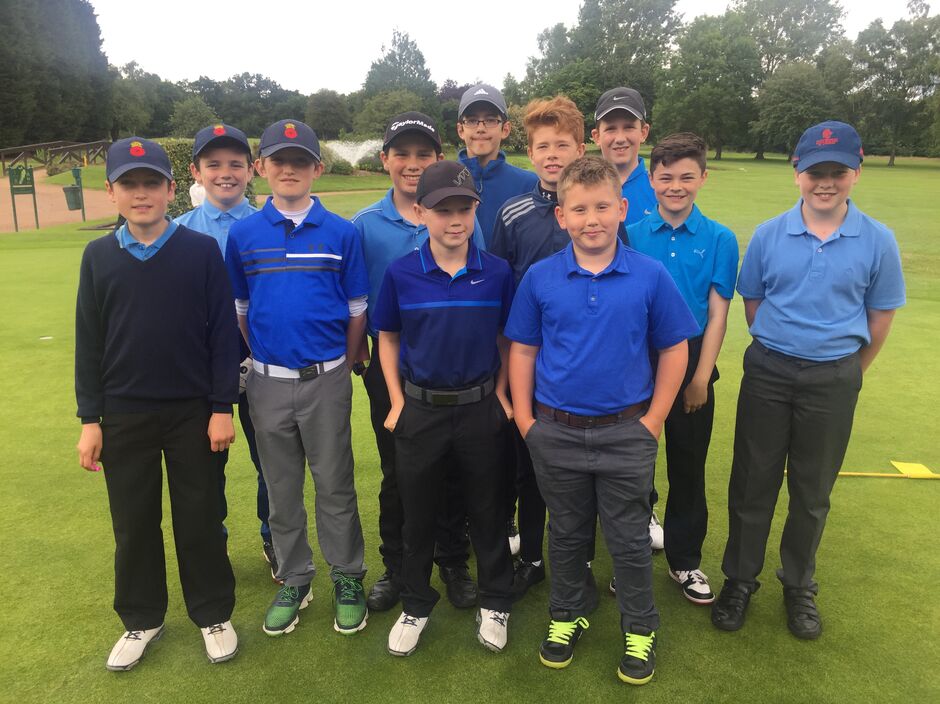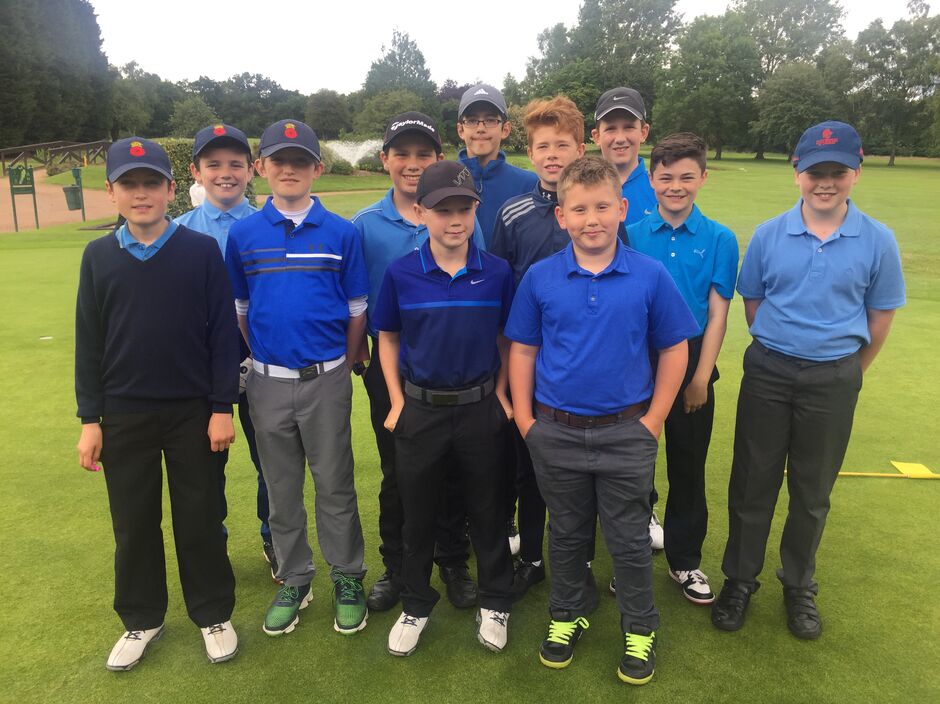 A talented team of Hampshire's up and coming Under 14s played against Wiltshire Development Team in a friendly at Bishopswood Golf Course, near Tadley. The course was immaculately turned out, a very tight and technical course, just perfect for the boys to show off their talents.
Four of the twelves boys were making their county debuts which is great to see. The matches were played in good spirits with the boys clearly enjoying themselves, and with a desire to win.
Some great golf was played, the boys giving their all. Harvey Hill and Sam Talbot showed great character to come back from 4 down to win 3&2. Tom Sweeney and Harrison Lakes fought right to the end, eventually losing on the last hole. In the last match out Quinn Bellew and Ayden Knights fought back from 2 down with three to play to take a half on the last.
All the boys played really well and are all worthy of a mention. Well done boys.
Cameron Beal / Max Edwards – Lost 6&5
Tom Sweeney / Harrison Lakes – Lost 1 Down
Dan Holdaway / Harrison Knights – Lost 3&2
Harvey Hill / Sam Talbot – Won 3&2
Harvey Denham / Bailey Riches – Lost 6&5
Quinn Bellew / Ayden Knights – Halved
Wiltshire win 4.5, Hampshire 1.5
League Hampshire versus Surrey and Sussex @ Petersfield GC on Sunday 12th June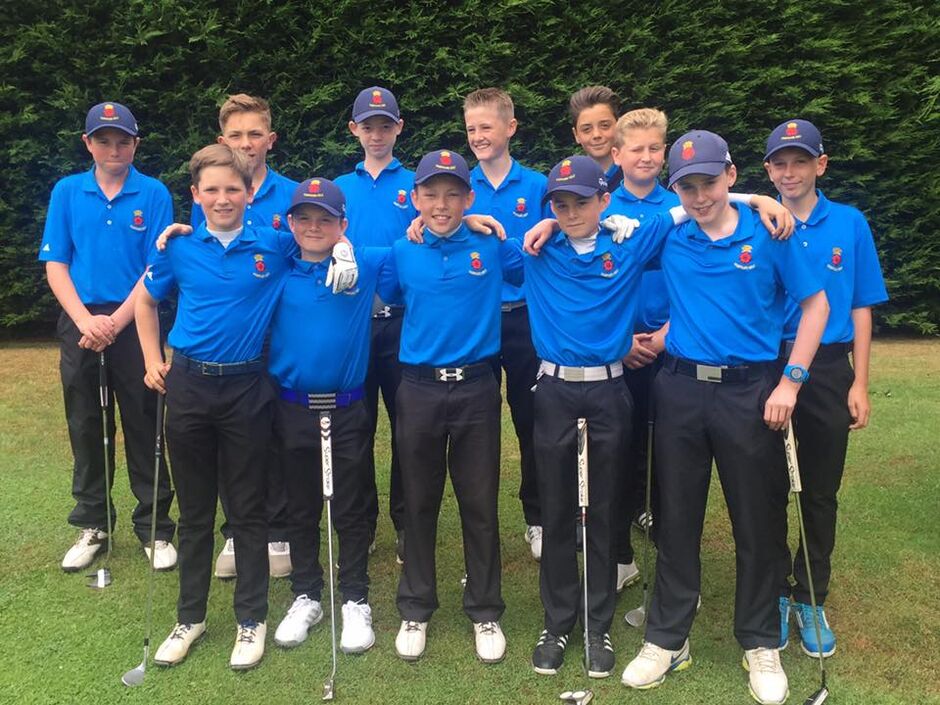 The final match in the League Tri Series was played against Surrey and Sussex at Petersfield Club.
Could this be our day on home turf?
The weather was looking like it would be a problem, but luckily it held off until almost the end of the matches.
After comprehensively beating Sussex and coming so very close to beating Surrey last week, the boys were ready to go one better.
At the head of the field against Surrey we started well Sam West, Nick Matthews, Joe Buenfeld and Drew Mackinnon coming down the 18th and all posting victories. Conversely Sussex had a number of their top players returning, we found it tough, it was not until Joe Buenfeld in match 4 that the first points were on the board, followed up by Drew Mackinnon.
Mitch Macarthur for the second week running was on fire, posting a massive 10&8 victory against Sussex and claiming a 3&2 win against Surrey.
It looked like we had a chance against Surrey, and with two massive victories for Tom Chalk (9&7) and James Hellyer (7&6) we had it in the bag.
We need to take 7 out of 8 points from the last 4 matches to beat Sussex, Josh Caffyn, Tom Chalk, and Jamie Rodger came in with wins. We had secured at least a draw, it was left to James Hellyer, who was all square coming down 18th hole, to decide if we could make it that vital win. He held his nerve to win with a steady par and both matches were ours.
Every player gave their all, as a team they were all magnificent, they all deserve a special mention no matter what the result in their matches. This meant that in the league we had taken second place, Surrey 10 points, Hampshire 6 points and Sussex 2 points. Absolutely fantastic, very proud moment for all the team, coaches, mums and dads and Hampshire Golf.
We will have a rematch later in the year in the Sussex Salver, same 3 way match at Stoneham Golf Club. Can we make home advantage pay again?
Full results:
Joseph Green (Surrey – Lost 5&4, Sussex – Lost 1 Down)
Sam West (Surrey – Won 2 Up, Sussex – Lost 3&2)
Nick Matthews (Surrey – Won 1 Up, Sussex – Lost 6&4)
Joe Buenfeld (Surrey – Won 1 Up, Sussex – Won 2&1)
Josh Mulcahy (Surrey – Lost 7&6, Sussex – Lost 4&3)
Drew Mackinnon (Surrey – Won 2 Up, Sussex – Won 2 Up)
Max Clapp (Surrey – Lost 6&5, Sussex – Lost 7&6)
Mitch Macarthur (Surrey – Won 3&2, Sussex – Won 10&8)
Josh Caffyn (Surrey – Lost 3&2, Sussex – Won 3&1 )
Tom Chalk (Surrey – Won 9&7, Sussex – Won 4&3)
James Hellyer (Surrey – Won 7&6, Sussex – Won 1 Up)
Jamie Rodger (Surrey – Lost 3&1, Sussex – Won 4&3)
Reserve Match: Jeremy Brown (Surrey – No Match, Sussex – Won 2&1)
Hampshire 14 points / Surrey 10 points
Hampshire 14 points / Sussex 10 points
Surrey 15 points / Sussex 9 points
Hampshire win (4 points) , Surrey 2nd (2 points), Sussex 3rd (0 points)
WELL DONE TEAM!