Under 14 squad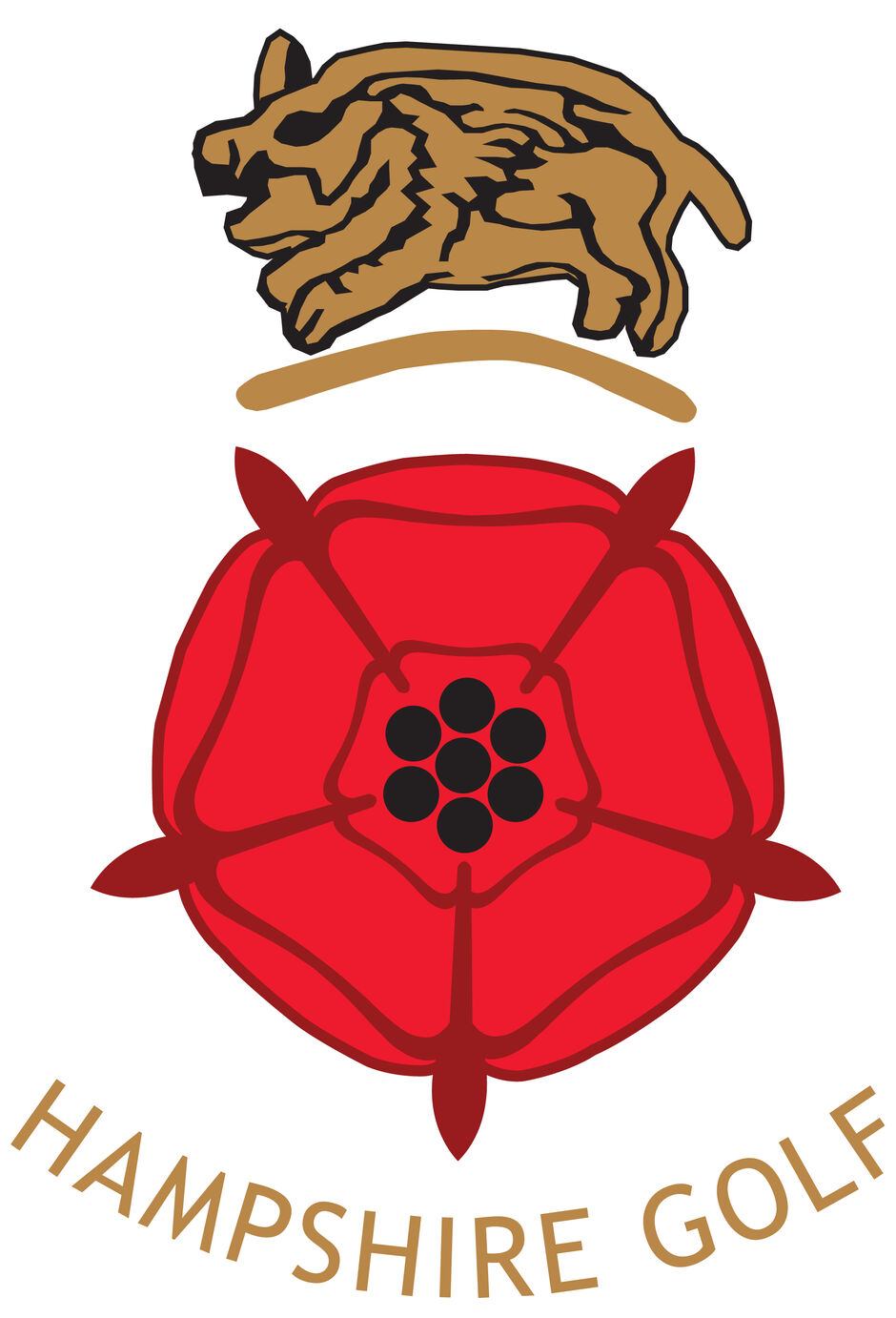 Hampshire U14 Squad 2021






Fred Gill




Bishopwood Golf Club
















Albie Beeston




North Hants Golf Club




​










Mark Matthews

Royal Winchester




​







​




James Redfern

North Hants










Luca Alonso

Rowlands Castle Golf Club










Ray Sanmathy

Basingstoke Golf Club










Alfie Blackmore

North Hants










Thomas Conquest




Sherfield Oaks Golf Club













Harry Naughton

Meon Valley Golf Club
















Conor Babington

Corhampton Golf Club










Sebastian Wells

Bramshaw Golf Club













Louie Walker







Bishopwood Golf Club




​ ​



Hampshire Junior Selection Structure

Inspired to play golf for your county?
If you are then check out the Hampshire Junior Selection Structure that shows how you can go from playing club golf to training with and representing your county. Our advice is simple, partake in regular coaching, play competitions at your club, regionally and nationally where possible and you could be in with a chance of playing at county level.
Each year a selection day for each age group takes place allowing the coaches and managers to select the squad for the following year.
Being part of a Hampshire Squad gives you:
Hampshire kit
Hampshire County matches and practice rounds
Training Days with the squad comprising of coaching on all aspects to support and develop your game and course practice with Order of Merit, Foursomes, Singles, Fourball Betterball and Ryder Cup
For more details contact David Matthews U14 Manager
david.hampshiregolf@gmail.com
Matches/Diary 2021
Coming soon...
Training
Huge thanks to Sandford Springs for hosting and supporting the Hampshire Under 14 squad


Hampshire U14 Coaching Schedule 2021
Coming soon...

COVID-19 UPDATE
The team manager will be in touch with news of plans for 2020/2021 when finalised. In the meantime we encourage you to play as much as you can during this difficult time.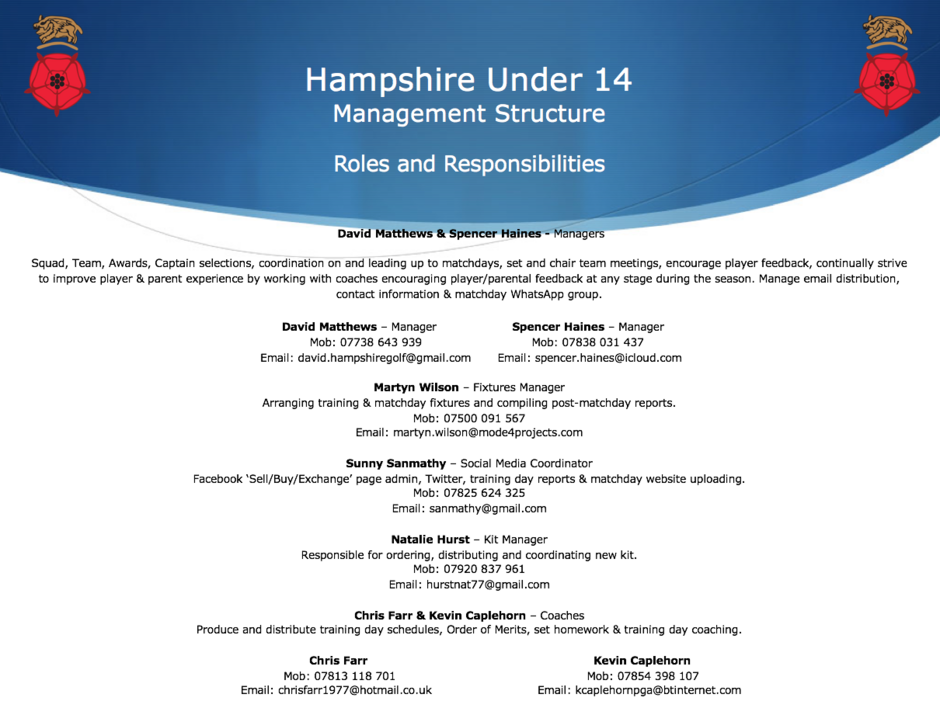 News/Information
Hampshire Lockdown Order of Merit 2020
Following on from the Hampshire Stay Home Stay Safe Challenges we've put together a new challenge for all Hampshire Squad players to play in on a weekly basis starting June 20th 2020.
We're running a Hampshire Lockdown Order of Merit so players can still compete against others within the county not only in their age group but also in an all ages Top 10.
The format is really simple and will operate in the following way:
Step 1
Enter via your Hampshire Squad What's App group or email if you don't have access by simply declaring the day before you play date/course/playing partner before you play. If possible play with another Hampshire Junior or Adult
Step 2
Play the round and submit your completed scorecard via What's App or Email by attaching a photo or screenshot of the card along with confirmation of score (Nett and Gross)
Step 3
All age group results will be shared via Hampshire Facebook and What's app as well as an overall Order of Merit.
We hope this will be a great competitive addition to the players golfing experience and provide some extra motivation to improve their game playing against the best players in Hampshire.
Below is a FAQ's sheet to cover any questions you may have with all information available on Hampshire Facebook link below: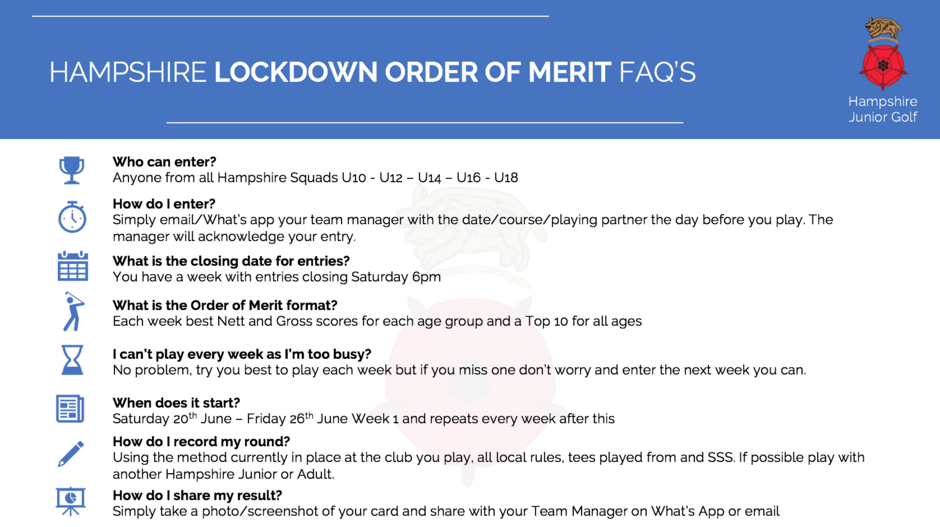 https://www.facebook.com/hampshiregolf2019/
If you have any questions don't hesitate to get in touch with your team manager otherwise we look forward to welcoming you to the Hampshire Lockdown Order of Meritand an exciting few weeks ahead!
Hampshire Lockdown Order of Merit 2020
Results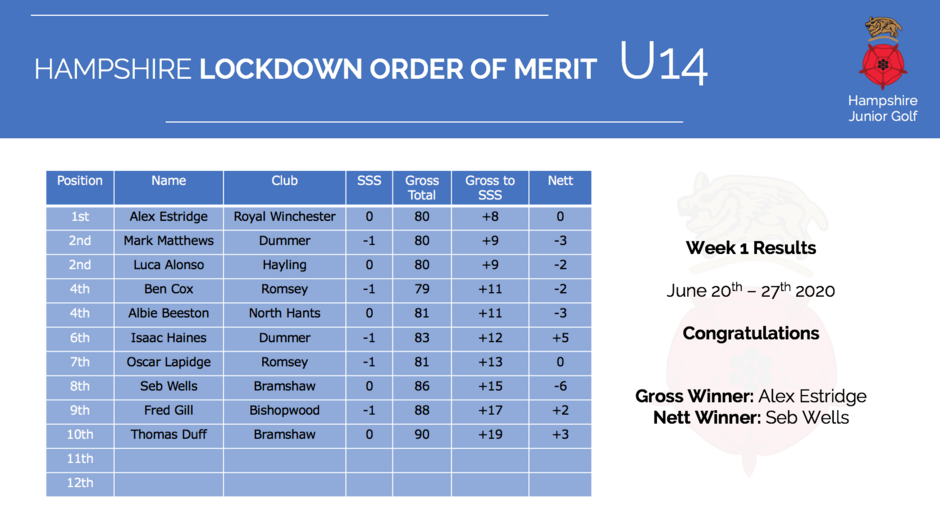 ​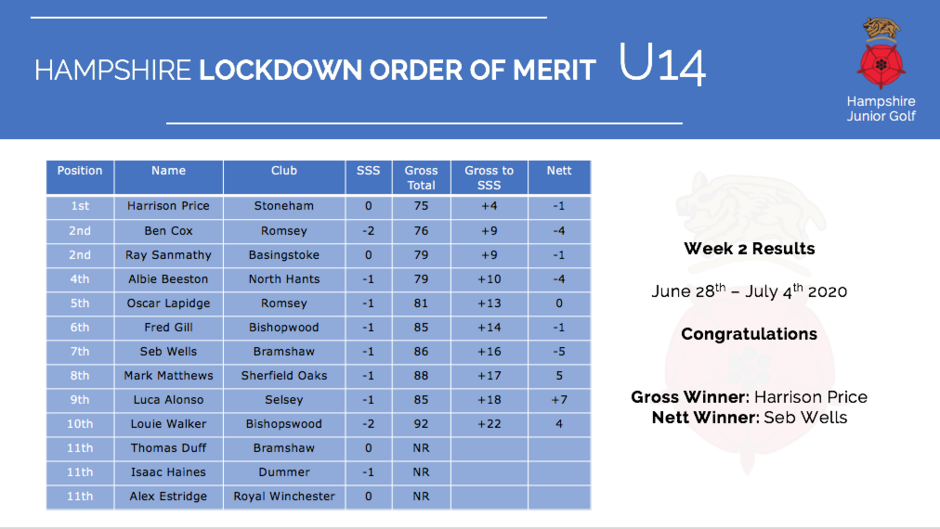 ​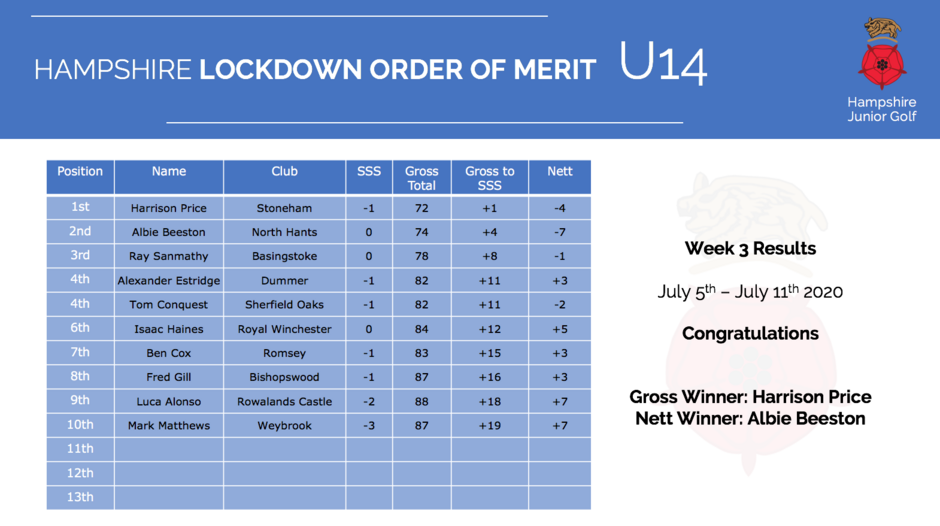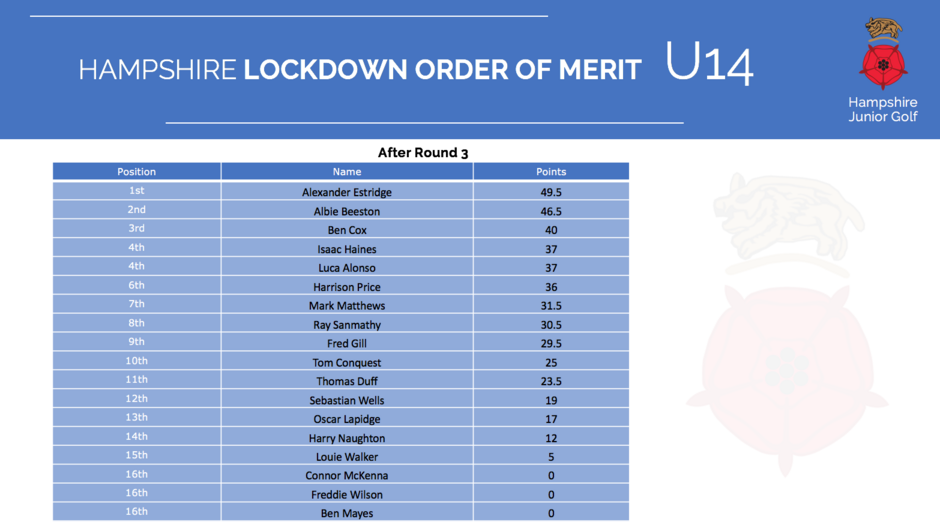 ​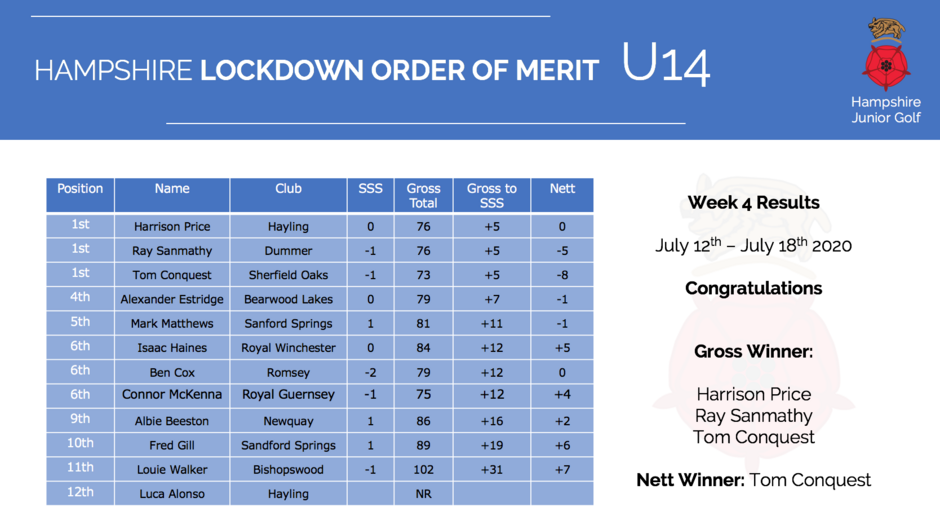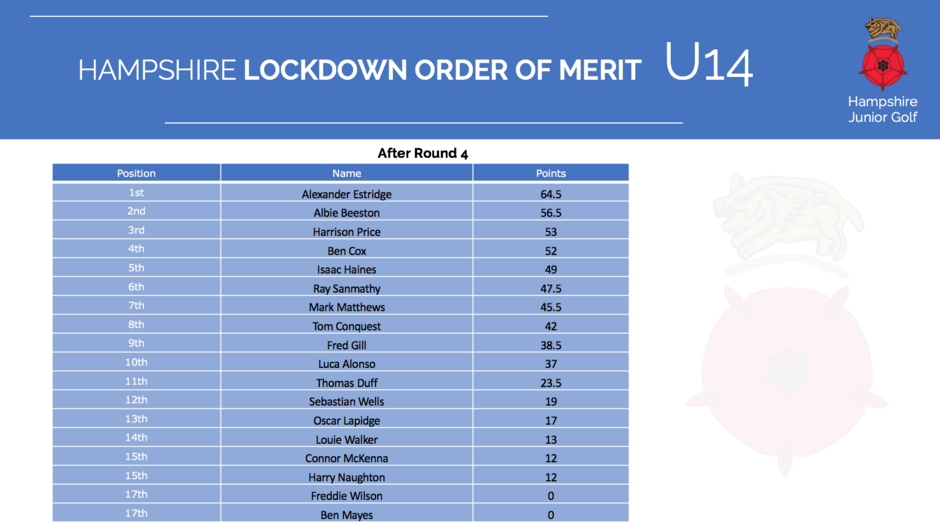 ​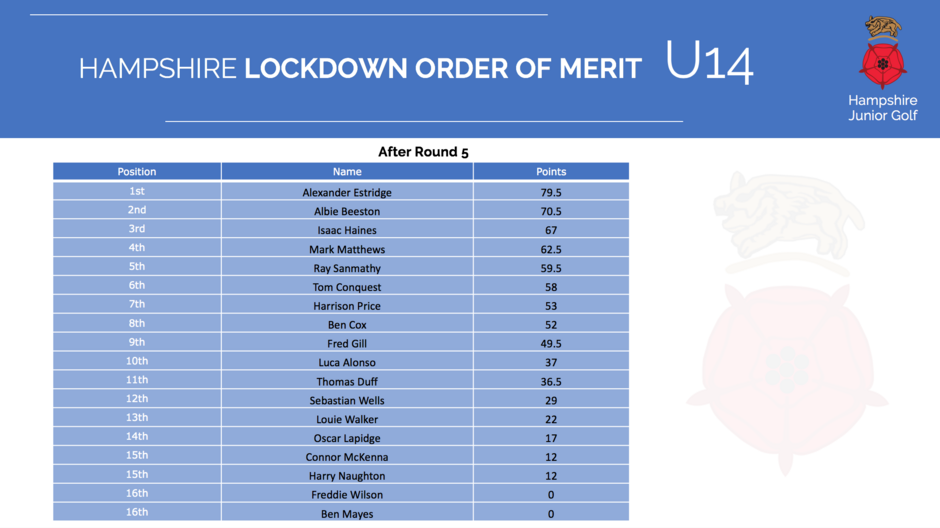 ​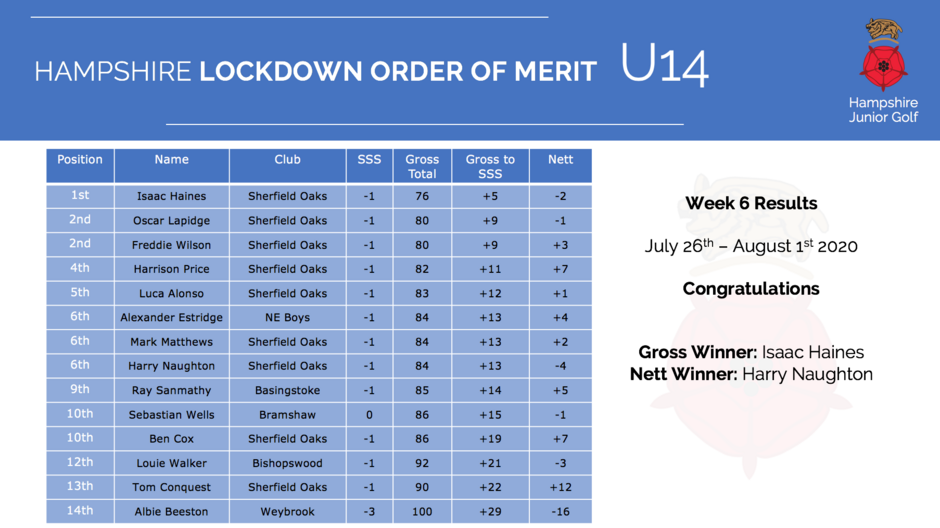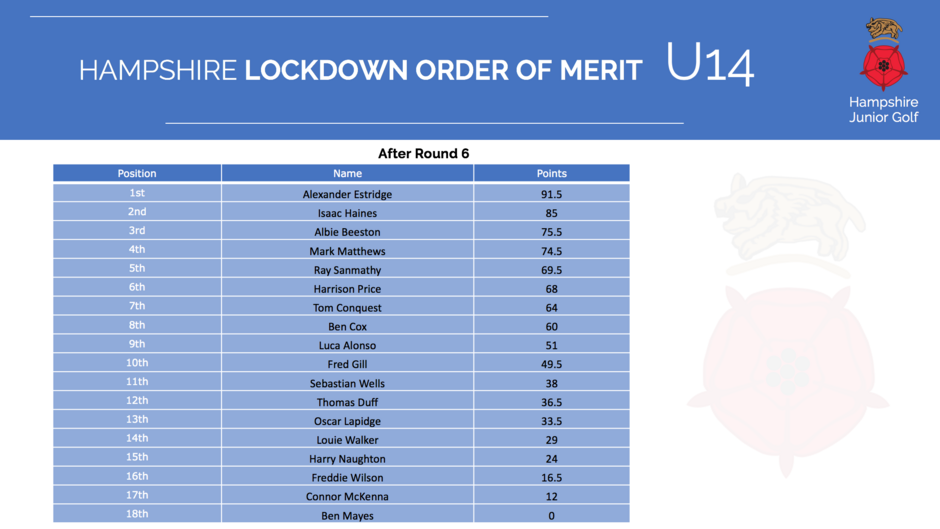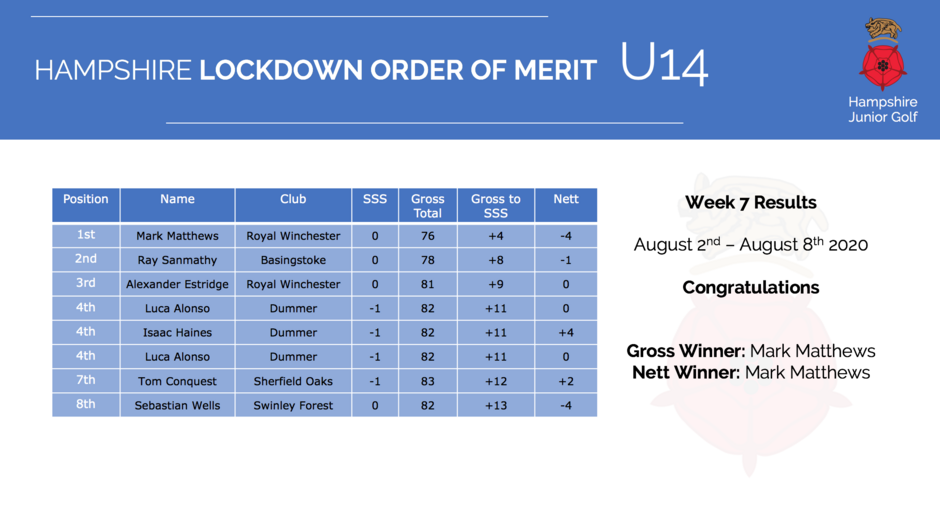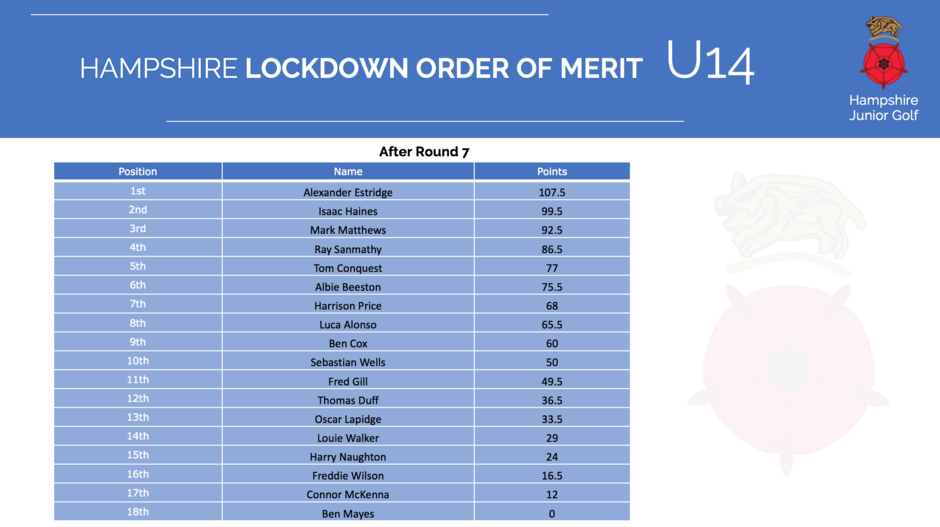 ​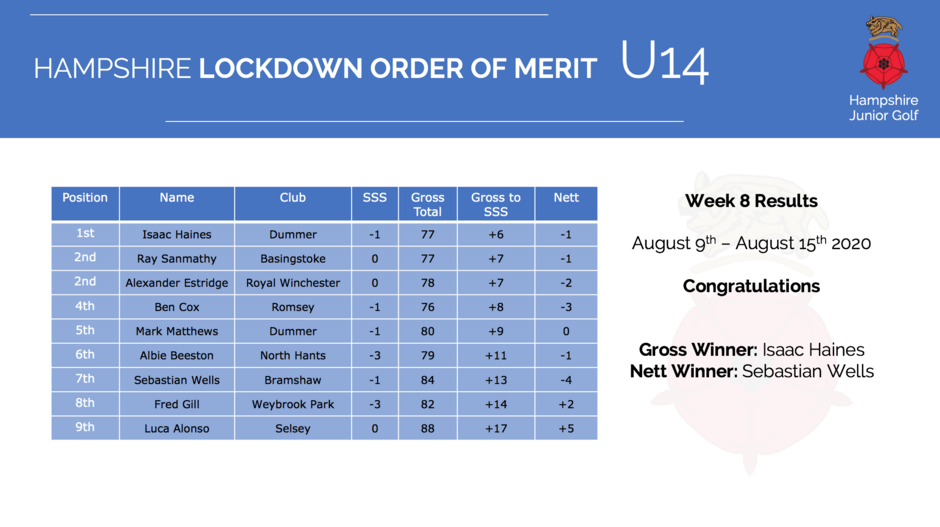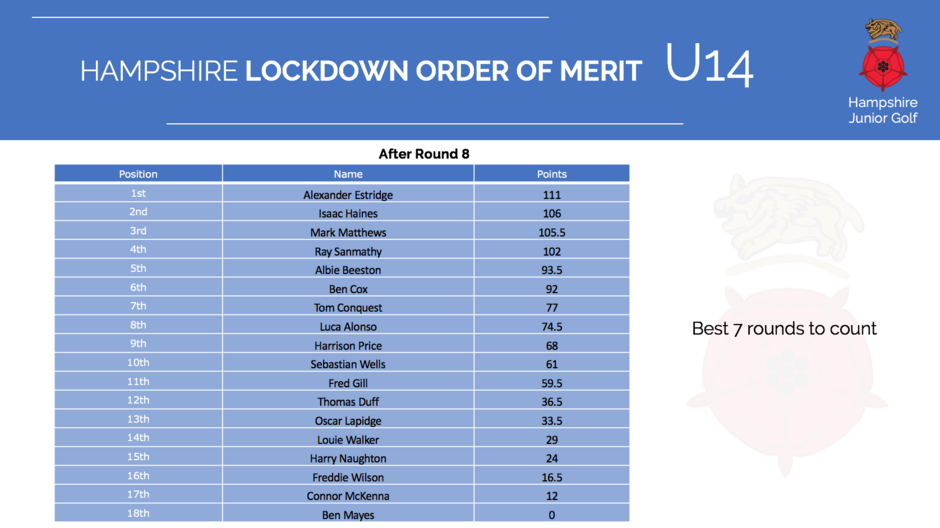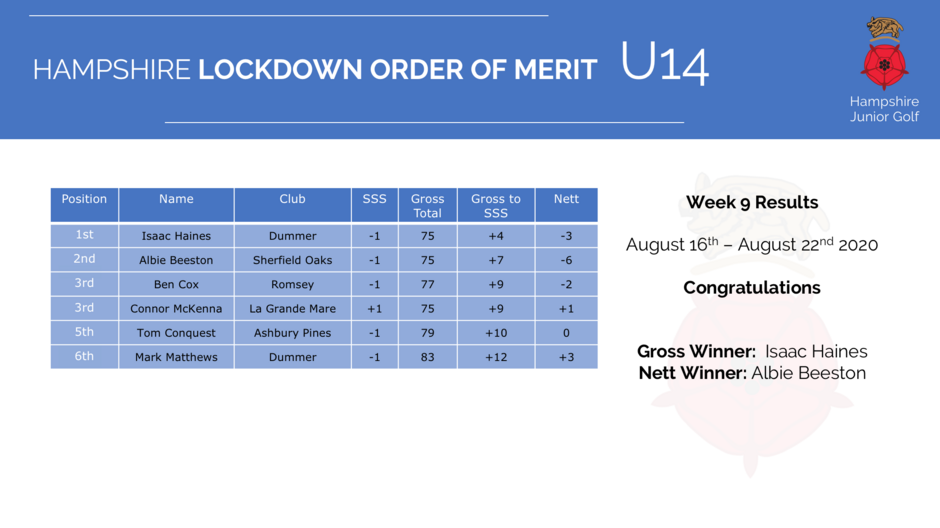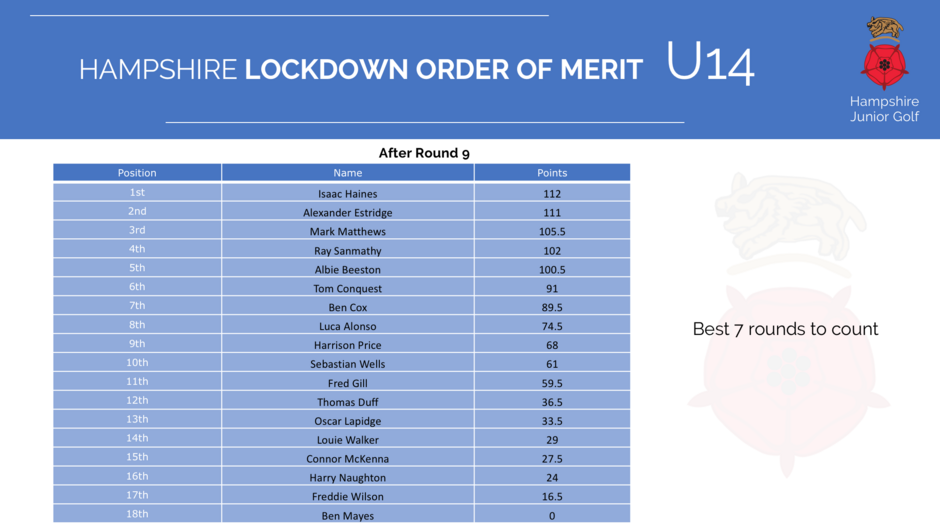 ​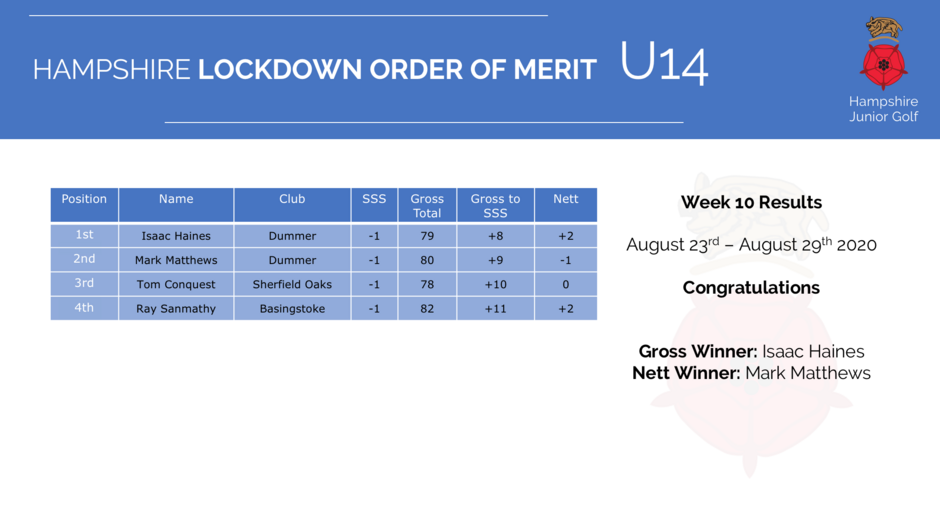 ​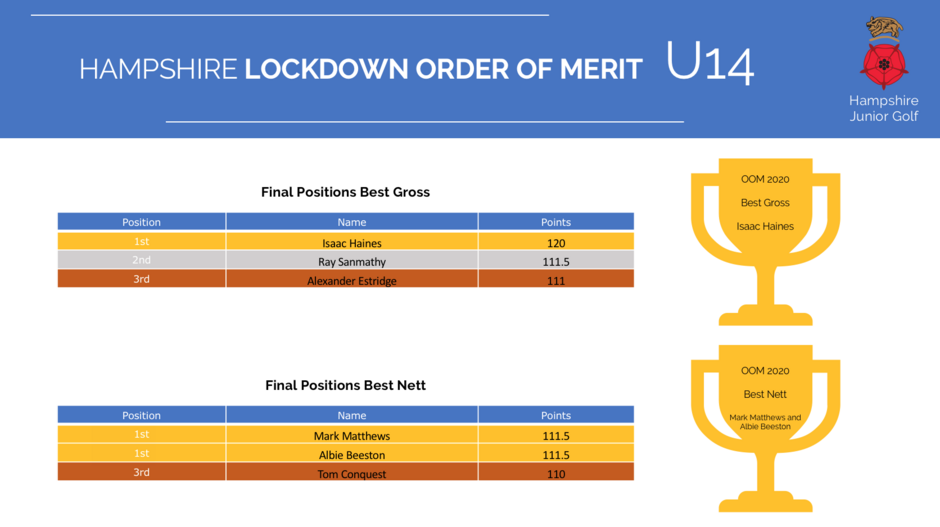 ​
Hartpury College partnership announced!
We're pleased to announce a new partnership with Hartpury College, Gloucester.
The partnership will look to develop with time but create access to the amazing facilities, visits from Hartpury staff to explain pathways and oppourtunties to our squads, matches against some of the best players in the country and sharing of resources.
If you're playing golf competitively or you have the talent and drive to do so, you'll want to join our Golf Academy. Train with specialist PGA-qualified professionals and access state-of-the-art facilities.
You'll learn from some of the best golfing talent at Hartpury. We'll support you to achieve excellence in your academic studies and your golf. Our students often represent their country and many of our graduates go on to achieve scholarships in America.
Our staff are among the best in their respective fields. They've competed or worked at professional levels. You'll enjoy access to a PGA professional technical coach, as well as a putting expert to improve your short game. A sports psychologist will improve your mental strength for the competitive world of golf, while our biomechanist is on hand to help improve your swing.
You'll also benefit from access to our performance services. Strength and conditioning coaches, physiotherapists, and nutritionists to lifestyle management and game analysis will keep you performing at your peak.
We design your timetable with you in mind, meaning you'll get the best from your qualification and your training. As well as weekly sessions from dedicated coaches, you'll have opportunities to compete at your level of university sport. The Intercollegiate Tour (ICT) and the AoC Sport Championship Tour are your chance to compete at some of the UK's top courses.

Hampshire Boys versus Hampshire Girls match announced!
A combination of Hampshire U14 and U16 squads are set to play Hampshire Girls in a match at Royal Winchester on 29th March 2020. A first for Hampshire will see some of the best players in the county compete against each other round the fantastic Royal Winchester Golf Club. Huge thanks go to all at Royal Winchester for supporting the match and we look forward to a great days golf.
Unfortunatly this fantastic fixture was postponed due to the COVID-19 lockdown but is something we look forward to re-arranging when we're able to do so.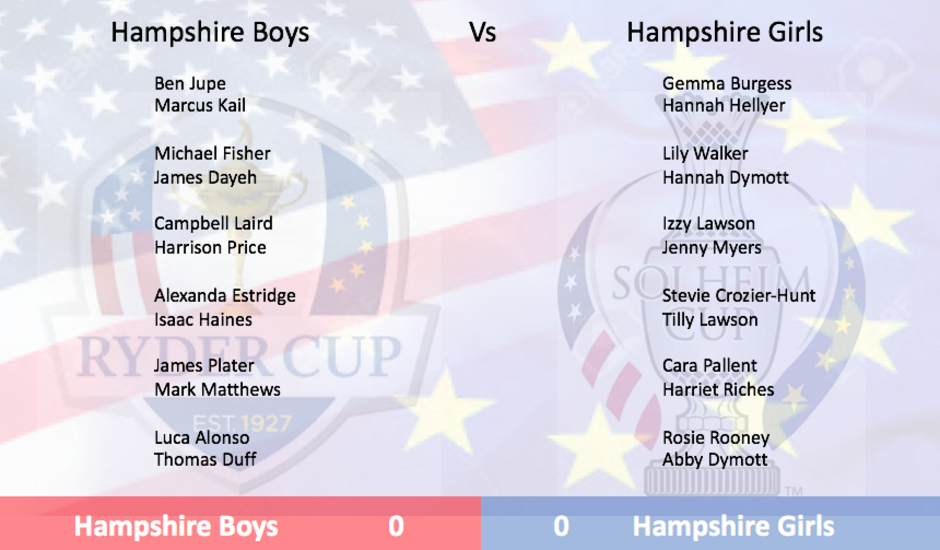 2020 season tee's off against Wilshire in Salisbury!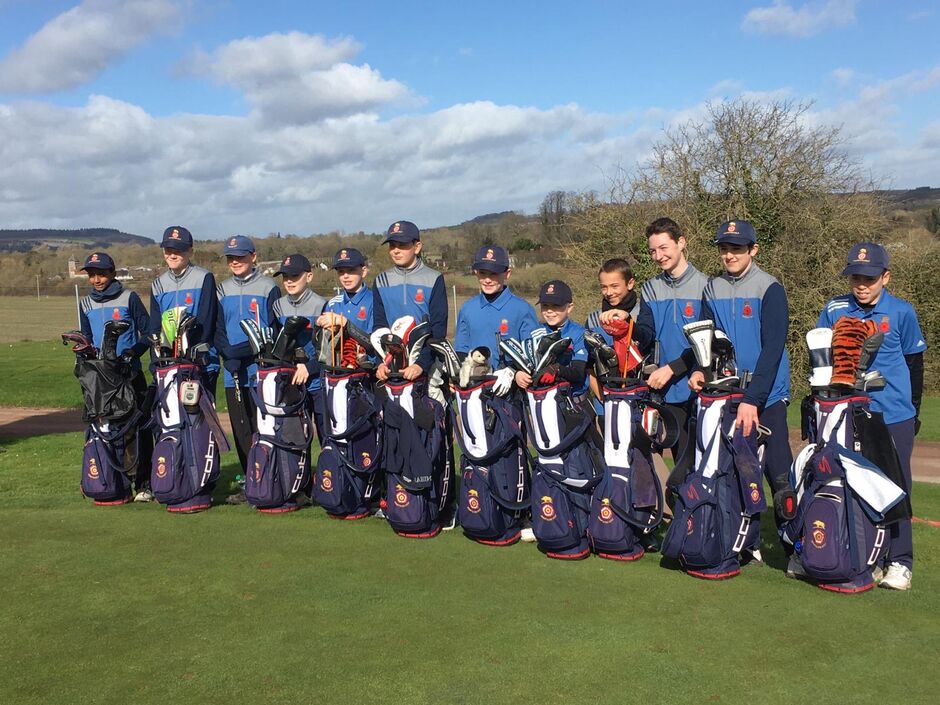 The Hampshire Under 14 season got under way with a match against Wilshire at Salisbury and South Wilts Golf Club.
Full Match report coming soon...
England Golf Pathway
If you ever wondered what the pathway is to the very top of the game (Professional/Olympic Level) heres how to get there: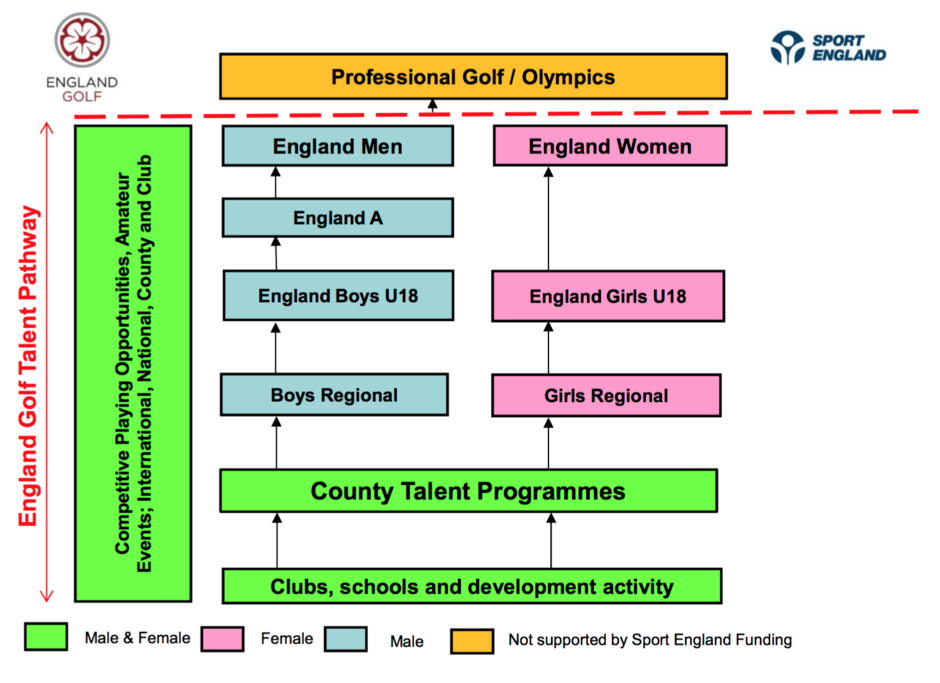 As we look forward to the 2021season here's a list of competitions that we advise you to take part in:
Coming soon...
All - Hampshire Junior Opens and Order of Merit

Reid Trophy
European Junior Tour
Faldo Series
Midland Boys
South East Boys
North Boys
South of England Boys
Scottish Boys
2019
Alexander Estridge, Mark Matthews and Freddie Wilson Hampshire County Championships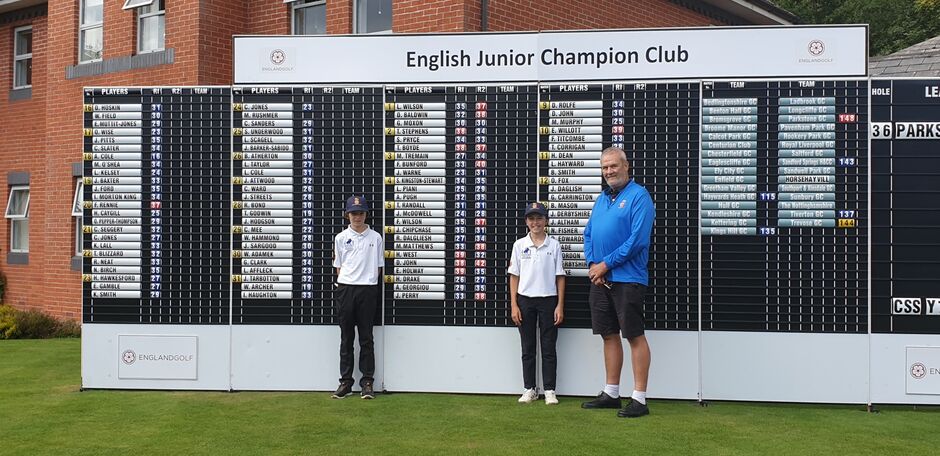 Freddie Wilson, Mark Matthews and David Wheeler representing Hampshire at Woodhall Spa Golf Club
Sussex Salver @ Petersfield Golf Club (Sunday 8th September)
Hampshire v Sandford Springs (Sunday 1st September)
Click here for the Match Report.
Hampshire v Sussex v Surrey at Sandford Springs (Sunday 7th July)
Click here for final Results Table
Hampshire v BB&O v Sussex at Caversham Heath (Sunday 30th June)
Hampshire v Surrey v BB&O at Camberley Heath (Sunday 16th June)
Under 12 Match Report at Goodwood on 26th May
Hampshire v Dorset @ Isle of Purbeck (Tuesday 16th April)
Hampshire v Test Valley (Saturday 13th April)
Hampshire Under 14s v Wiltshire (Saturday 2nd March)
Report on friendly match at Sandford Springs H&CC.
2018
​
Well what can i say, absolutely fantastic today, our first win and a big one 8.5 to 3.5 against a strong Test Valley team.
I am super proud of the Hampshire Team, everyone held there head high and you all were a credit.
The Test Valley team were full of praises so thank you and well done boys.
Lead from the front our Captain Tom Chalk with a solid performance winning 4&3
Harvey Denham all square going down 15 and finished off winning 3&1 fantastic
Michael Fisher was up through 9 then went 1 down after 16 but came back and squared the match
Quinn Bellew had the toughest match against 3 handicapper Jamie Fluen, held it all the way round but loosing on the 17th 2&1
Billy Lightfoot, solid and a good win 2&1
Ben Jupe was fantastic with a great performance and winning 5&4
Cambel Laird his first match and new to Hampshire played solid and won 2&1
Sam Talbot was unlucky lost 3&2 but after playing 2 rounds of 36 holes in 2 days then a match the following day tiredness kicked in
James Plater fantastic today again winning 2&1
Cameron Hay another new member to the Hampshire set up and his first match and our biggest win outstanding shooting 7 under his handicap and winning 8&7
Harrison Price 4 wins out of 4 outstanding again today and a fantastic win 5&4
Oscar Lapidge unlucky, played well and put in a strong performance but lost on the 17th 2&1,
Well done boys super proud, Up The Hampshire.
Click here for the Team Sheet.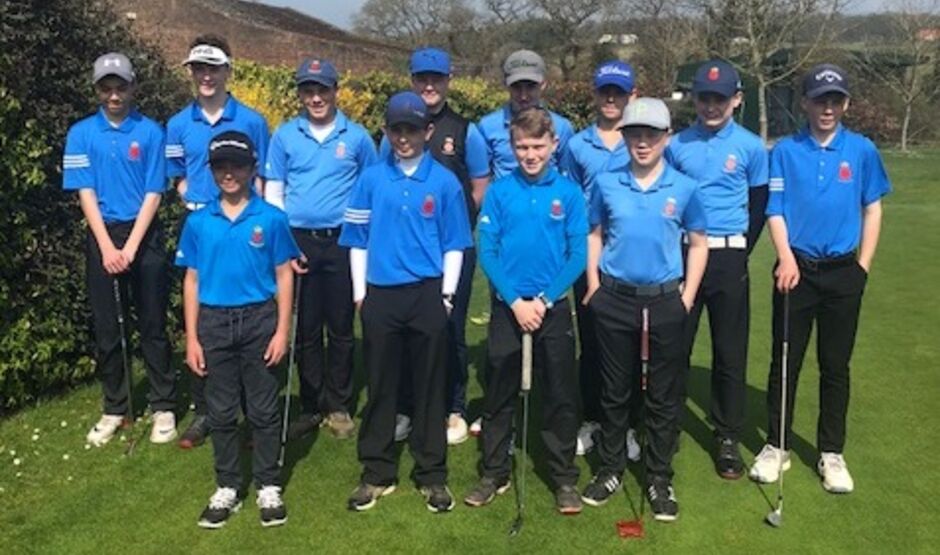 Hampshire Under 14s v Test Valley - Saturday 14th April at Test Valley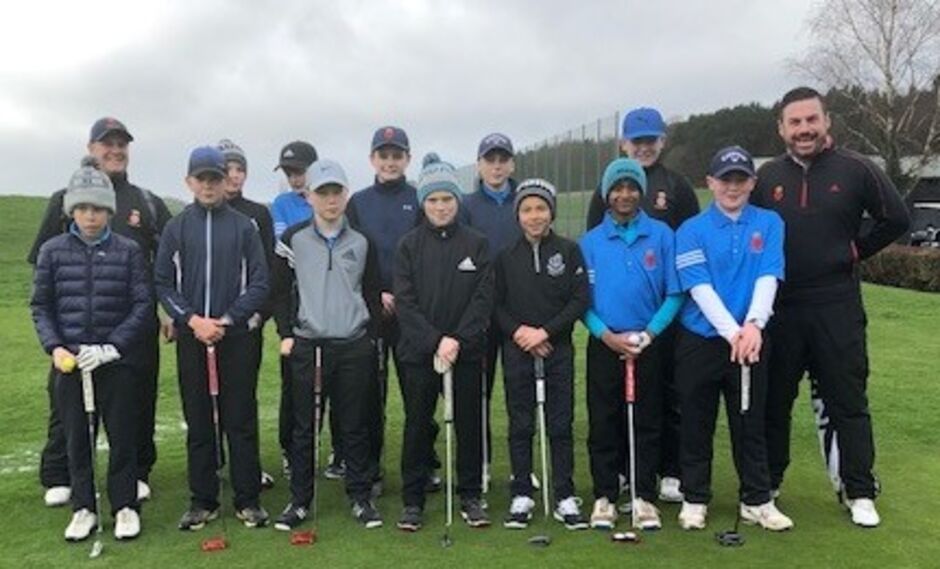 Hampshire Under 14s v Dorset - Tuesday 3rd April at Paultons Golf Centre
Congratulations to the Hampshire Team on spirited performance in testing conditions. The result did not go Hampshire's way losing the fourballs 4-2 and the singles 7.5 to 4.5
Team Manager Rob Mulcahy reflects....
I know it was difficult especially the first 4 out with heavy losses but with Rhys Harrison shooting a 4 under gross even our best under 16's would have struggled, but a fantastic performance by Harvey Denham keeping his head and battled through. Another tough one for Joel Tarry playing his opponent who was 6 shots better in handicap. Quinn Bellew another hard match with his opponent 3 under. Billy was very unlucky loosing 3 balls on the fairway being plugged and not found so could have easily gone the other way. Also bear in mind 2 of our best players were unavailable and the start order would have been different so could have made a difference in matching handicaps.
Our first win was James Deyah who was fantastic all day winning his pairs and securing a 3&2 win in the singles, Ben Jupe again played really well but lost on the 17th 2&1, Jack Field a good win in the pairs with James but lost in the singles 4&2. James Plater a fantastic 2&1 win played solid all the way round, Harrison Price outstanding all day winning his pairs with Billy and a 3&2 win in the singles, Oscar was unlucky loosing narrowly by 2&1. This brought us down to our final 2 and our youngest boys both only age 10, Ray Sanmanthy 1 up with 2 to play went out of bounds on 17th and thus went down 18th all square and nails a 10 foot put on the last to halve his match. Well done Buddy! Out last match and a fantastic performance by Alexander Estridge with our best win of the day a 4&2 victory.

As many of you can appreciate we were not good on the greens and quite a few of you 3 putting and losing holes, this is where the games can change and matches are won, so we need to sharpen up on our short games boys and plenty of practice on the greens in preparation for our next match please. Take away the positives and work on what you feel you could have done better on, I thought you all did fantastic so well done.
WELL DONE TEAM!