Under 14 squad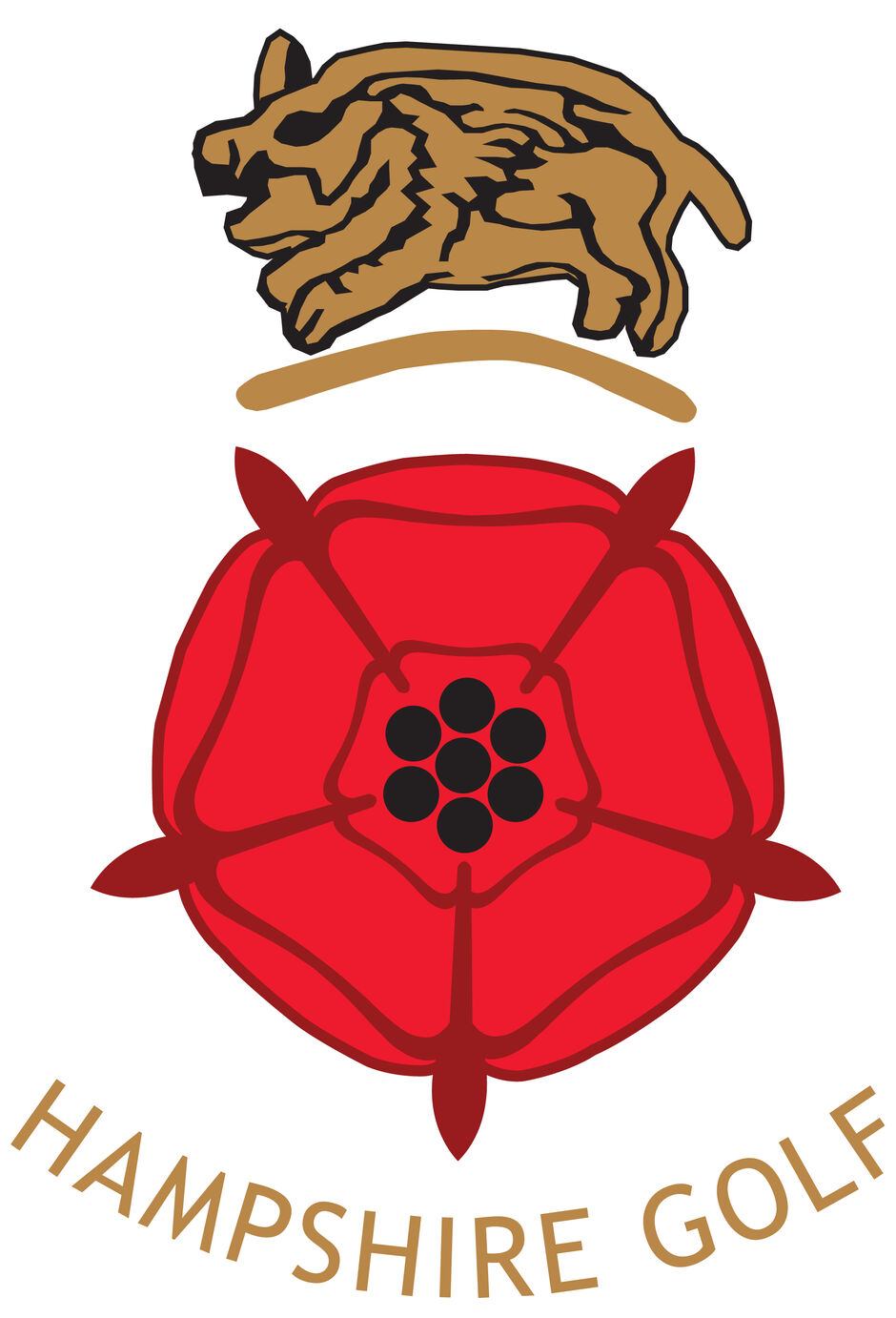 2020
Matches/Diary
January
19th - U14 Official Training Day Sandford Springs 9.00am start
26th - Junior Presentation Day South Winchester 12:30 - 12 x tees 40 Juniors & meal 16:00
February
16th - U14 Official Training Day Sandford Springs 9.00am start
March
1st - U14 v Wiltshire Salisbury and South Wilts Golf Club
8th - U14 Official Training Day Sandford Springs 9.00am start
14th - U15 v Sussex v Surrey Weybrook Park
29th - Junior European Open Qualifier Lingfield Park, Surrey

April
4th - Junior European Open Qualifier Meyrick Park GC, Dorset
7th - Faldo Series England South 1 Boys Royal Ashdown Forest
8th - Junior Open Liphook Hampshire Junior Order of Merit
11th - U14 v Test Valley Test Valley
16th - Junior Open Corhampton Hampshire Junior Order of Merit
19th - Junior Open Romsey Hampshire Junior Order of Merit
19th - Hampshire & Berkshire League Dummer
26th - U14 Official Training Day Sandford Springs 9.00am start

May
3rd - Junior European Open Qualifier Copthorne GC, W. Sussex
3rd - Hampshire & Berkshire League Sandford Springs
17th - U14 Official Training Day Sandford Springs 9.00am start
23rd - U14 Practice Round Sussex
24th - U14 v Sussex v Surrey Sussex U14 Junior League
26th - Junior Open Hayling Island Hampshire Junior Order of Merit
27th - South East U16 Boys Championships John O'Gaunt
28th - Junior Open Waterlooville Hampshire Junior Order of Merit
29th - Junior Open Meon Valley Hampshire Junior Order of Merit
30th - U14 Practice Round Maidenhead Golf Club
31st - U14 v BB&O v Surrey Maidenhead Golf Club U14 Junior League
31st - Hampshire & Berkshire League Oak Park
June
7th - U14 Official Training Day Sandford Springs 9.00am start
14th - Hampshire & Berkshire League The Hampshire

July
4th - U14 Official Training Day Wellow Golf Club, Romsey 9.00am start
5th - U14 v BB&O v Sussex Wellow Golf Club, Romsey U14 Junior League
6th - Faldo Series England South 2 Boys Brocket Hall
14th - 16th - Mcgregor Trophy Heworth Golf Club, Gateshead 4.4 Max Handicap - entry closing date 19 June
16th - 19th - The 149th Open Championship Royal St Georges, Kent
19th - Hampshire & Berkshire League Hartney Witney
26th - Hampshire & Berkshire League Bishopswood
27th - Green Jackets Finals Hockley
28th - U12/13/14 County Championship Alresford
29th - 31st - North of England U14 Boys Championships South Moor Golf Club
30th - Junior Open Rowlands Castle Hampshire Junior Order of Merit
30th - 31st - Irish U14 Boys Championships Cahir Park
31st - Junior Open Hockley Hampshire Junior Order of Merit

August
2nd - Junior European Open Qualifier Lingfield Park, Surrey
3rd - Junior Open Stoneham Hampshire Junior Order of Merit
4th - 5th - South of England U14 Boys Championships Yeovil
4th - 6th - Reid Trophy Prestbury, Cheshire 7.4 Max Handicap - entry closing date 10 July
6th - Junior Open Brokenhurst Manor Hampshire Junior Order of Merit
9th - 10th - Scottish U14 Boys Championship Kirkcaldy
10th - 11th - EG Junior Champion Club Frilford Heath Green Jacket Winners represent Hampshire
17th - Junior European Open Qualifier Reading GC, Berks
20th - Junior Open Lee on Solent Hampshire Junior Order of Merit
23rd - Junior Open Royal Winchester Hampshire Junior Order of Merit
25th - Junior Open North Hants Hampshire Junior Order of Merit
27th - Junior Open Army Hampshire Junior Order of Merit

September
5th - Midland Under 14 Boys County Championships Broughton Heath Golf Club
10th - 13th - PGA Championship Wentworth
20th - Junior European Open Qualifier Romsey
26th - Hampshire & Berkshire League Bishopswood Presentation Day

October
18th - U12/13/14 Sussex v Surrey Surrey Friendship Trophy
25th - Junior European Open Qualifier The Wiltshire GC, Wiltshire
29th - Junior European Open Qualifier Lingfield Park, Surrey

November
10th - Faldo Series Grand Final Al Ain Equestrian Shooting & Golf Club
TBC - Junior European Open Finals Week Alcaidesa Links Golf Resort
TBC - U14 v Dorset
TBC - U14 v Sandford Springs
TBC - U14 Sussex v Surrey Sussex Salver
Training
Huge thanks to Sandford Springs for hosting and supporting the Hampshire Under 14 squad


Hampshire U14 Coaching Schedule 2020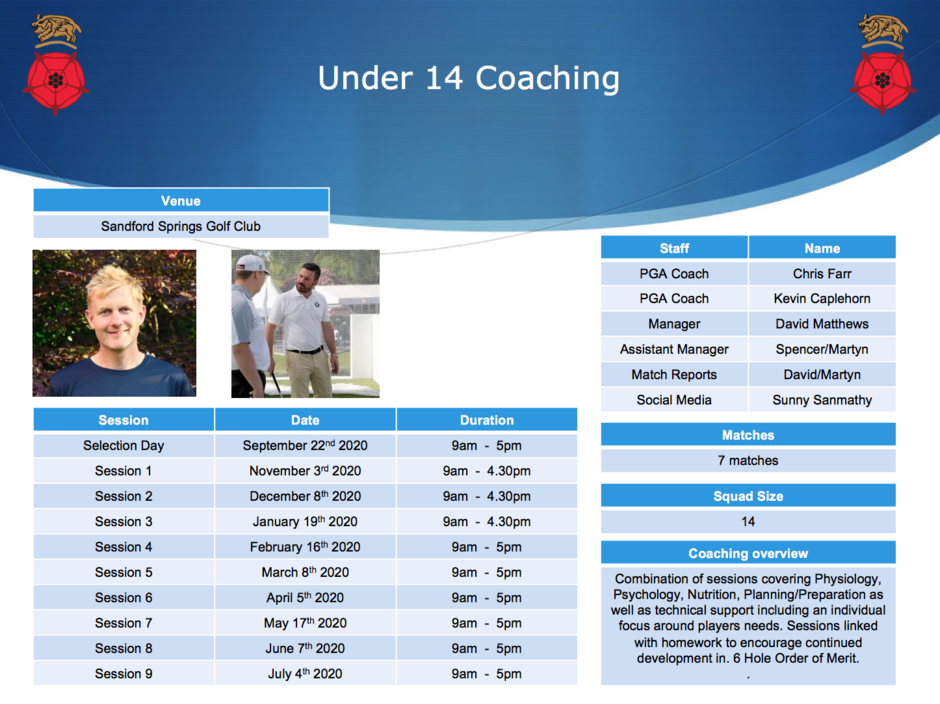 ​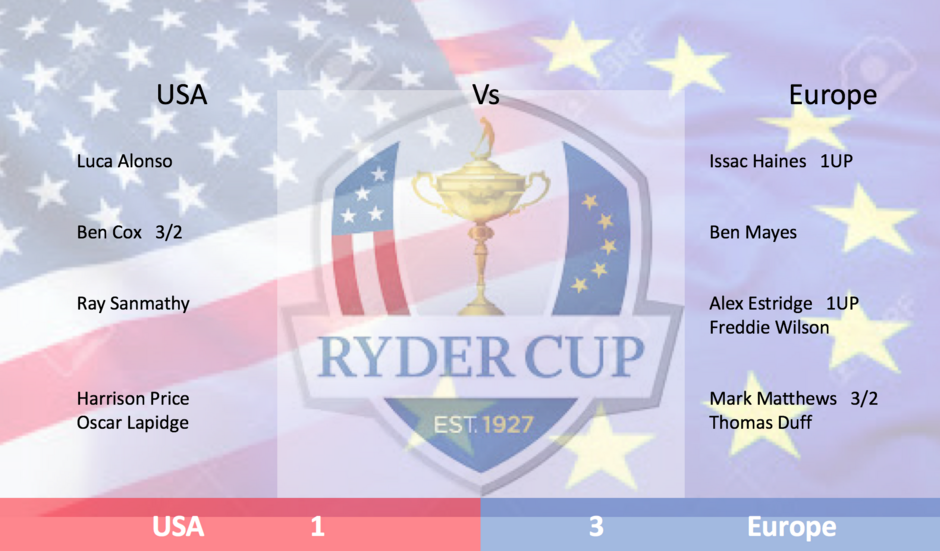 Congratulations to Team Europe for an impressive victory in our Ryder Cup at the Hampshire Under 14 Training Day 2
News/Information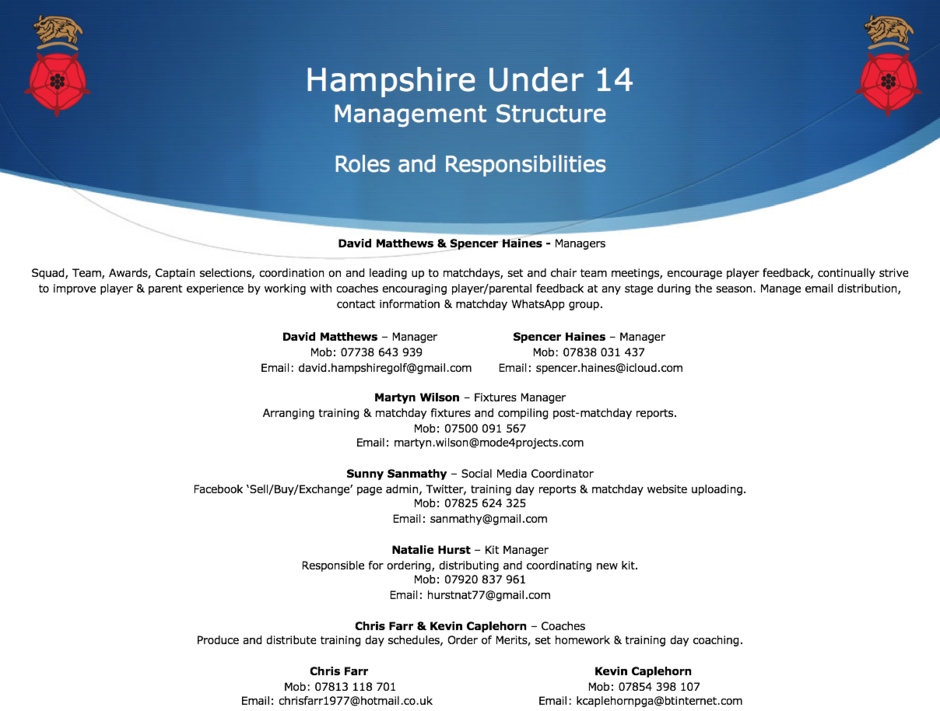 ​


If you ever wondered what the pathway is to the very top of the game (Professional/Olympic Level) heres how to get there: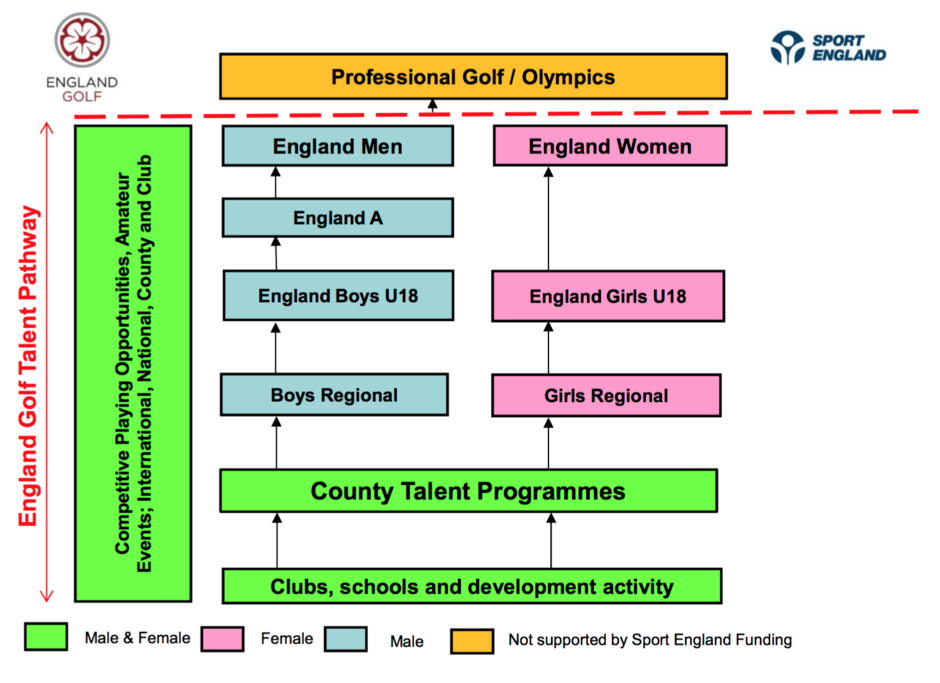 As we look forward to the 2020 season here's a list of competitions that we advise you to take part in: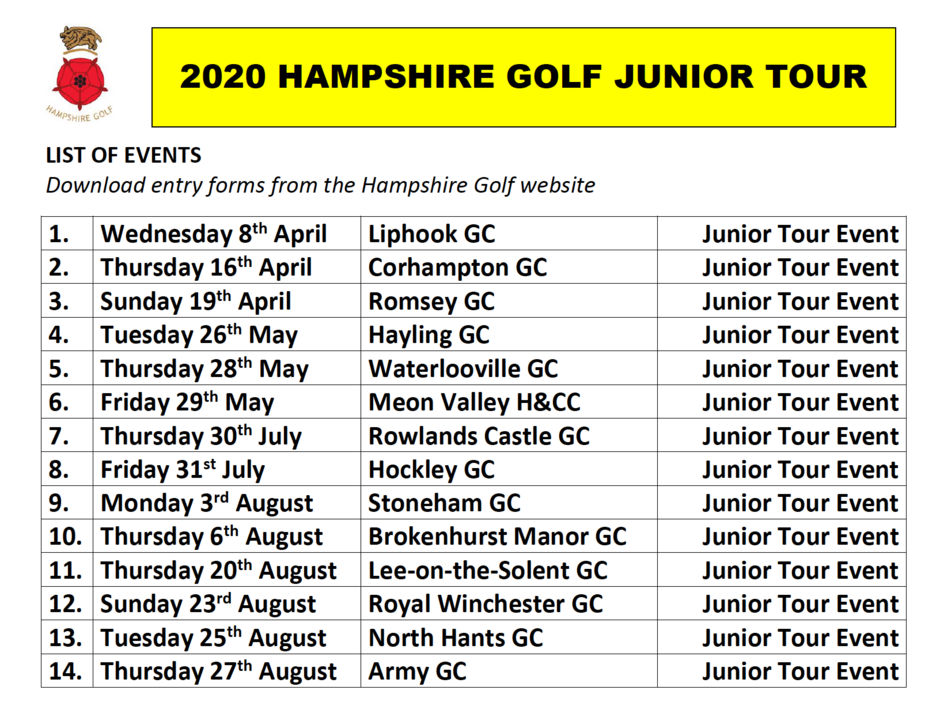 All - Hampshire Junior Opens and Order of Merit

Reid Trophy
European Junior Tour
Faldo Series
Midland Boys
South East Boys
North Boys
South of England Boys
Scottish Boys
2019
Alexander Estridge, Mark Matthews and Freddie Wilson Hampshire County Championships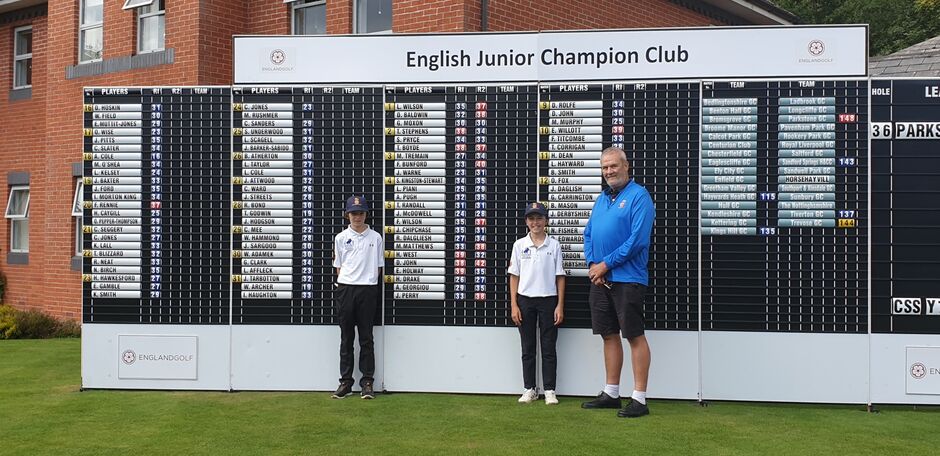 Freddie Wilson, Mark Matthews and David Wheeler representing Hampshire at Woodhall Spa Golf Club
Sussex Salver @ Petersfield Golf Club (Sunday 8th September)
Hampshire v Sandford Springs (Sunday 1st September)
Click here for the Match Report.
Hampshire v Sussex v Surrey at Sandford Springs (Sunday 7th July)
Click here for final Results Table
Hampshire v BB&O v Sussex at Caversham Heath (Sunday 30th June)
Hampshire v Surrey v BB&O at Camberley Heath (Sunday 16th June)
Under 12 Match Report at Goodwood on 26th May
Hampshire v Dorset @ Isle of Purbeck (Tuesday 16th April)
Hampshire v Test Valley (Saturday 13th April)
Hampshire Under 14s v Wiltshire (Saturday 2nd March)
Report on friendly match at Sandford Springs H&CC.
2018
​
Well what can i say, absolutely fantastic today, our first win and a big one 8.5 to 3.5 against a strong Test Valley team.
I am super proud of the Hampshire Team, everyone held there head high and you all were a credit.
The Test Valley team were full of praises so thank you and well done boys.
Lead from the front our Captain Tom Chalk with a solid performance winning 4&3
Harvey Denham all square going down 15 and finished off winning 3&1 fantastic
Michael Fisher was up through 9 then went 1 down after 16 but came back and squared the match
Quinn Bellew had the toughest match against 3 handicapper Jamie Fluen, held it all the way round but loosing on the 17th 2&1
Billy Lightfoot, solid and a good win 2&1
Ben Jupe was fantastic with a great performance and winning 5&4
Cambel Laird his first match and new to Hampshire played solid and won 2&1
Sam Talbot was unlucky lost 3&2 but after playing 2 rounds of 36 holes in 2 days then a match the following day tiredness kicked in
James Plater fantastic today again winning 2&1
Cameron Hay another new member to the Hampshire set up and his first match and our biggest win outstanding shooting 7 under his handicap and winning 8&7
Harrison Price 4 wins out of 4 outstanding again today and a fantastic win 5&4
Oscar Lapidge unlucky, played well and put in a strong performance but lost on the 17th 2&1,
Well done boys super proud, Up The Hampshire.
Click here for the Team Sheet.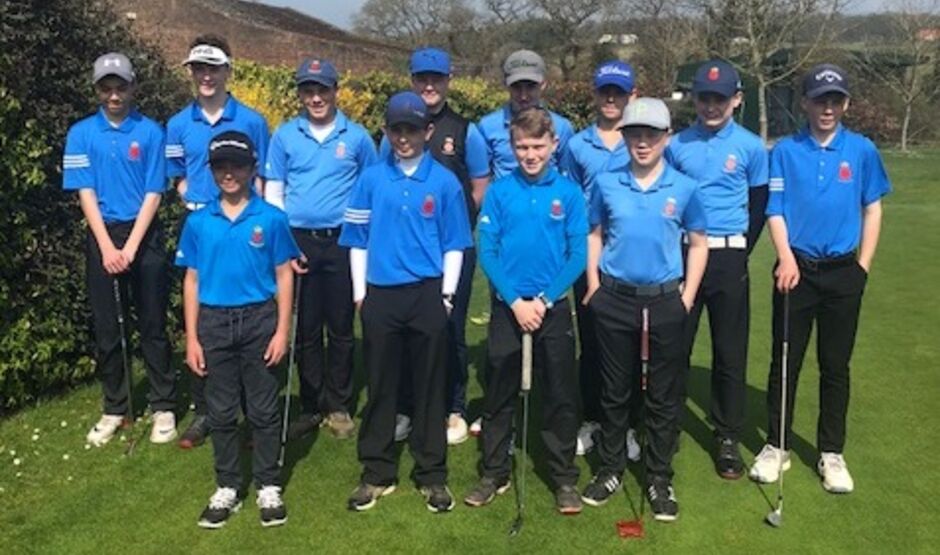 Hampshire Under 14s v Test Valley - Saturday 14th April at Test Valley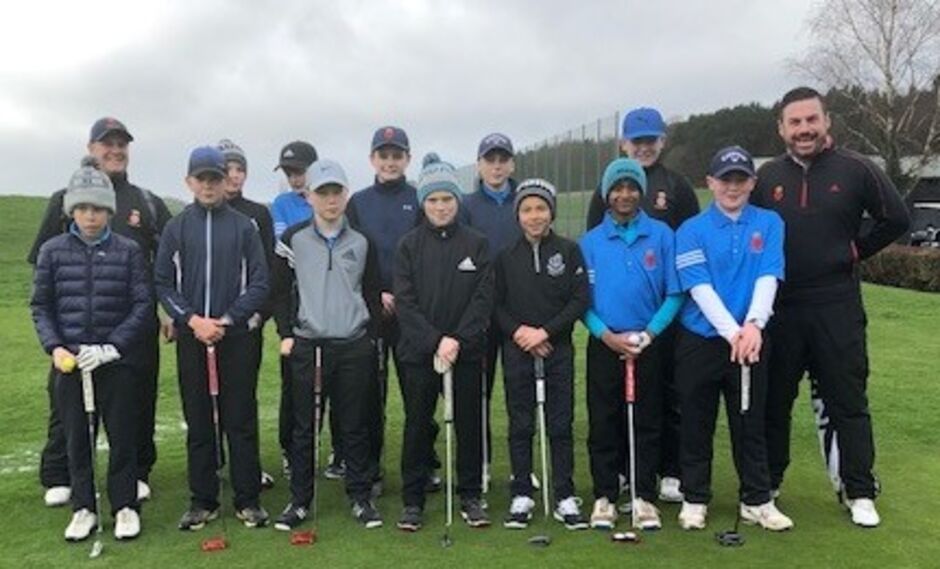 Hampshire Under 14s v Dorset - Tuesday 3rd April at Paultons Golf Centre
Congratulations to the Hampshire Team on spirited performance in testing conditions. The result did not go Hampshire's way losing the fourballs 4-2 and the singles 7.5 to 4.5
Team Manager Rob Mulcahy reflects....
I know it was difficult especially the first 4 out with heavy losses but with Rhys Harrison shooting a 4 under gross even our best under 16's would have struggled, but a fantastic performance by Harvey Denham keeping his head and battled through. Another tough one for Joel Tarry playing his opponent who was 6 shots better in handicap. Quinn Bellew another hard match with his opponent 3 under. Billy was very unlucky loosing 3 balls on the fairway being plugged and not found so could have easily gone the other way. Also bear in mind 2 of our best players were unavailable and the start order would have been different so could have made a difference in matching handicaps.
Our first win was James Deyah who was fantastic all day winning his pairs and securing a 3&2 win in the singles, Ben Jupe again played really well but lost on the 17th 2&1, Jack Field a good win in the pairs with James but lost in the singles 4&2. James Plater a fantastic 2&1 win played solid all the way round, Harrison Price outstanding all day winning his pairs with Billy and a 3&2 win in the singles, Oscar was unlucky loosing narrowly by 2&1. This brought us down to our final 2 and our youngest boys both only age 10, Ray Sanmanthy 1 up with 2 to play went out of bounds on 17th and thus went down 18th all square and nails a 10 foot put on the last to halve his match. Well done Buddy! Out last match and a fantastic performance by Alexander Estridge with our best win of the day a 4&2 victory.

As many of you can appreciate we were not good on the greens and quite a few of you 3 putting and losing holes, this is where the games can change and matches are won, so we need to sharpen up on our short games boys and plenty of practice on the greens in preparation for our next match please. Take away the positives and work on what you feel you could have done better on, I thought you all did fantastic so well done.
WELL DONE TEAM!