Under 16 squad
​


2020
Matches
8th March 2020
Friendly V Wiltshire at Test Valley
14th March 2020
U15 Shield Trophy V Surrey V Sussex (CurrentHolders)
6th June 2020
U16 League Sussex, Hants & Surrey at Bognor Golf Club
8th and 9th August 2020
Practice Round at Mid Kent Golf Club
U16 League Kent, Hants & Surrey Mid Kent Golf Club
15th and 16th August 2020
Practice Round at Southwick Golf Club
U16 League Kent, Hants & Surrey Southwick Park
Training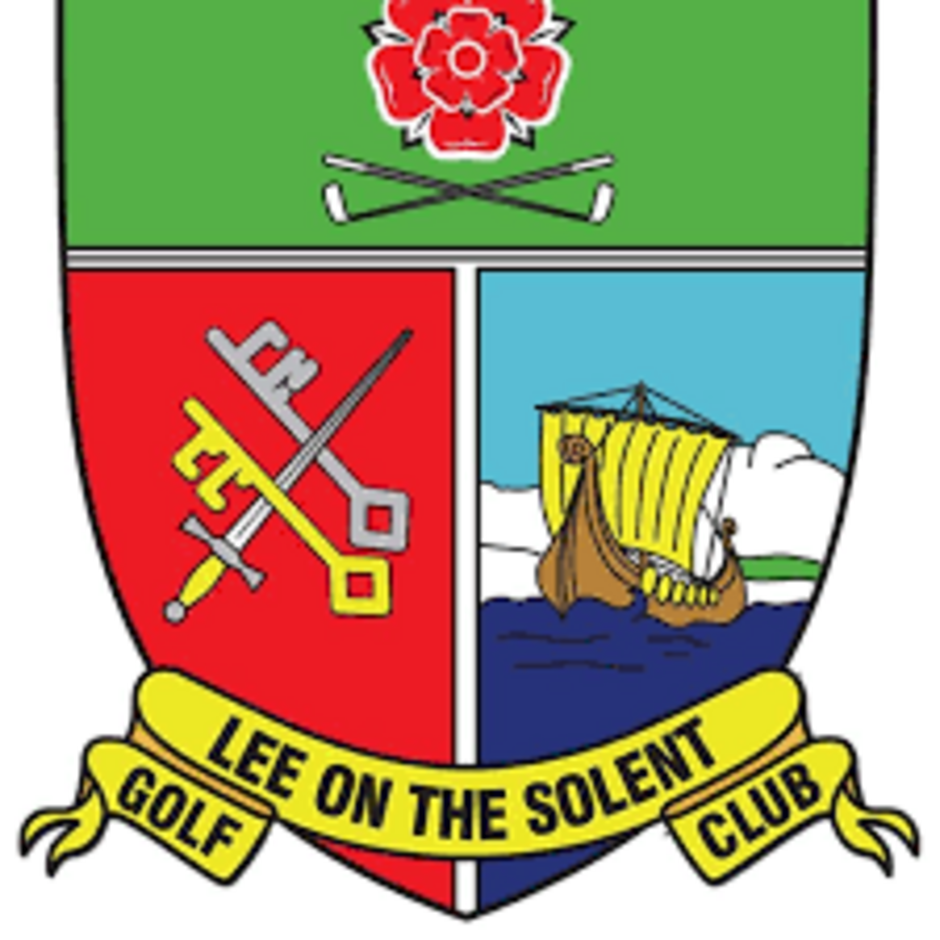 Huge thanks to Lee On Solent Golf Club for hosting and supporting the Hampshire Under 16 squad
Hampshire U16 Coaching Schedule 2020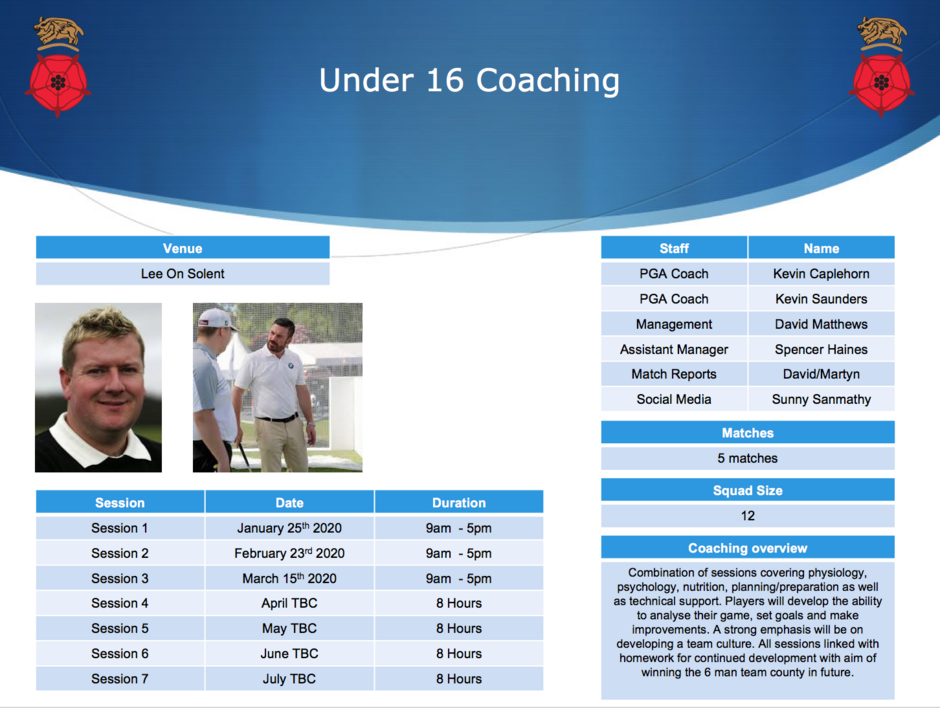 ​​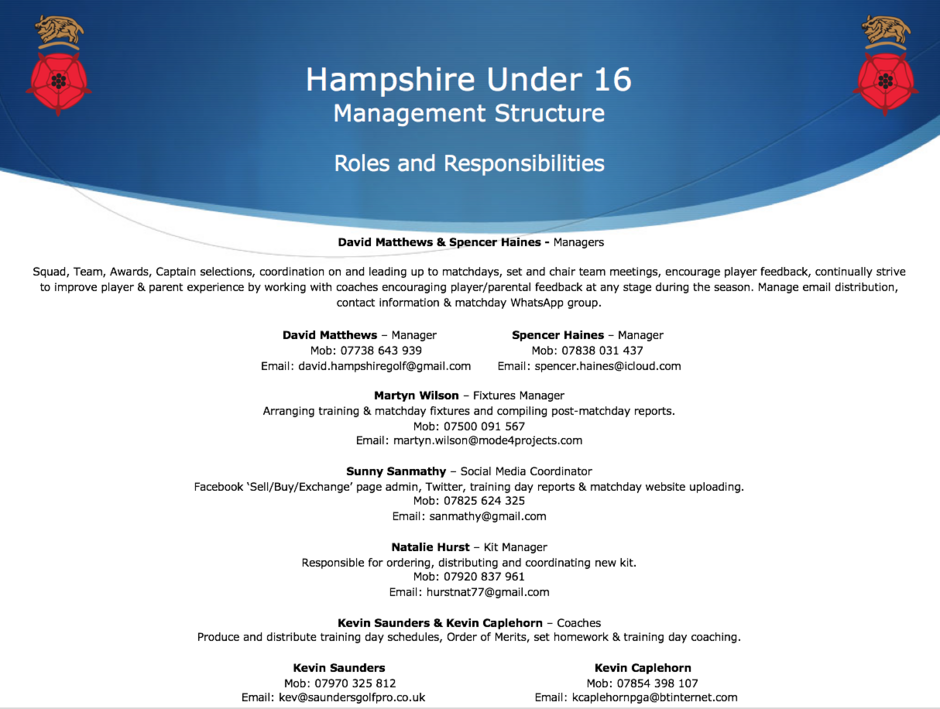 ​

News/Infomation

If you ever wondered what the pathway is to the very top of the game (Professional/Olympic Level) heres how to get there: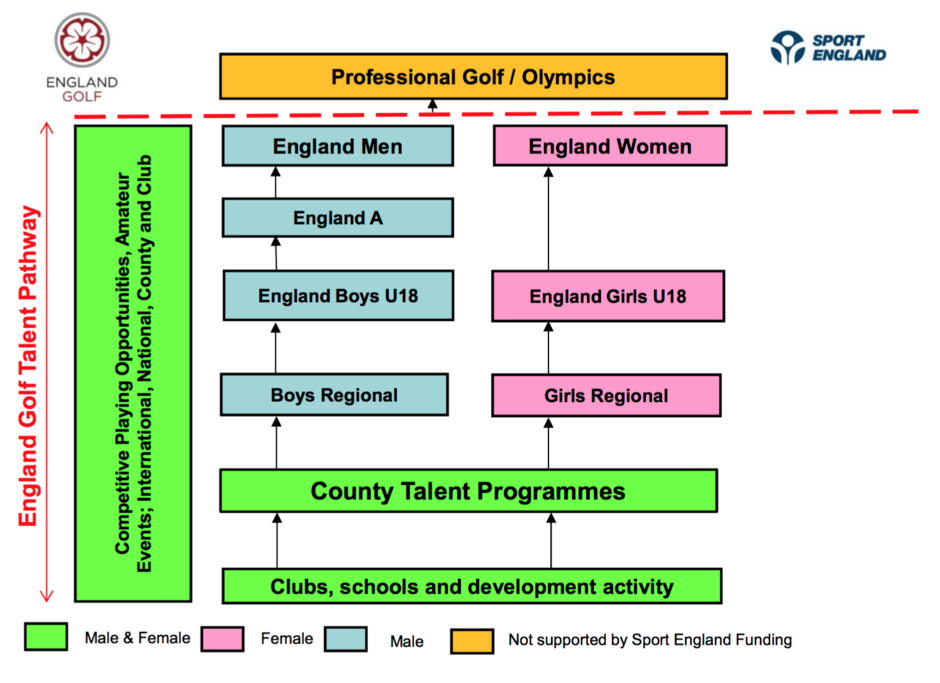 As we look forward to the 2020 season here's a list of competitions that we advise you to take part in: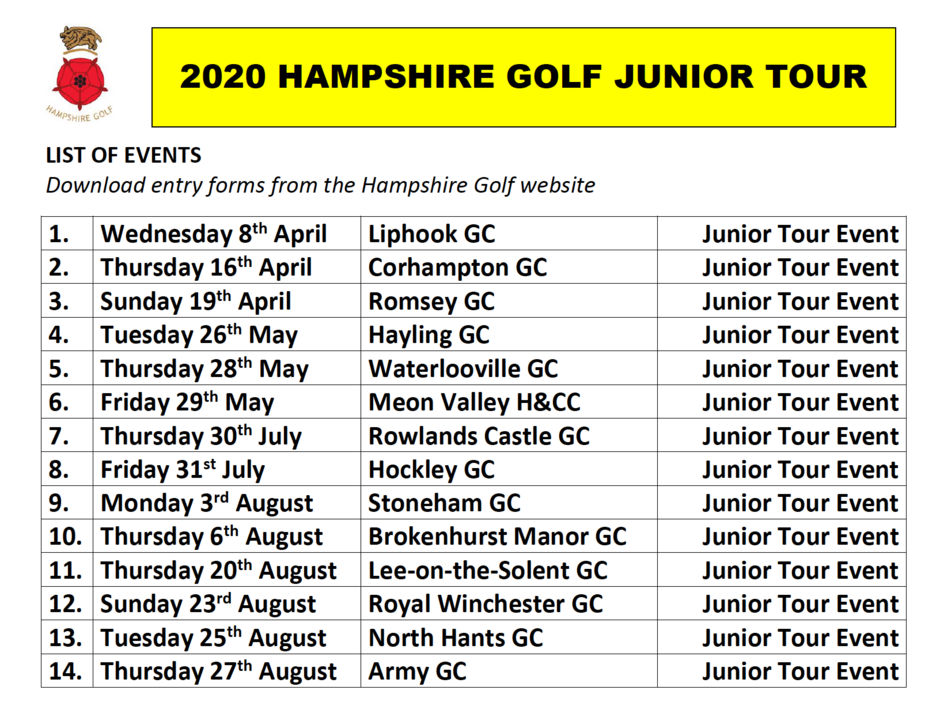 All - Hampshire Junior Opens and Order of Merit

U15
Douglas Johns
European Junior Tour
Faldo Series

U16
McGregor Trophy
Midland Boys
South East Boys
Sir Henry Cooper Junior Masters
North Boys
South of England Boys
Scottish Boys
European Junior Tour
Faldo Series


2019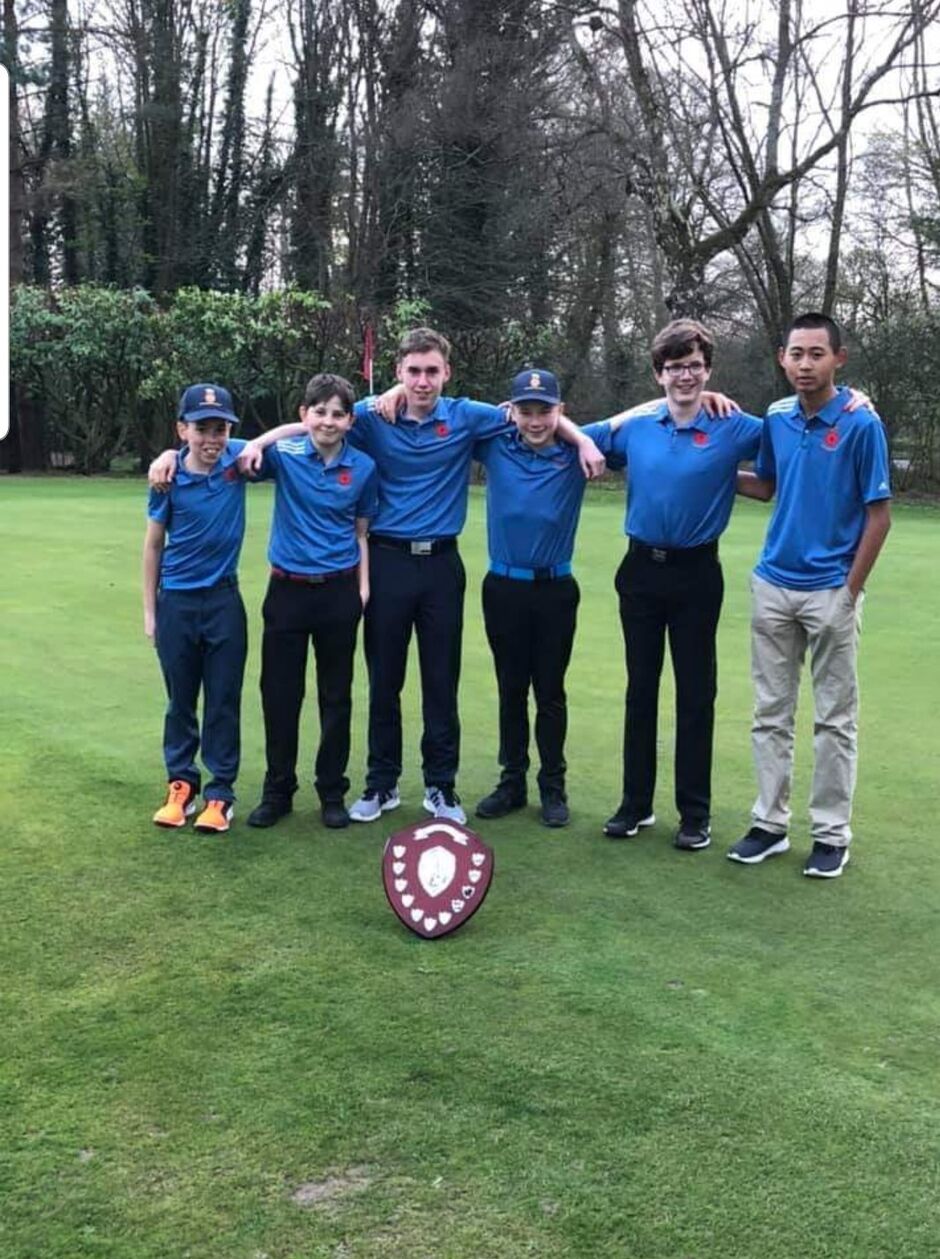 Hampshire U15 Triangle Shield winners
2018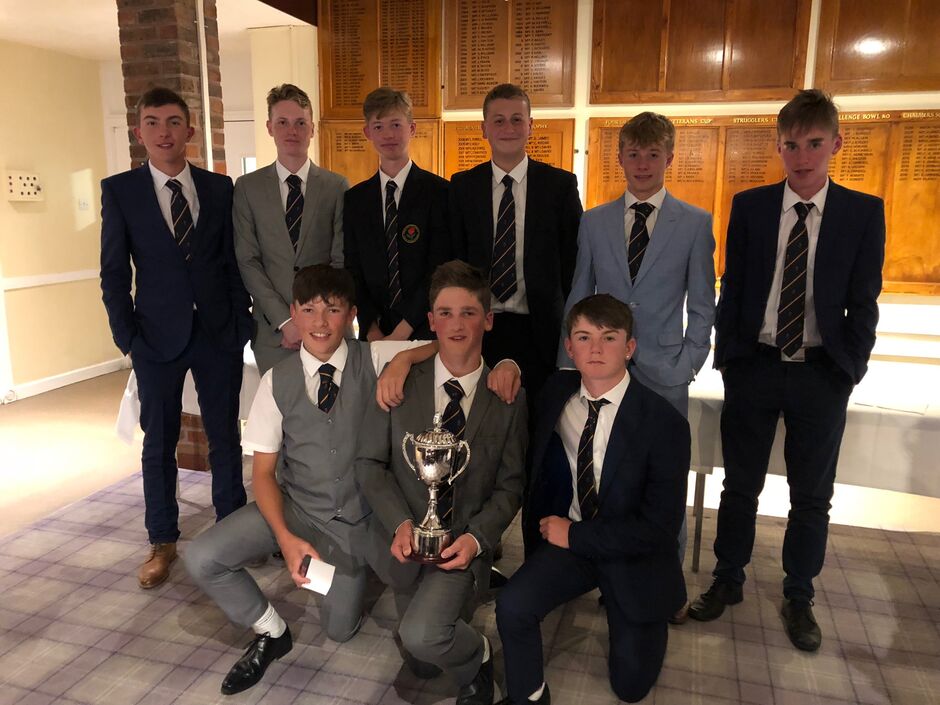 Under 16s win 2018 South-East League Final
Andrew Griffin reports...
HAMPSHIRE U16s were inspired by Europe's heroics in the Ryder Cup as they went out at the same time as the Sunday singles in Paris to win the South East League for the very first time.
Hampshire beat the East Division winners Suffolk 7-1 but Hertfordshire were much tougher opposition.
The North Division winners held Hampshire to a 4-4 draw giving Manager Wayne Matthews' 'men' victory, after Hertfordshire beat Suffolk 6-2, crucially one less game point than the new champions.
The victory also denied Hertfordshire an U16s and U18s South East League double.
Starring for the team were Meon Valley's Nick Matthews, who has also been a member of the Hampshire U18 team this summer, and Hayling's Jame Hellyer, who won his match against Hertfordshire 6&5.
Three of the team will graduate together into the U18s squad for next season to join Matthews and Liphook's English Schools South West Champion Sam West, who claimed the crucial point to take the title with a 3&2 victory in the bottom match against Herts.
South Winchester's Josh Mulcahy was beaten early in the fifth match only for Hellyer to level to make it 1-1 almost immediately by winning on the 13th.
But the top four matches were all tight affairs with every one reaching the 17th.
Freeman, at the top of the order, won on the last and Bramshaw's Joe Buenfeld claimed the 17th to go three up to make it 3-1 to Hampshire.
But Hockley's Tom Chalk and Matthews were both beaten 2&1 as Hertfordshire levelled up the scores only for Barton-on-Sea's Josh Caffyn to also lose 2&1.
It was left to West to ensure history was made by Hampshire.
Hampshire claimed the South Division title – also for the very first time – by beating Kent and Sussex at Royal Ashdown in the final league match of the season earlier in September, to qualify for the final at the end of the month.
Despite Sussex having home advantage Mulcahy watched his team inflict a 51/2-21/2 victory over the hosts in the triangular match, while recording a 5-3 win over Kent to claim their first silverware of the season.
Stoneham's Hampshire Junior Champion James Freeman picked up maximum points along with West to ensure Hampshire reached the final.
Assistant Manager Rob Mulcahy was delighted "Our U16 team have been together for a number of years and the bond and team spirit and belief wins you matches.
"The boys had been watching the first two days of the Ryder Cup and just wanted to get out there and emulate their heroes.
"Having a Hampshire legend like Justin Rose starring in the Ryder Cup is a massive inspiration for all our players.
"After all, he played in the same events as they do when he was a boy.
"The boys are a credit to their clubs and parents, as well as the county, and for the juniors in our U10s, U12s and U14s to now look up to."
Hampshire won four of their six U16 matches this summer, drawing the other two to go unbeaten and picked up 28 points out a possible 48.
Their progress will raise Hampshire's hopes of reaching the 2019 English Boys Finals for the first time since 2015.
The U18s qualified as South East Champions three times in four years from 2012 – when future British Amateur Champions Harry Ellis and Scott Gregory were in the squad along with Walker Cup team-mate Jack Signh-Brar.
Corhampton's Jamie Markwick, who became just the second Hampshire player to win the South East Junior Championship at Moor Park, in July, still has one more season in the junior ranks.
After the U18s could not cash in home advantage when hosting the South East Boys Qualifier at Blackmoor back in July, Hampshire's junior team managers cannot wait for next season.
Team: James Freeman (Stoneham), Joe Buenfeld (Bramshaw), Tom Chalk (Hockley), Nick Matthews (Meon Valley), Josh Mulcahy (South Winchester), James Hellyer (Hayling), Josh Caffyn (Barton-on-Sea) and Sam West (Liphook).
ANDREW GRIFFIN
Golf Writer, Media and PR Consultant
Mob 07773 848832
Twitter @griffinongolf