County Card
The County Card is a benefit that provides special rates at over 1300 courses, in some 32 counties in England. The discounted rates vary from club to club but is generally between 10% and 50% off the cost of a green fee for a day or round of golf.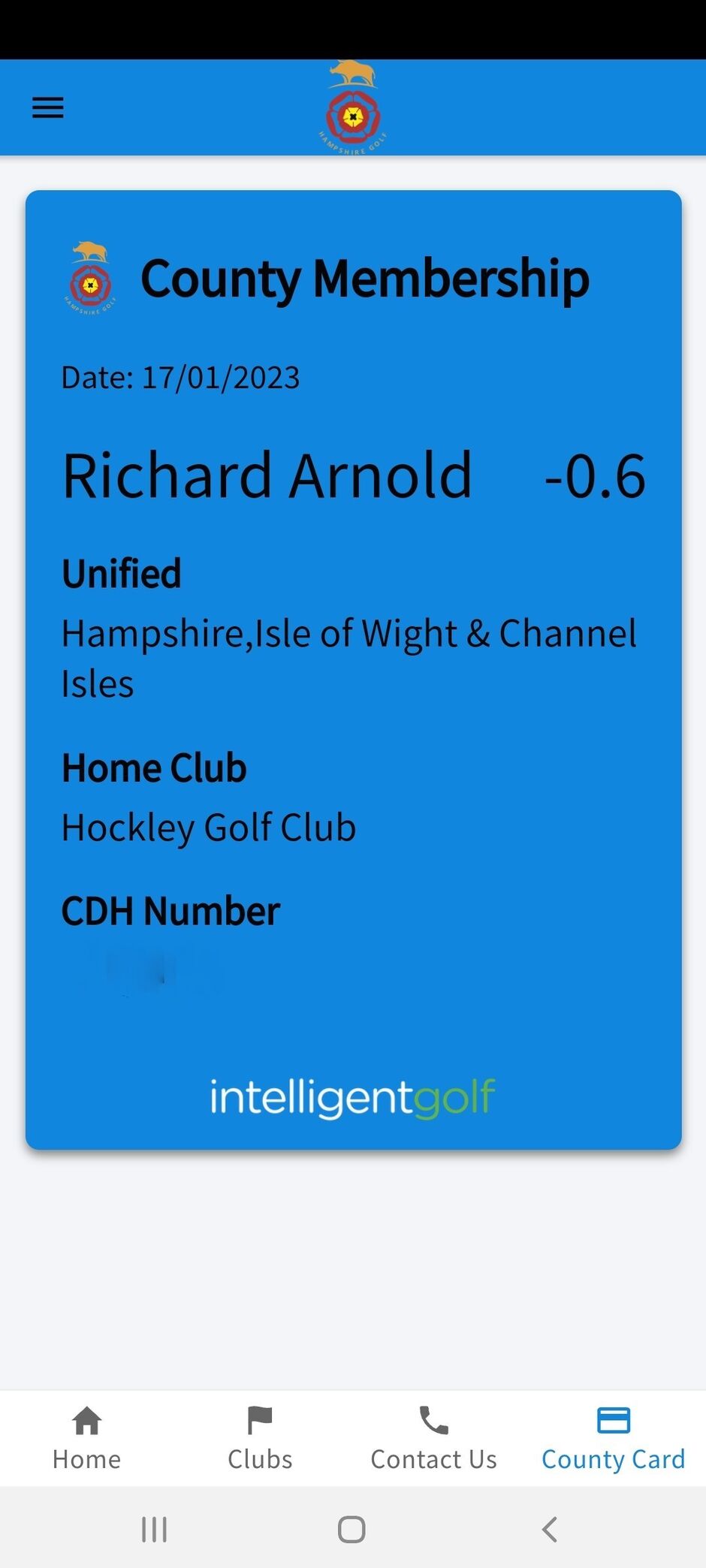 Following the roll-out in 2023, Hampshire Golf now provide free of charge access to the County Card, to all affiliated playing members of qualifying* clubs in Hampshire, the Isle of Wight & the Channel Islands. The members must have a handicap and be on the WHS system to get access to the County Card. The access will be through the County Card App. There will no longer be the need to subscribe or pay independently for the County Card **.
Downloading the County Card App
Details on how to download the County Card App are available by Clicking Here .
Using the County Card
There are only a few simple conditions for use. Please check below for full information and a list of all participating clubs in England.
The Conditions of Use
The County Card on the App, must be shown on the day, to receive the discount.
One visit per club per year (more visits may be available at the discretion of the Club).
The County Card is strictly non-transferable and satisfactory identification must be produced if requested.
Before a visit is made to a club, the individual is required to contact the club to ensure such a visit is convenient and must produce their County Card App and pay the relevant green fee before play.
At all times members must conform to the rules of the club visited both on and off the course and shall adhere strictly to the etiquette of golf.
Cards cannot be used for Society visits. Groups of more than four are at the Clubs discretion.
The days of the week the card is available to use at each club, is at the discretion of the Club, so please arrange this before visiting. Play on Saturdays, Sundays and Bank Holidays is not generally available for a County Card discount.
Any member not respecting these conditions shall be liable to forfeiting their access to the County Card ongoing.
* A qualifying Club is one that:
- is an affiliated club in Hampshire
- offers a County Card discount of their own to visiting golfers
- Completes their Affiliation Return and Payment promptly
- Ensures the WHS is kept cleansed to reflect the affiliated numbers confirmed with the County.
** Any golfer who previously held a subscription to the County Card and is a current member of a non-qualifying Club, will have the ability to continue their subscription to receive a card. New subscriptions will be at the discretion of the County.
National List of Participating Clubs
Click here for a list of Counties and Golf Clubs that accept the County Card.
As always contact the County Office if you need more information. We hope you enjoy using the County Card