2021 COUNTY SEVENS
Please note that courtesy practice rounds may not be available this year as Clubs prioritise their Members.
Please contact the host club to find out if tee times are available at off peak times.
Click here to see the Draw for this year's inter-club knockout.
Please email the County Secretary for an up-to-date list of Team Contacts.
2021 GREEN JACKETS
Click here to see the Draw for this year's Junior Inter Club knockout.
Click here for Competition Rules.
Please email the County Secretary for an up-to-date list of Team Contacts.
The winning team will represent Hampshire Golf in the EG Junior Club Championship, which will be played at Woodhall Spa GC on 24/25th August. The 36 hole stableford will be played over the Bracken course, a practice round will be available on 23rd August. The package includes two nights accommodation at the Inn at Woodhall Spa.

Good Luck to all the teams!
2020 COUNTY SEVENS AND GREEN JACKETS
Both Competitions have been cancelled for 2020.
2019 COUNTY SEVENS FINALS DAY
Army Golf Club won the County Sevens title at Petersfield Golf Club on Sunday (22/9).
Andrew Griffin reports.........
ARMY Golf Club equalled the record number of County Sevens wins by beating Lee-on-the-Solent at a rain-hit Petersfield Golf Club.
The Aldershot club were the first-ever winners back in 1966 – the year England won the World Cup and became the first club to hold the Hampshire, Isle of Wight and Channel Islands Inter-Club Knockout – and it's ladies equivalent – at the same time two years ago.
And it was Henry Lloyd, who held his nerve to get the better of Lee veteran Dave Edmunds to win at the 20th hole after the fourth match ended all-square and went into sudden-death.
The oldest player in the Lee team had been four up after five but Lloyd, who was getting four shots won the sixth, ninth, 12th and 13th.
Having lost the 16th Lloyd then made a great up and down from a greenside trap to square the match for a second time before the last was halved in fives as the nerves built up.
Edmunds, who has been a member of the Hampshire Seniors team this year, produced a miracle recovery shot from an impossible lie in the greenside bunker on the first extra hole, after Lloyd had to play the par five as a three-shotter because he had left his driver out of the bag.
His third saw him blade his approach through the back of the green, but they both got up and down for their pars.
Their 20th hole saw Edmunds find tree trouble on the right off the tee, forcing him to chip out. He was still short of the green in four while Lloyd played his fourth shot 20 feet from the pin.
Lloyd then two putted for a bogey 6 leaving Edmunds to hole from 18 feet to keep the match going. He failed narrowly to hole the putt meaning that the title was heading back up the A325 for the second time in three years.
Captain James West led the Army team again with five of the team, who lifted the trophy at Bramshaw in 2017, when they beat Ryde, in his line-up.
Having ended Shanklin & Sandown's hopes of gaining revenge for losing against Lee-on-the-Solent when they won in the final in 2006, the Gosport-based club stood between Rowlands Castle's record of six wins to Army's five.
Four-handicapper Talor Reay lost 3&2 to Lee's Hampshire U16s squad member Will Green, off three, having never been in front after losing the first two holes as Lee put the first point on the board.
Tom Ballard, another winner in 2017, beat Lee captain Kev Smith 2&1 in a battle of the five-handicappers, having been three-up with six to play.
Four-handicapper Chris Taylor fought back from one down in the top match with three to play, to draw level at the 16th.
He then won the last with a four to go one-up against Lee's Kev Burnop, playing off three.
That made it 2-1 to the Army but Lee's University of Northwestern Ohio graduate Lewis Scott, the only player off plus in the finals, saw off four-handicapper Alex Carey comfortably by 4&3 – despite giving away six shots – to make it 2-2.
Captain West then won the fifth match 3&2 against one-handicapper Rory Ainsworth, to edge Army back in front, before Lee's three-handicapper Nick Mitchell, who had been dormie three, beat four-handicapper Paul Kelly 2&1 in the penultimate match.
All the players converged on Edmunds and Lloyd as they headed down the last and back out to the first before the final was eventually settled at the 20th.
A delighted West said: "To win the Sevens again is a fantastic achievement, especially twice in three years and to match Rowlands record after they won it last year.
"Having beaten them 5-2 to reach the semi-finals it was the cherry on the cake to bring the trophy back to Army Golf Club.
"With five of the players that won the Sevens in the team again, I think our experience of the finals was a big help."
Royal Guernsey, who lost 5-2 to Army GC in their morning semi, went on to beat Shanklin & Sandown 41/2-21/2 in the third and fourth place play-off.
The "Road to Petersfield" began with a narrow win away at Alresford, when Carey grabbed the vital point in the anchor match.
That was followed by home wins over Meon Valley, 2016 winners Oak Park, and Boundary Lakes before their quarter-final clash with holders Rowlands Castle.
Lee-on-the-Solent also enjoyed a run of four straight home wins to get to the last eight, beating North Hants and Dummer – both 5-2 – followed by a 61/2-1/2 trouncing of Liphook to set up a clash with Hartley Witney.
The North Hampshire team had ended captain Kev Smith's hopes of a finals day trip 12 months earlier, losing at Hartley Witney.
But home advantage on Lee's tight par 69 course, which measures 5,962 yards, gave Smith, in his third year as Sevens captain, after 32 years as a member, the chance to take his team to the finals day.
Big thank-you to Petersfield Golf Club for hosting Finals Day. Also thanks to the sixty-seven Golf Clubs that took part in the competition this year.
2019 COUNTY SEVENS FINALS DAY (updated Sunday 25th August)
The line-up for the County Sevens semi-finals is confirmed.
Shanklin & Sandown will play Lee-on-the-Solent and Army will play Royal Guernsey.
Play will commence at 08.00hrs, both semi-finals from 1st tee.
2019 COUNTY SEVENS UPDATE
It's crunch time for the eight remaining teams. One more win and they will be through to FINALS DAY at Petersfield on Sunday 22nd September.
St Clements play Royal Guernsey in the Channel Islands 'Final', Rowlands Castle take-on Army, Lee-on-the-Solent play Hartley Wintney and Shanklin & Sandown are home to Weybrook Park.
Click here to see the up-to-date Draw (as of 29th July).
2019 GREEN JACKETS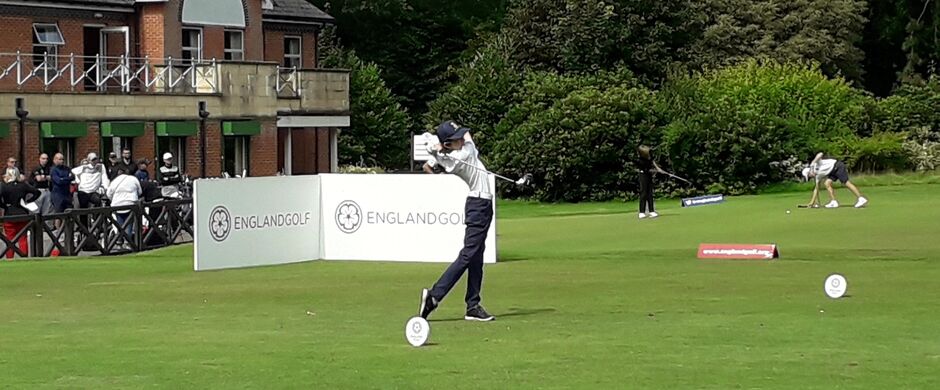 Sandford Springs won the 2019 Green Jackets at Hockley on Tuesday 30th July.
Sandford Springs then went to Woodhall Spa and represented Hampshire Golf in the England Golf Junior Champion Club.
The Team of Bert Pugh, Oliver Wilson and Mark Matthew finished in a very creditable sixth position.
Click here to see the England Golf Junior Champion Club leaderboard.
GREEN JACKETS FINALS DAY
Hockley, Sandford Springs, Hayling and La Grande Mare (Guernsey) have won through to Finals Day at Hockley on Tuesday 30th July.
The semi-final draw sees Hockley play La Grande Mare (08.30) and Sandford Springs play Hayling (08.50).
The Final is at 13.35, the 3rd/4th play-off at 13.15hrs.
The Green Jackets winners will go forward to represent Hampshire Golf at Woodhall Spa on 12th and 13th August.
2019 COUNTY SEVENS DRAW
The draw for the last sixteen is complete.
Click here to see the updated draw (as of Tuesday 2nd July).
2019 GREEN JACKETS
The second round has been completed. The eight quarter-finalists are now only one match away from Finals Day at Hockley on Tuesday 30th July.
The Green Jackets Champions will represent Hampshire Golf in the England Golf Junior Champion Club at Woodhall Spa on 12th & 13th August.
Click here for the updated Draw.
2019 COUNTY SEVENS DRAW
Boundary Lakes, Ryde, Army and L'Ancresse are already through to Round Three.
Click here for the up-to-date Draw (as of 24th June).
2018 COUNTY SEVENS FINALS DAY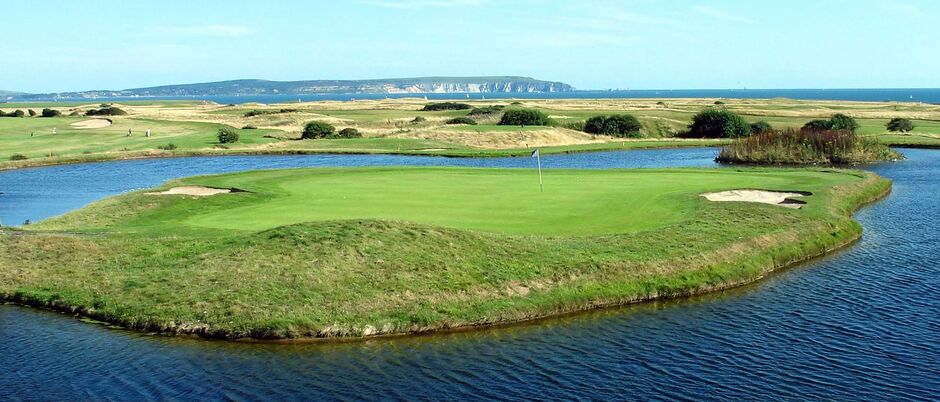 Congratulations to Rowlands Castle GC.
They beat Royal Jersey in the Final played at Barton-on-Sea GC on Sunday 23rd September.
Record sixth win for Rowlands Castle Golf Club, see report and pics from FINALS DAY.
Click here to see the Group Draw.
2017 COUNTY SEVENS 'FINALS DAY', Sunday 22nd October
Southampton will take on Ryde and Royal Guernsey will play Army in the semi-finals of the County Sevens at Bramshaw (Manor Course) on Sunday 22nd October.
Ryde booked its place with a 5-2 home win over Cams Hall, Royal Guernsey beat Corhampton 4-3, Army beat Barton-on-Sea 6-1 and Southampton beat Basingstoke.
Please click here to see the up-to-date Draw for this year's competition (as of Monday 4th September).
2018 GREEN JACKETS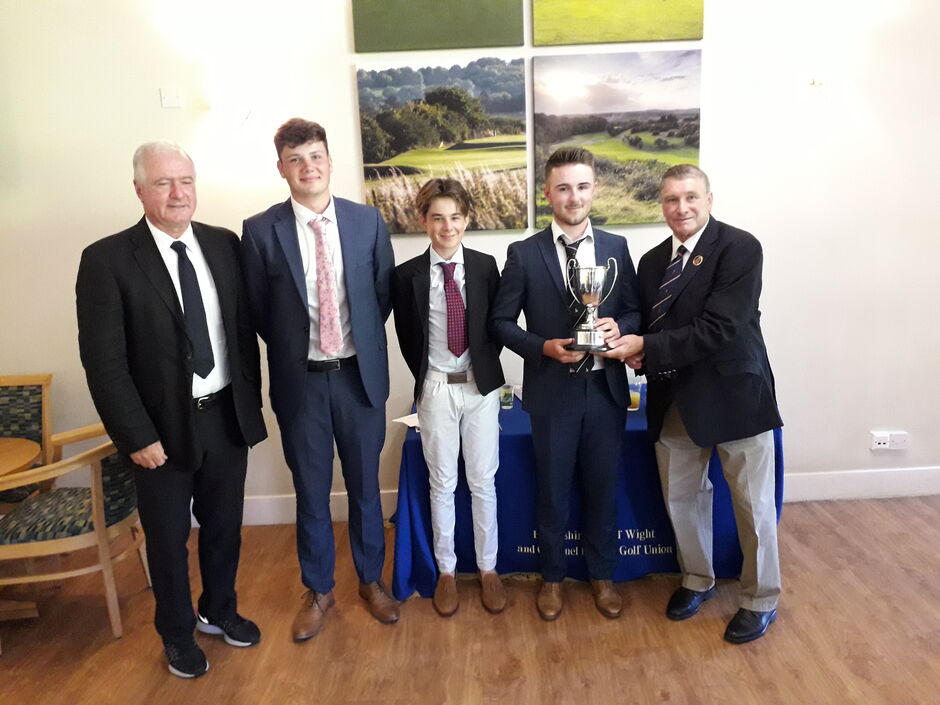 Winning Blackmoor Team: David Telfer (Manager), Alex Tupper, Jamie Rodger, Lawrence Valente and John Moore (President, Hampshire Golf).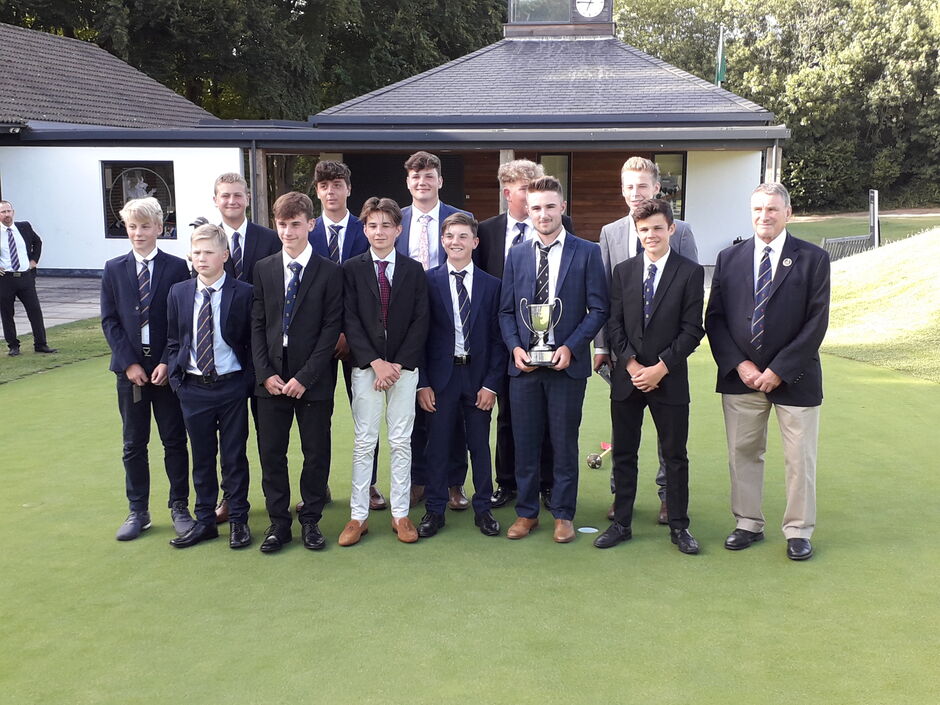 Group Winners...Dummer GC, South Winchester GC, Hayling GC and Blackmoor GC.
Congratulations to Blackmoor Golf Club, who won the Green Jackets Cup for the first time.
They defeated Dummer in the Final, played at Hockley on 31st July.
Click here for Finals Day scores.
2017 GREEN JACKETS
Congratulations to Romsey Golf Club, 2017 Green Jackets Champions.
Romsey now go forward to England Golf Junior Champion Club Tournament at Woodhall Spa on 14th and 15th August.
Click here to see scores for Semi-final and Final.
Photos on the Hampshire Golf Facebook Page.
Click here to see the completed Draw.
Click here for list of Junior Organisers at Hampshire Golf Clubs.
******************************************************************
2016 FULLERS COUNTY SEVENS
Congratulations to Oak Park Golf Club, 2016 Fullers County Sevens Champions.
Photo shows the winning Oak Park team at Stoneham Golf Club.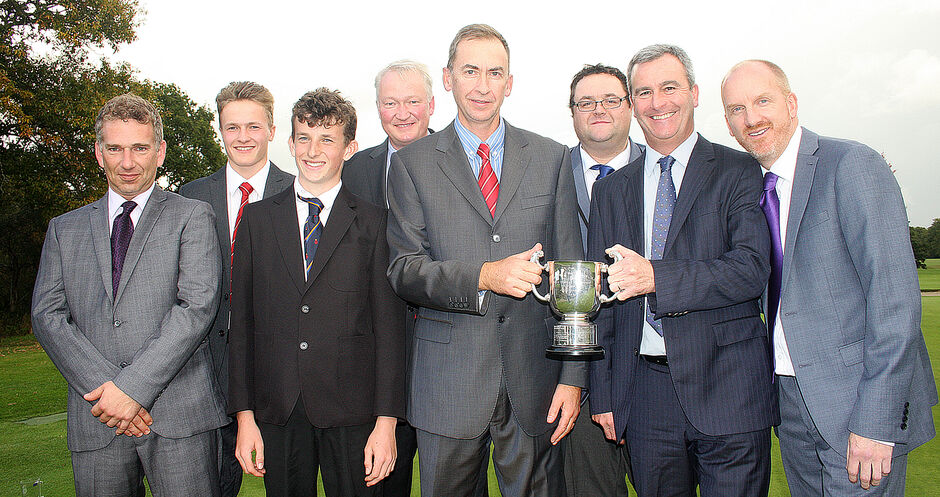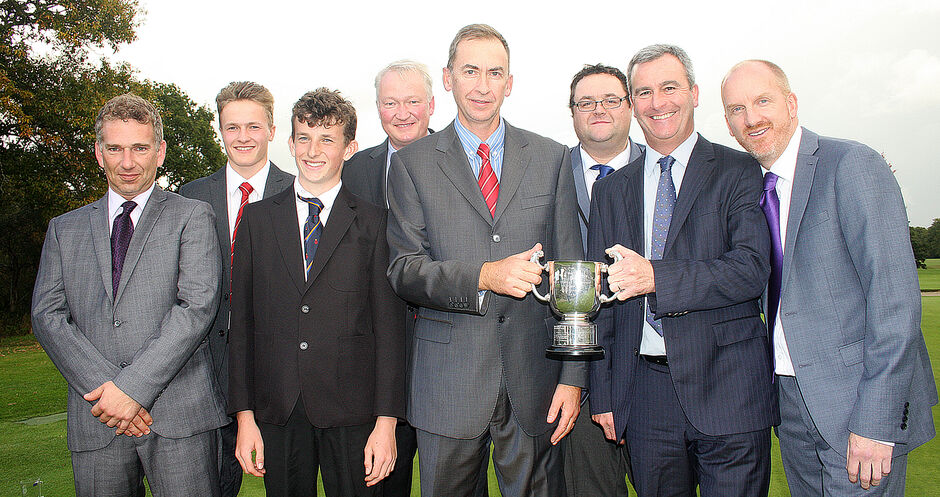 Click here for list of Team Contacts.
2015 Result
Congratulations to OLD THORNS for successfully retaining their FULLERS COUNTY SEVENS title at Meon Valley on Sunday 18th October. Old Thorns beat La Grande Mare in the Final.
Fullers has kindly agree to continue their sponsorship of the COUNTY SEVENS in 2016.
See the full result of the 2015 competition below.
2015 FULLERS COUNTY SEVENS DRAW
2015 FULLERS COUNTY SEVENS RULES
2016 GREEN JACKETS RESULT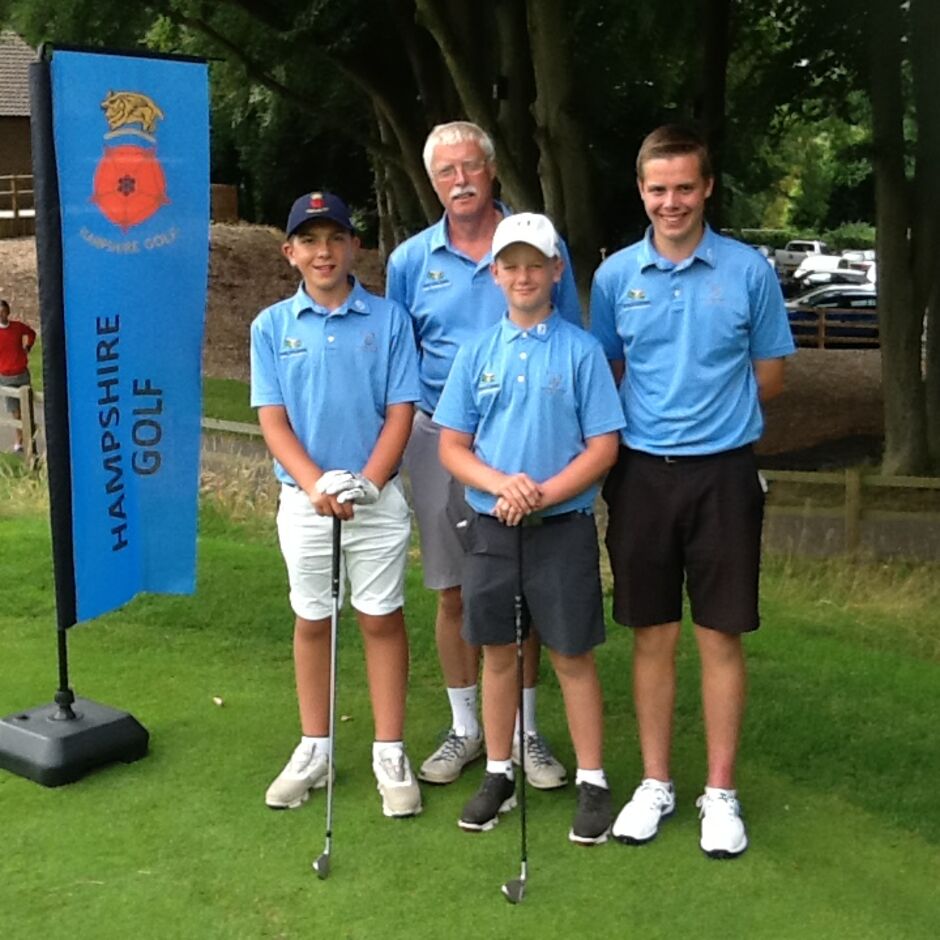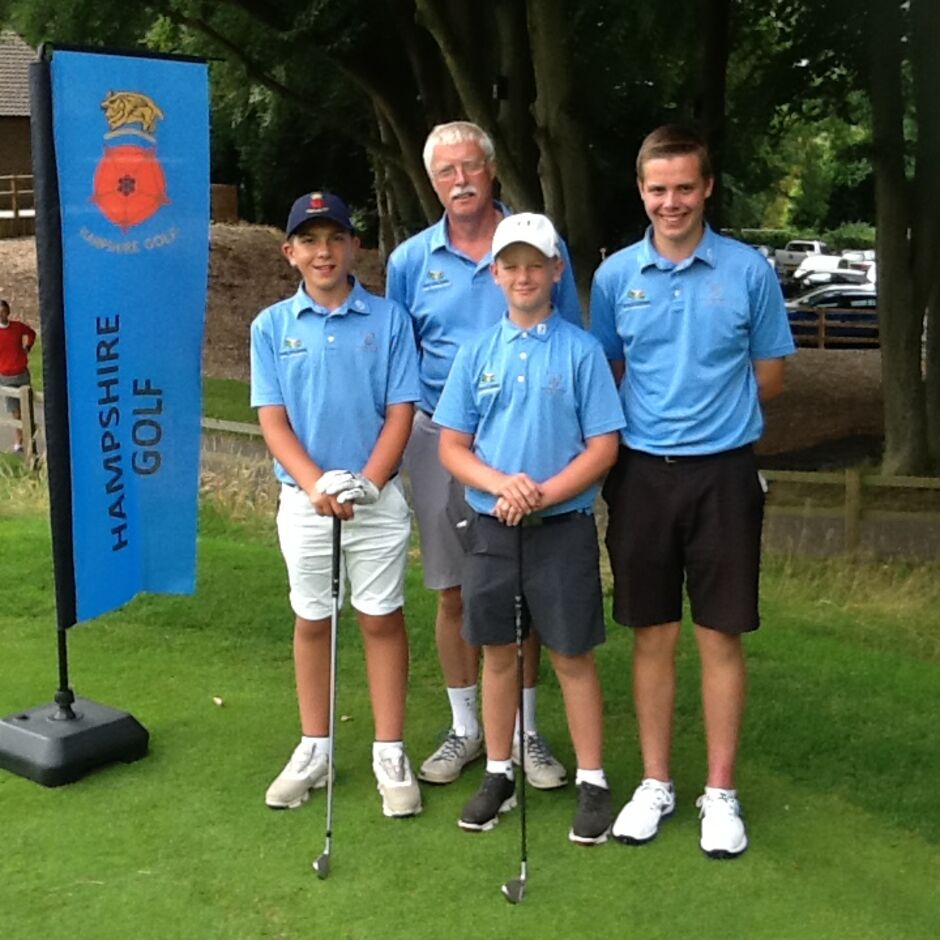 Congratuations to Bramshaw Golf Club on winning the Green Jackets Cup for the first time. They defeated La Moye in a very close final at Hockley.
Bramshaw now go forward to represent Hampshire Golf in the EG Junior Champion Club event at Frilford Heath on 11th & 12th August.
2016 GREEN JACKETS JUNIOR INTER-CLUB KNOCKOUT
The format of the Green Jackets was changed for 2016 to encourage more Golf Clubs to take part. It is now a mixed event, played off handicap as an aggregate stableford. The changes to the format saw a 20% increase in entries and it is hoped that more Clubs will enter in 2017.
Format:
* Three in a Team, boys and girls.
* Each match played as an aggregate stableford off full handicap, all three scores to count.
* Handicap: Boys max 24, Girls max 36
Entry forms for 2017 will be available here in November.
2015 GREEN JACKETS JUNIOR INTER-CLUB KNOCKOUT
Congratulations to SHANKLIN & SANDOWN GOLF CLUB. They beat Barton-on-Sea GC in the final of the Green Jackets at Hockley on Tuesday 28th July.