Hampshire defeat Dorset
Andrew Griffin reports from Brokenhurst Manor on the first South-East Counties League match of the 2019 season.
Team Hampshire (left to right): Tom Robson, Darren Wright, Jordan Sundborg, Martin Young, Owen Grimes, Sam Parsons, Ryan Moody, Billy McKenzie, Toby Burden, Alan Drayton (County President) and Colin Roope (County Captain).
HAMPSHIRE'S intensive preparation for their opening South East League match of the season paid handsome dividends as Colin Roope's men recorded their biggest win against Dorset in more than 20 years.
Roope went to the unusual lengths of switching the venue for the pre-season friendly against the Channel Islands from Hayling to Brokenhurst Manor, where last year's beaten South East League finalists kicked off their South Division campaign for 2019.
And that attention to detail was rewarded as Hampshire raced out of the blocks to take the morning foursomes 3-1 and then won seven of the eight singles match, with Hayling's Toby Burden the last man out on the course ensuring an unbeaten session by halving against Ferndown's Harry Mitchell.
Roope explained: "I have to thank Brokenhurst Manor for letting us switch the Channel Islands game – playing the course two weeks before the first league game and letting us select the pin positions for the match was a massive help.
"Our county secretary David Wheeler works very hard and closely with the clubs and the venues are normally agreed a good year in advance.
"So when we play the Channel Islands at home every other year, it makes sense to me to tie those two fixtures up.
"Last year, we arranged a friendly against a scratch team from the Isle of Wight at Shanklin where we were due to play Kent in the first home game.
"We got exactly the same result against Kent – and again that was the biggest win against them for probably 20 years at least."
Brokenhurst Manor's former county captain Martin Young teamed up with McKenzie's Rowlands Castle team-mate Darren Wright, who crushed Luke Hirst and Matthew Sandy 7&6 in the first foursomes.
McKenzie teamed up with Stoneham's Ryan Moody to win their game by two holes.
Although the hosts had been up early in all four games, Hampshire Amateur Champion Owen Grimes and Shanklin's Jordan Sundborg closed out their game on the last, while Burden and Blackmoor's Sam Parsons defeat on the last to veteran Giles Legg and Mitchell prevented a whitewash.
But any thoughts Dorset captain Tom Leech had of mounting a fightback was dashed in the singles.
Stirling University's Sundborg – who claimed the British Universities and Colleges Sport Order of Merit in the spring – and Grimes, from Stoneham, who cut short his golf scholarship in the USA before Christmas, raced into big leads by the turned.
Parsons matched that fast start to rip the heart out of Dorset's middle order going on to beat Peter Corrick 6&5 – a score matched by Sundborg against Andrew Robson.
Grimes, who made his debut against Sussex after his surprise win in the Hampshire Isle of Wight and Channel Islands Amateur Championship last June, continued his good early season form by lashing Legg 7&6.
Appropriately it was Young's 3&2 win over Thomas Kolberg in the third match out – on a course he knows every blade of grass on – that guaranteed the win.
McKenzie and Wright had the two toughest matches on paper against Luke Hirst and Rideout respectively.
Both games reached the 18th – McKenzie, having gone behind after losing a ball on the 14th, needed a birdie for a half at the par five 16th before winning the tricky 17th with a half.
He found himself in the trees on the right on the 330-yard hole and found the right trap from a difficult lie only to see Hirst find the sand from position A just short of the green, tempted by the front pin guarded by the wide bunker.
That enabled McKenzie to get up-and-down for his four while the Dorset player took five to hand Hampshire another point.
Wright, with just Moody and Burden left out on the course, was also down the right but his cute chip set up a birdie chance from some 12 feet – and he celebrated in front of his watching team-mates with a swaggering fist pump that summed up Hampshire's superiority as the ball dropped into the cup.
Moody took the 17th to beat Sandy 3&1 thanks to a long birdie putt while Burden ensured not a even a crumb of comfort for the visitors, whose captain Leech acknowledged his team had lost to one of the strongest teams in the country, let alone the South East.
MATCH PREVIEW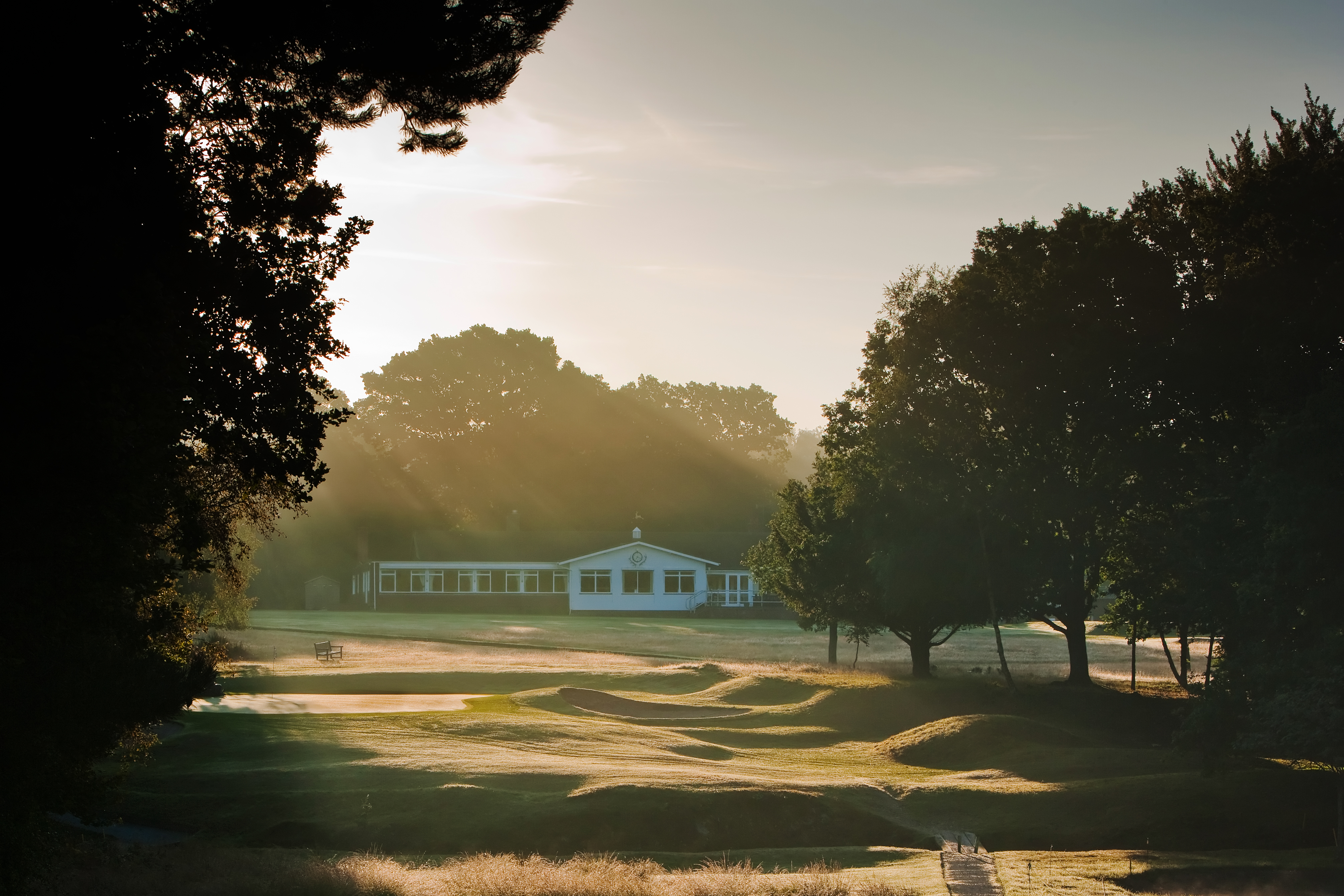 12th hole at Brokenhurst Manor Golf Club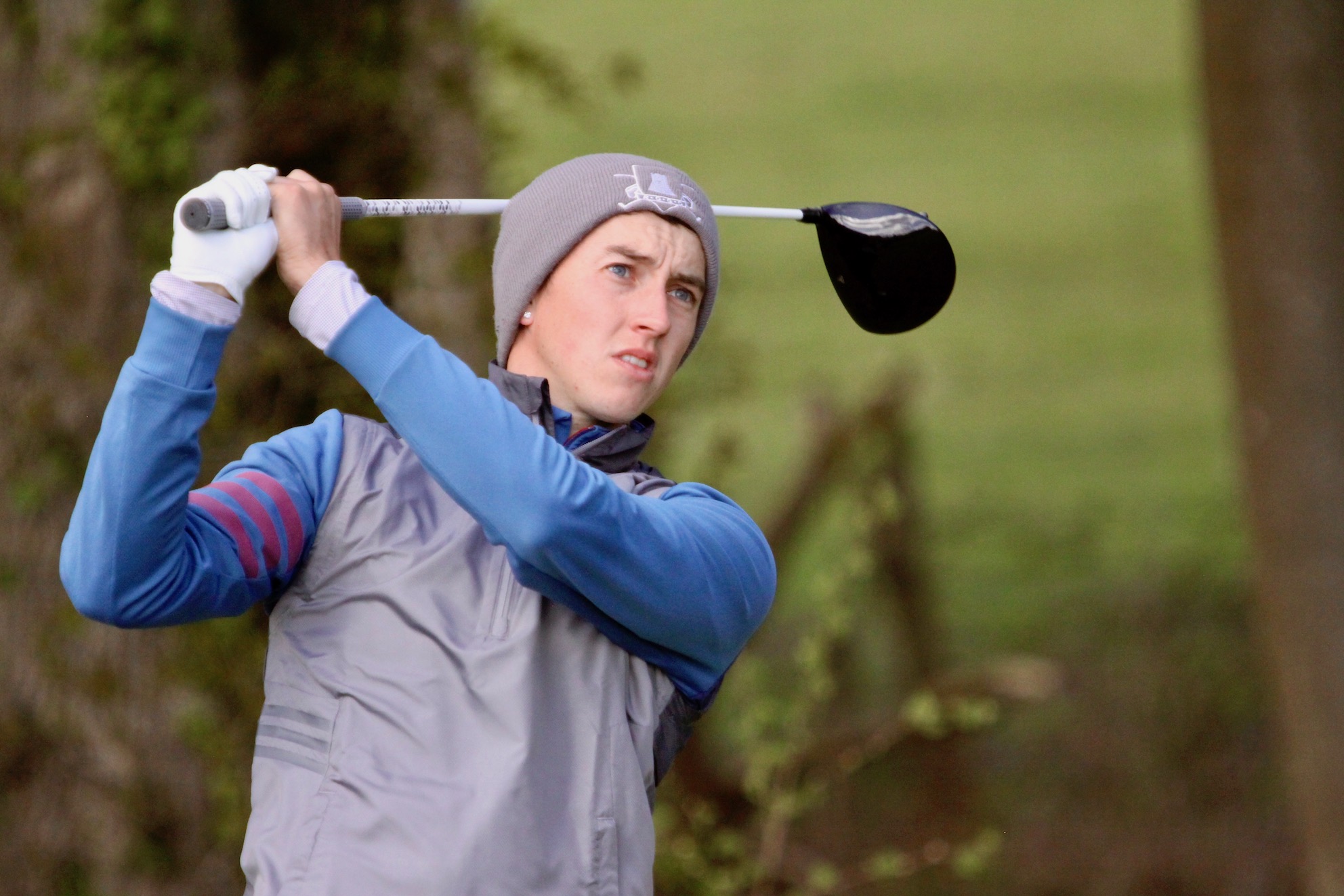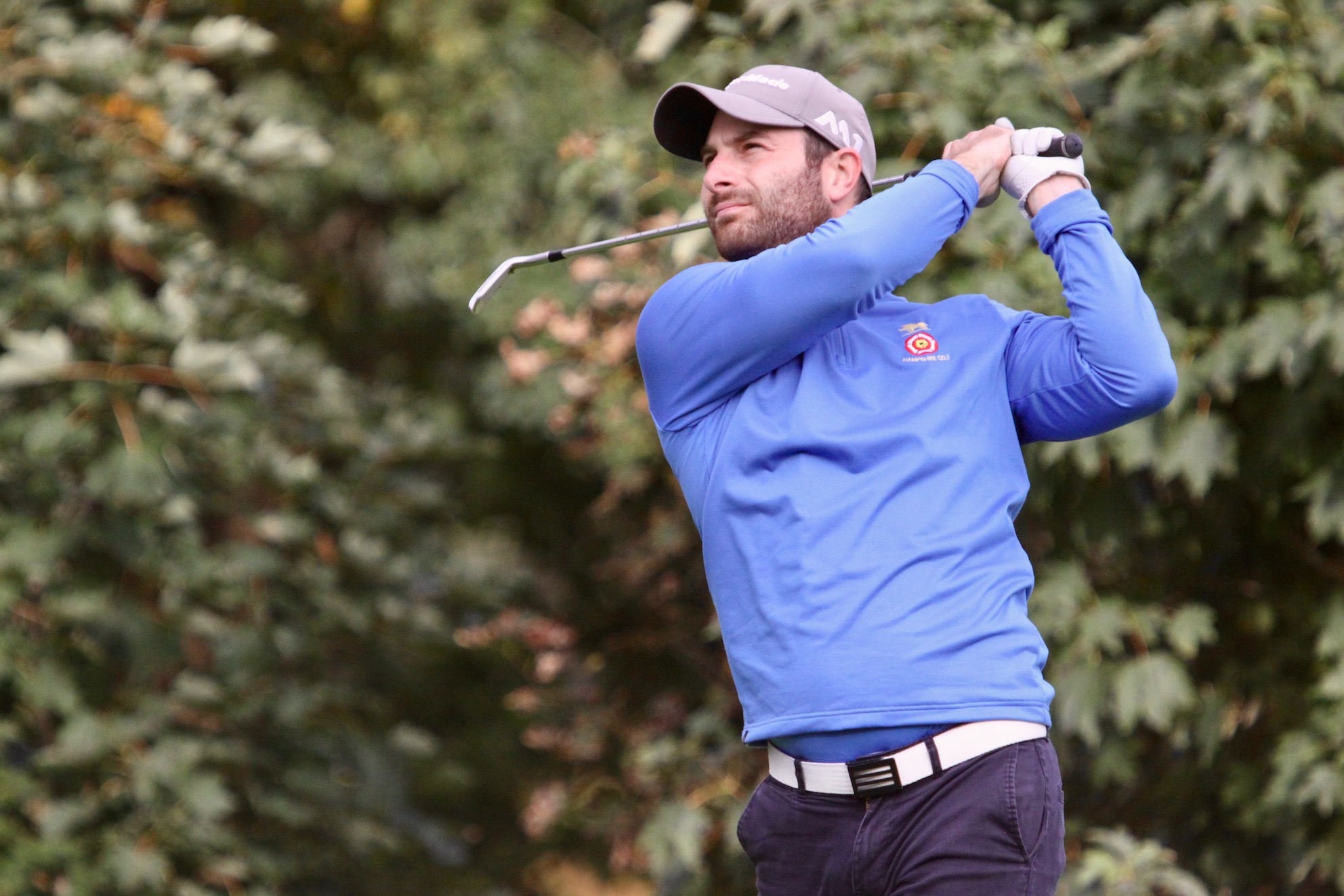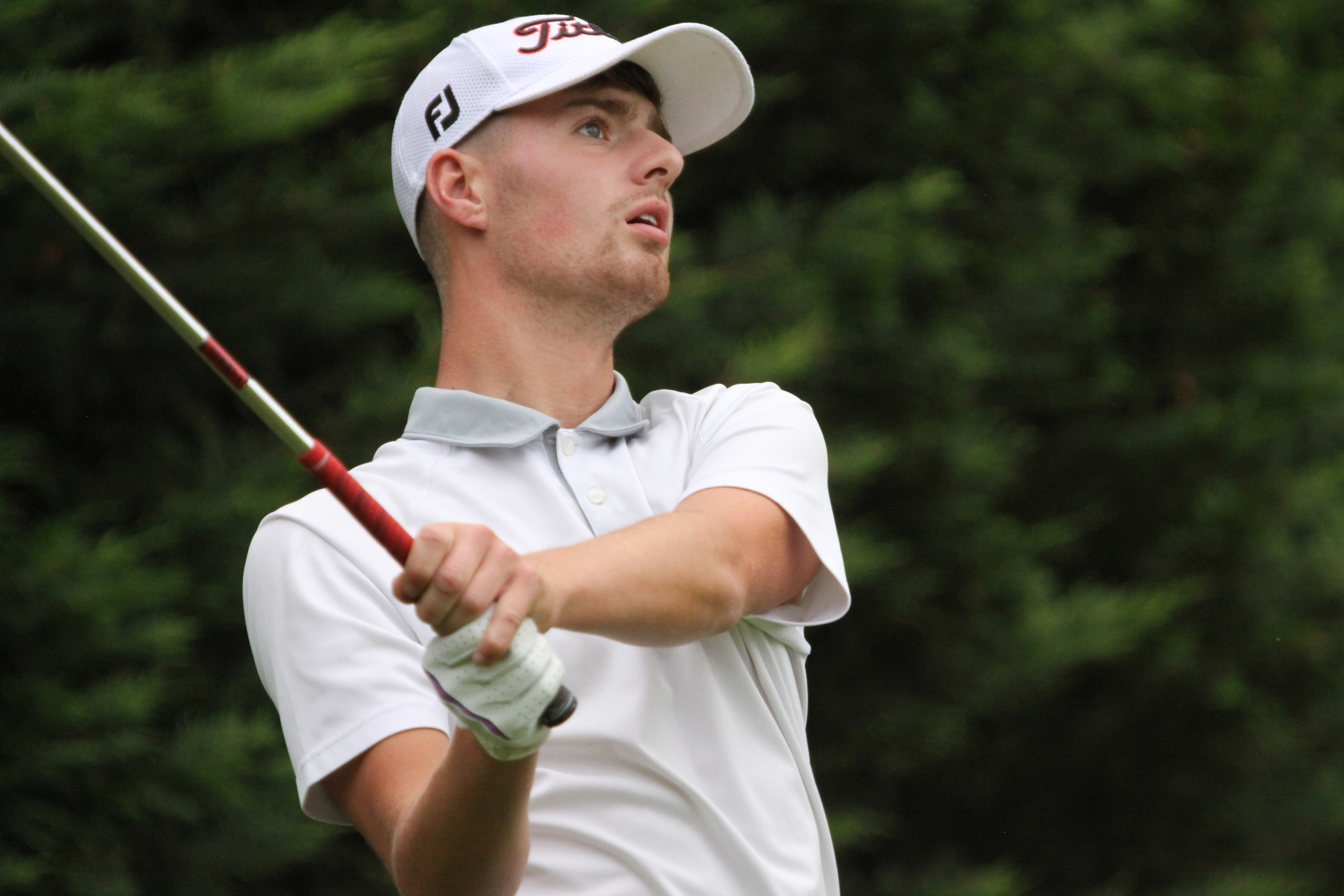 Billy McKenzie, Toby Burden and Owen Grimes in action.
Andrew Griffin previews Sunday's SE Counties League Match at Brokenhurst Manor Golf Club.
HAMPSHIRE kick off their South East League campaign against Dorset, in the New Forest, on Sunday, without two of their regulars from last season.
Rowlands Castle's Tom Robson has been ordered to rest after undergoing surgery to remove a cyst in his armpit, while captain Colin Roope, who has been struggling with a shoulder injury for the past month, has opted to sit out the first game.
But the Blackmoor man is more than confident in the county's strength in depth after calling up the last two players who have won the Hampshire, Isle of Wight and Channel Islands Amateur Championship to complete his eight-strong team.
With Stoneham's Alex Talbot also unavailable, clubmate Owen Grimes and Shanklin and Sandown's Jordan Sundborg have been given the nod to fill the two spaces from the eight that beat the Channel Islands at Brokenhurst Manor two weeks ago – the same venue for the Dorset clash.
Roope, who has picked last year's Spanish Amateur Champion Billy McKenzie and Rowlands clubmate Darren Wright, said: "Tom was told to rest for two weeks, so without any time to have any practice or even a round, it's best for him to miss the first game.
"To be able to name a team that still contains Darren Wright, who has won both the English Men's and Boys Strokeplay, and England's Billy McKenzie, plus our old captain, Martin Young, who is a former English Mid-Amateur Champion and playing at his home club, is a decent start.
"Alex has been offered a chance to visit where he is hoping to go to college on a golf scholarship in the States later this year. The date clash is unfortunate as he has started to grow into his role in the team, playing in last year's final and the pre-season games.
"But to be able to call in the county champions for 2018 and 2017 in their place shows how much strength in-depth the county still has.
"Stoneham's Ryan Moody, who also made his first-team debut in the final against Essex in October, has gone four-for-four in the two warm-up games with the PGA and the Channel Islands.
"Hayling's Toby Burden has been a member of the team for a decade – apart from his spell as a pro and won both his games at Brokenhurst Manor – he knows what is expected in these games."
The other recent addition to the first team squad is Blackmoor's Sam Parsons who was a junior at Waterlooville when Scott Gregory played there.
Sam, who lives in Portsmouth, has picked up four points out of six so far this season, having also played for the Colts in a friendly, having also been handed a daunting debut against Essex at Frilford Heath.
Colin added: "Jordan has won the British University's Order of Merit having gone back to Stirling University in the autumn.
"He was struggling after losing to Owen Grimes in the county championship quarter-finals at Liphook, but he has gone away and bounced back brilliantly with two wins since Christmas – Stirling play in the States and the Middle East against top international colleges.
"So to be able to pick both Jordan and Owen, who went on to win the Sloane Stanley against Tom is no bad position for me to be in.
Owen has already finished in the top five at the Berkhamsted Trophy and was 11th in the Selborne Salver, so he has got early season form."
Last year captain Roope turned out to be the saviour in his first game after succeeding Young as captain, following Hampshire's first English County Championship victory in 21 years in 2017.
He got the point to salvage a draw against Dorset at Remedy Oak, which in the end was enough to see Hampshire through to the South East Final after beating Kent and Sussex, and drawing the last match against Surrey, at Hayling, in August.
"Last year we were giving two debuts to Sam De'ath, from North Hants, and Corhampton's Jamie Markwick, and I was experimenting a bit, trying to find some foursomes partnerships on a long, tour-standard track.
"I have learned a few things about captaincy over the past year – I have been able to play people in the friendlies with a firm idea of what we wanted for the opening league game.
"Sam and Ryan have had their baptism of fire in the final, so on a course we have played recently – and which will be set up the way we want it – I think we will be fully prepared for Dorset.
"We have tough away games in Kent and Surrey this year, but we have Meon Valley's George Saunders and Shanklin's Conor Richards who will be back from America, as well as Tom Robson to really increase the competition for the next games.
"Last year, I said defending the English County Championship would be incredibly hard – and it was.
"When we went to the South East six-man qualifier we were beaten by a better team on the day, but having won seven out of the past 11, that can always happen. The scoring that day was incredible.
"We played very well – B.B.&O. just played better. I said our goal was to win the league, which we did for the first time since 2012.
"Essex were just too strong for us in the final, but we had a few players missing. Finishing ahead of Surrey. Sussex, Kent and Dorset is tough enough, so it has to be the aim again – although getting to the English County Finals is obviously an achievement in itself, regardless of whether you can win the big one or not.
"Getting Darren Wright back from the pro ranks is a major plus – we just need to get into our stride and settle into a rhythm for the summer and see where it takes us.