Colts fightback to win
Left to right: Jason Stokes (La Moye), Nat Riddett (Colts Manager - Shanklin & Sandown), Sam Parsons (Blackmoor), Chris Hayward (Osborne), Owen Grimes (Stoneham), Joe Hacker (La Moye), Lawrence Cherry (Stoneham), Alex Talbot (Stoneham) and Callum Watson (Stoneham).
Andrew Griffin reports on Hampshire's victory at Sherfield Oaks....
Riddett ready for Kent clash after seeing off Surrey at Sherfield Oaks
HAMPSHIRE Colts roared back from an early deficit to get new manager Nat Riddett's managerial reign off to winning start with a 71/2-41/2 win against Surrey, at Sherfield Oaks.
The Shanklin & Sandown greenkeeper watched his players struggle in the morning foursomes as the Crown Golf course gobbled up any wayward drives thanks to some brutal rough, against a Surrey side featuring Killian McGinley – the son of Ryder Cup-winning captain Paul, who are both members at Sunningdale.
Having been able to select a strong side, including three players who have featured for Hampshire captain Colin Roope's first team this season, the hosts found themselves trailing by a point at lunch in the first of two South Division matches this summer.
The Stoneham pairing of Alex Talbot and Owen Grimes gave Riddett the perfect start coming from behind to win a point with a 3&2 win over Scott Murray and Kevin Lee.
Hampshire were quickly five down in the bottom match where Stoneham's Callum Watson – who finished a golf scholarship at Erskine College, in South Carolina in April – was a last-minute replacement for Liphook's Sam Lemon.
Watson and clubmate Lawrence Cherry were left to an early lunch by the Surrey pairing of McGinley and Charlie Crockett, whose dad Simon has captained Surrey recently and played in the same county side as Paul Casey 20 years ago.
Osborne's Chris Hayward – playing with La Moye's Jason Stokes – were four down against the visitors' Ben Stokoe and Lawrence Courtney to put Riddett's side on the back foot.
And in the last match out La Moye's Jo Hacker and Blackmoor's Sam Parsons were hit by a late birdie after Surrey's Tommy Bentley and Sam Wood put their tee shot on the 18th green to come from two down for a half.
Riddett need not have let the score spoil his lunch as his U23 side came firing out of the blocks and after six holes they were comfortably in front in the first six games.
Talbot rattled off a 7&6 win over Lee – driving the green on the 12th to eight feet for another birdie – while Parsons, fresh from his win at the Bren Gun Cup at Aldershot's Army Golf Club 24 hours earlier, saw off Stokoe, winning by the same score.
That put the home side in front and Hacker and Grimes were in a race to join the top two out on the course supporting their team-mates.
Grimes, last year's Hampshire Isle of Wight and Channel Islands Amateur Champion, meted out a 6&5 victory against Murray 6&5 while Hacker beat Bentley 5&4.
That gave Stokes the chance to claim the first point under Riddett's regime, by beating Sam Wood, 5&4, before Hayward put some gloss on the scoreline beating Courtney 3&2 for a full point on his Colts debut.
Not even late defeats for Watson – at the hands of McGinley – and Cherry who was picked off by Crockett could spoil the new manager's day.
A delighted Natt said: "We have got off to a fantastic start even if the foursomes was a struggle. All the players battled hard under tough conditions.
"I was pleasantly surprised waiting at the sixth hole in the singles to find we were up by at least a couple of holes in the top six games.
"By the time Surrey won their first point in the singles, we had got to seven-and-a-half, guaranteeing us the win.
"Callum Watson helped us out by answering a late call after Sam Lemon twisted his ankle on the Saturday – and got to play Paul McGinley's son twice."
Riddett's team will now travel to West Kent on July 21 with a place in the South East League Final at stake. Hampshire are hosting the final at Basingstoke's Weybrook Park, on October 13.
Click here for the match result.
Andrew Griffin previews Colts match against Surrey at Sherfield Oaks.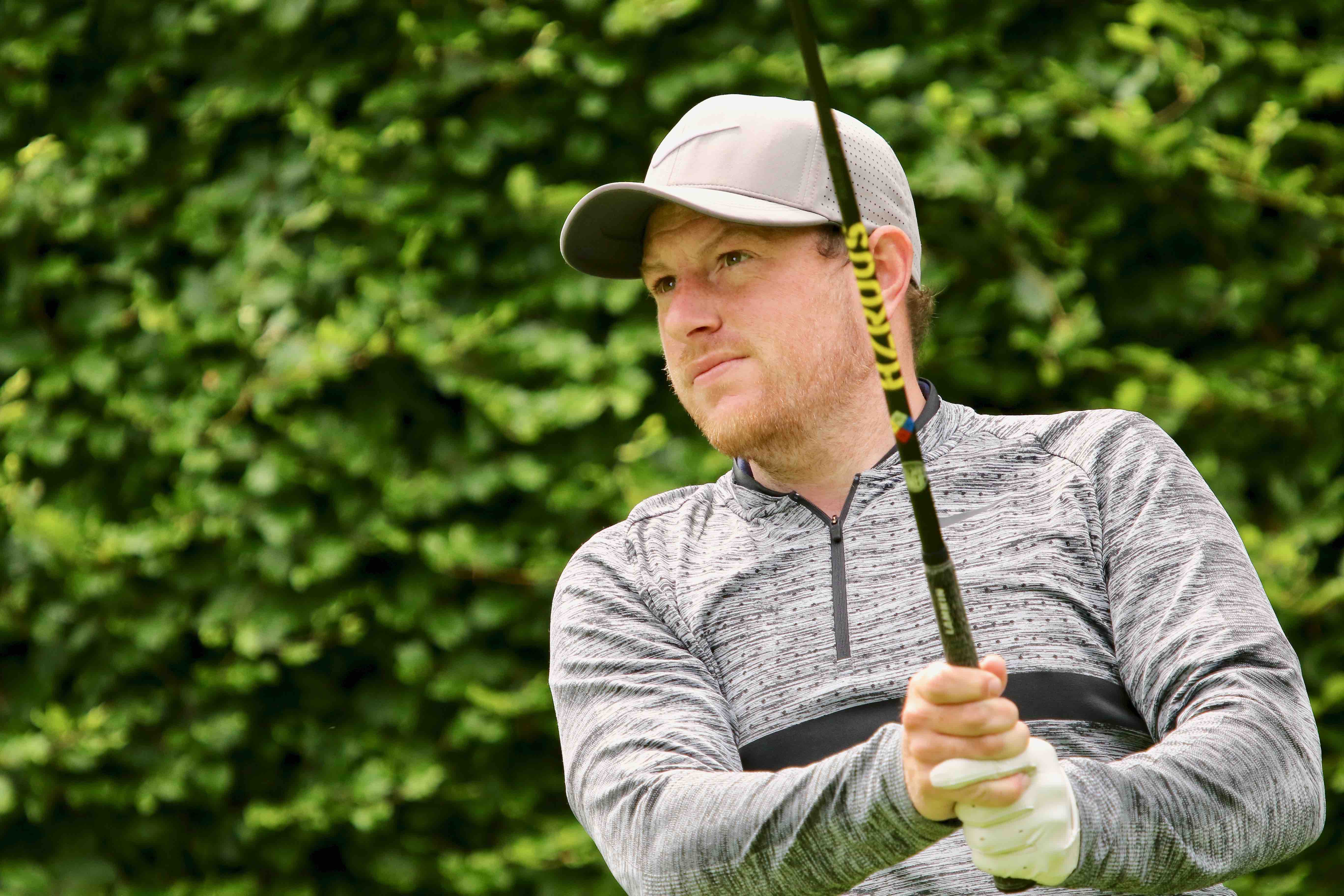 Riddett ready for Colts challenge against Surrey at Sherfield Oaks
HAMPSHIRE Colts kick-off their South East League campaign against Surrey, on Sunday, with a new manager in the shape of Shanklin & Sandown's Nat Riddett.
The 28-year-old, who works as a greenkeeper at Shanklin, has been a regular category one player in Hampshire over the last decade.
The former Freshwater greenkeeper has helped Shanklin qualify for the English Champion Club tournament in the past two years by winning the Hampshire Team Shield at the county championship, and three times in the last five years in total.
But with the county having produced a conveyor belt of top talent in the likes of Harry Ellis and Scott Gregory, who both went on to win the British Amateur Championship, Riddett only ever featured in an U21 friendly.
So when Rowlands Castle's Tom Robson decided to stand down at the end of last season to concentrate on playing for the first team, Riddett was sounded out – he has represented the Isle of Wight Golf Union on the Hampshire Golf executive committee, which oversees amateur golf on the mainland the IoW and the Channel Islands, since last year.
Rule changes mean that no player aged under 18 can play in what was the old U21s league – although now captain's can pick players up to the age of 25.
Nat admits he may take a different approach to his predecessors – under Neil Dawson, they won the South East League Final in 2014 and shared it in 2015, before claiming it outright in Robson's first season in 2016.
But they lost to Essex in the 2017 final when they had home advantage at The Warren, where ironically the first team lost the League final to the host county in 2014, and last season was disrupted by a home game abandoned because of bad weather.
Nat, who will put out his team in four foursomes and eight singles matches at Sherfield Oaks, near Basingstoke, said: "I've played football and cricket my whole life, so my views maybe different as I come from outside the county golf set up.
"I represented the Isle of Wight at cricket. I have also played football in the top league on the Island, as well as playing in Hampshire Leagues as a youth player.
"Any team needs to have a relaxed and comfortable feel to it, to help the players perform – but also an element of discipline and seriousness to perform and do well
"All the players I have selected for this weekend know their own games and what works best for them.
"The have also shown that by having good results this season – Alex Talbot and Owen Grimes both broke the course record in the Delhi Cup at Hockley, last month.
"The coming season will be a big learning curve for me and the players. I have known a lot of the players for a number of years – but only fleeting playing competitions in the county.
"I'll be learning how best to support my team and select the best pairings. I have spoken to first-team captain Colin Roope for some advice about that.
"Hopefully with the players who have made themselves available, I feel we could have a good competitive year.
"I have also spoken to Colin about players who may be of interest to the first team, and will try and help him by feeding players into the men's side and trying out different pairings.
"The best players Under 25 will not always be available, so I will be keeping an eye out on events in Hampshire looking for players who are performing well."
And although he admits he is very much the new kid on the block in the county golf set up, Riddett, whose father Terry is one of the panel of referees who help run top scratch events in Hampshire, already has one eye on next season.
"I will be keeping an eye out on the U18s for the players who will be eligible for the Colts in 2020," Nat added.
The new manager has a strong squad available for his debut including three players, who have already played for Roope's team– who are unbeaten in the South East League South Division, after the first two games against Dorset and Kent – including last year's Hampshire, IoW & CI Amateur Champion Owen Grimes.
Chris Hayward, from Osborne GC, is the only Isle of Wight player in the team with clubmates Conor Richards or Jordan Sundborg unavailable.
Hampshire Colts team to face Surrey: Lawrence Cherry, Alex Talbot, Callum Watson, Owen Grimes (Stoneham), Sam Parsons (Blackmoor), Jason Stokes & Jo Hacker (La Moye), Chris Hayward (Osborne).