Andrew Griffin previews tomorrows Championships at Stoneham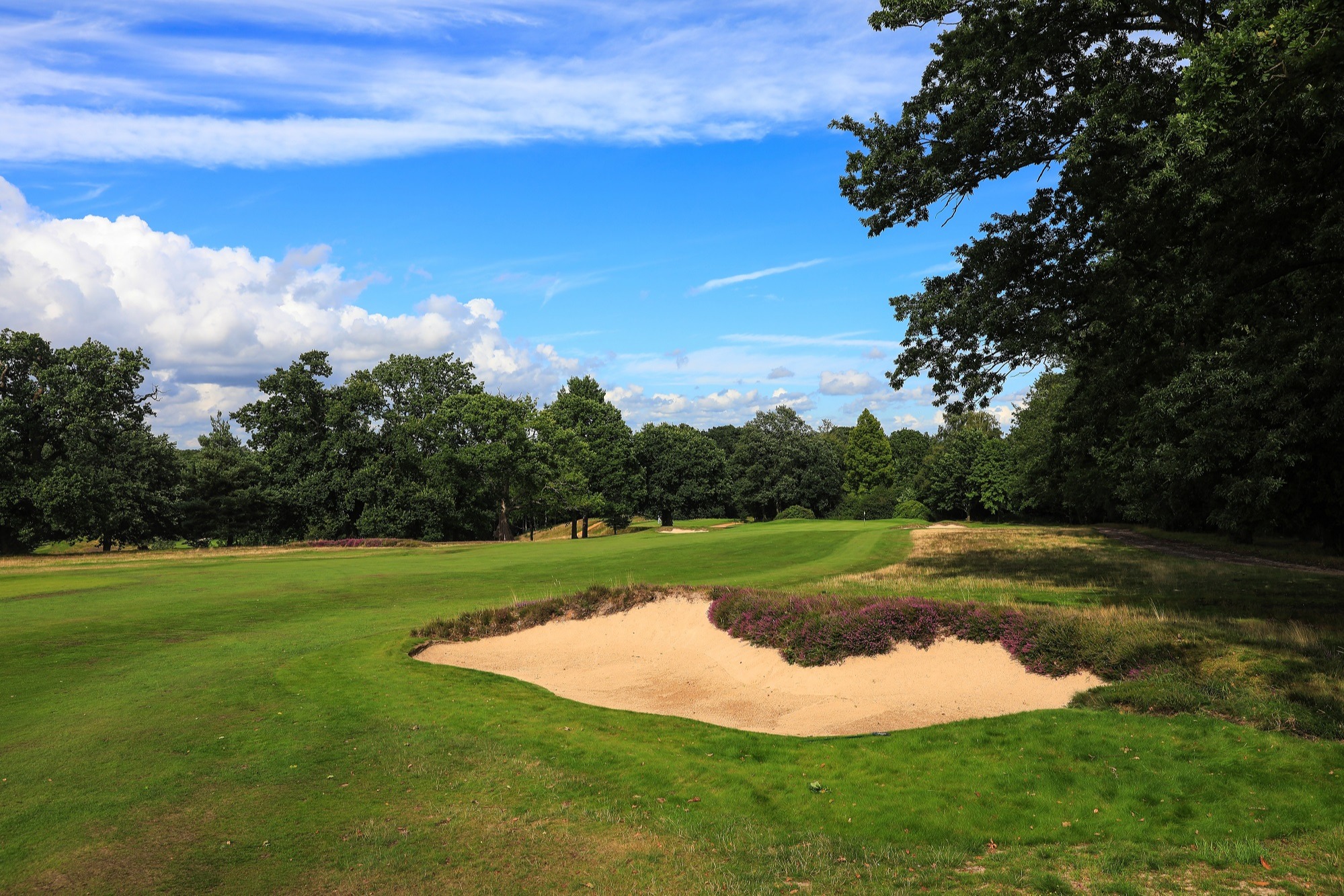 Andrew Griffin previews tomorrow's Courage Trophy & Mid-Amateur Championship at Stoneham Golf Club.
HARRIS HOPES TO JOIN HARRISON
AND YOUNG AS DOUBLE WINNERS
Newly-crowned county champion Richard Harris can make more history when he takes on arguably the strongest field in the Courage Trophy's 58-year history.
The Hayling GC member became the 80th different winner of the men's championship when he beat defending champion Toby Burden on the last hole two weeks ago.
But only two players since 1963 have won the Courage – Hampshire's strokeplay championship – and the Sloane-Stanley Challenge Cup in the same season – David Harrison and Martin Young.
Two of the most successful players in Hampshire Golf's history have won the county championship nine times between them and the Courage 11 times in that period, with Harrison accounting for 13 of those wins.
The COVID-19 crisis has dictated that both events are being played within a fortnight of each other – rather than nearly three months apart.
But that may well play into Harris's hands if he can maintain the excellent form in qualifying when he shot six-under at Hayling over 36 holes, but made nine birdies and two eagles on the Friday.
He was only beaten by Burden's total of seven-under which earned last year's English Champion of Champions winner the Pechell Salver for the best qualifying score.
Burden has been waiting for a call from his wife who is expecting their first child since the county championship, but is in the 60-strong field to play at Stoneham on Sunday.
Toby was trying to become just the second player to defend his county crown on his home course after David Harrison created that record in 1974.
Having come so close, his first Courage win would be some consolation.
But Harris has the chance to show county captain Neil Dawson he can beat a strong field away from his Hayling home, where he is undoubtedly "King of the Links."
Stoneham is hosting the Courage for a seventh time, this weekend, matching the highest total of last year's venue Blackmoor.
No Hayling player has won at the old deer park on the outskirts of Southampton alongside the M27.
And three Stoneham players have lifted the Courage Trophy on their home course – the last was Darren Henley 20 years ago.
Ryan Moody has been in fine form in strokeplay events playing against the professionals this summer, winning a limited field event at Whiteley's Skylarks GC earlier this summer.
He also finished third in the Clutch Pro Tour event at Stoneham, finishing just two shots behind European Tour winner Andy Sullivan and the host club's Richard Bland.
The latter, won a Sloane-Stanley before turning pro in the mid-1990s but never picked up the Courage, whereas county team-mate Matt Blackey, from Hayling, claimed it twice in 1994 and 1997.
Surprisingly Ryan Henley, who won the Sloane—Stanley three times between 2005 and 2013, has yet to claim the Courage, having been in the top three on a number of occasions.
Having played for Hampshire in seven English County Finals, that is a surprising anomaly for the county stalwart who has won the Stoneham Trophy, which is played every August as part of the Solent Salver with Brokenhurst's Mike Smith Memorial, on five occasions.
Stoneham's Owen Grimes, the 2018 Hampshire IoW & CI Amateur Champion, will also be keen to become the ninth player to win the Sloane-Stanley and the Courage in their career, as will Burden and Henley.
Clubmate Harrison Pake has cut handicap steadily down the years – and is now off plus-one – while this year's Hampshire Junior Champion James Freeman cannot be underestimate on his home track.
Henley also has the chance to become the first pair of brothers to win the Courage if the plus-two handicapper can repeat Darren's victory 20 years ago.
There are nine Stoneham players in the field in total.
HARRISON TOOK COURAGE MORE THAN MOST
DAVID Harrison – who holds the records for the most number of wins in the Hampshire, Isle of Wight and Channel Islands Amateur Championship – won the county's strokeplay championship seven times between 1964 and 1972.
That run included four wins in a row starting in the championship's second staging at North Hants 56 years ago.
Martin Young claimed the trophy three years in a row from 2012, including a win at Stoneham a year later, and has five wins in total after his triumph at Basingstoke two years ago.
A sixth win at Stoneham – where he has won the Stoneham Trophy four times – would put him level with fellow Brokenhurst member Kevin Weeks – the only player to win the Courage in three different decades, a record Young can also match in 2020, or over the next nine years.
The other players to win both the Courage and the county championship in their career are Kevin Weeks, Tom Robson, Bobby Eggo, former county president Clive Cole and English Seniors captain Alan Mew.
Four Courage winners went on to play in the Walker Cup – Royal Guernsey's Bobby Eggo won it twice in 1979 and 1998 after his appearance at Sunningdale in the 1987 Walker Cup.
Lee-on-the-Solent's Sam Hutsby, who was a finalist at the 2009 Amateur Championship, two months before facing Ricky Fowler in the Walker Cup, claimed the Courage on his home course in 2005.
Corhampton's Neil Raymond won the Courage at Hockley in 2008 – five years before he faced an American team containing Justin Thomas at the National Golf Links of America, at Southampton, in New York.
And Scott Gregory claimed the championship on his own Corhampton course in 2015 – two years before he teamed up with British Amateur Champion Harry Ellis and former Hampshire Junior Champion Jack Singh-Brar at Los Angeles Country Club.
They faced an almighty American team containing USPGA champion Collin Morikawa, fellow PGA Tour winner Conner Champ and Will Zalatoris and Scottie Scheffler, who have both picked up victories on the Korn Ferry Tour over the past two years.
YOUNG LOOKS FOR DOUBLE FIGURES IN MID-AM
The Courage event will also incorporate the 2020 Hampshire Mid-Amateur Championship, which Young has dominated over the past 12 years.
Young has nine wins in that period, having overtaken Weeks' five victories between 1998 and 2004.
The only two players to have interrupted the former county captain's dominance have been Blackmoor's Mark Burgess (2015) and Colin Roope.
The latter took trophy at Aldershot's Army GC three years ago, with Young also handing the former Surrey man, who has appeared in three English County Finals, with the county captain's badge after starring in Hampshire's win at Trevose in 2017.
Burgess could be the big threat in this year's Over 35s Championship having finished in the top four at the county championship a fortnight ago, losing to Harris in the semi-finals.
Matt Wilcox, North Hants 2017 British Mid-Amateur Champion, could also lift his first serious Hampshire silverware with a win at Stoneham.
Friday 11th September
The Courage Trophy and Mid-Amateur Championship at Stoneham Golf Club on 20th September has attracted possibly the strongest field that has ever assembled for a County competition.
63 players, all with a handicap of 4 or less, will contest the Courage Trophy. 26 of these will also compete to the Mid-Amateur Championship.
Unfortunately a further 30 players were balloted out as Organisers were forced to limit the field with evenings drawing in.
The Courage & Mid-Am was scheduled to be played at Hayling on 5th September but was moved back by two weeks to replace the County Foursomes, which will be played at Waterlooville next week.
Unfortunately Caddies and Spectators will not be allowed in accordance with EG Covid-19 Guidance.