Having won the inaugural Hampshire Junior League in 2017, Bramshaw progressed to the Junior Team Golf Championship Regional Final at Salisbury & South Wilts in September, where they performed well to win a place in the England Semi-Final. With the leading 4 scores all being carded by Bramshaw players, the team triumphed by 12 shots. Joe Buenfeld, Billy Lightfoot, Anthony Sweeney and Ryan Archer all played under their handicaps to set a very challenging total, that proved too tough for the other teams from Meon Valley, High Post and
On Saturday 7th October, the team competed in the semi-final at Cumberwell Park, a superb venue with outstanding courses and practice facilities. Again the team performed well and after a challenging tussle over the first 9 holes, the Bramshaw players finished strongly to take first place and earn a place in the England Final at Clitheroe, Lancashire on Sunday 22nd October. On this occasion, Ciaran Simpkin, Elliot Thomas, Billy Lightfoot and Ryan Archer all performed to or below their handicap, on a downland course with a strong breeze making playing conditions very challenging indeed.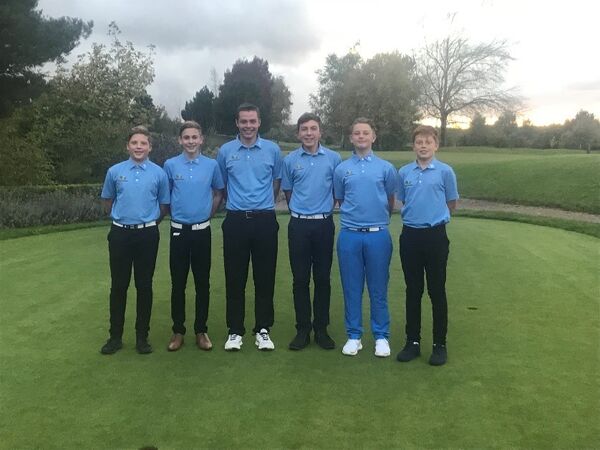 Pictured alongside are the team of (left to right):
Elliot Thomas, Ryan Archer, Ciaran Simpkin, Joe Buenfeld, Billy Lightfoot and Anthony Sweeney.
Nev James, Junior Organiser, Bramshaw "We have a young team who are learning and developing quickly and have a fantastic team spirit, which is so important. They are a credit to themselves, their families and of course, to Bramshaw Golf Club. They thoroughly deserve the successes they have achieved this year and are a pleasure to work with."
-END-
For further information, contact:
Samantha Farrar
Marketing & PR Manager
Bramshaw Golf Club
E: samantha.farrar@bramshaw.co.uk
T: 02380 814143
W: www.bramshaw.co.uk