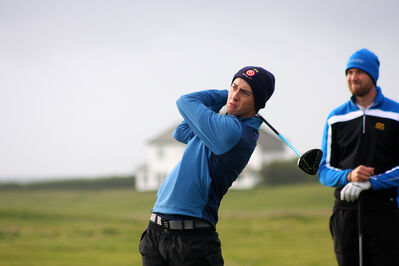 Andrew Griffin reports...
NOT even a hole-in-one from Billy McKenzie on his final hole before lunch could fire Hampshire to a fourth victory in a row in the South East Qualifier as Berks Bucks and Oxfordshire had their day in the sun shooting a remarkable 10-under par at Orsett to take their place at the English County Finals, in September.
The last time Hampshire failed to win the 11-strong South East Group was back in 2014 when Corhampton's Scott Gregory had just broken into the first team.
Hampshire captain Colin Roope was trying to emulate predecessor Martin Young's victories in 2016 – when Harry Ellis fired his team-mates to victory at Reading's Calcot Park, and last year at Norfolk's Sheringham when they won by two.
B.B.&O. were seven ahead at lunch on seven-under par as a six-under par 66 from George Gardener counterbalanced a worst score of 77 and also headed the leaderboard.
That kind of lead has been reeled in more often than not in the event's long history.
But there was nothing the watching captain – who arguably had the strongest side on paper in the last decade during which Hampshire have produced some of the countries top amateurs – could do or say to prevent what unfolded after lunch.
The three counties took four more shots collectively – but that masked a complete collapse from Gardener, who took 17 more after his morning heroics.
With his 83 the first card in, there seemed to be hope for Hampshire, but John Gough added a 69 to his 71 while Ollie Huggins had a pair of 71s.
Tim Shin had two 70s, but they were all overtaken by David Langley, who added a superb best-of-the-day 65 to his first round 70 to win the Peter Benka Trophy, which Ellis and Rowlands Castle's Tom Robson claimed in 2016 and 2013.
It left B.B.&O. on 854 – 10-under par for 36 holes – 12 clear of the defending champions with Kent a further six shots back.
McKenzie, who had an ace at the 15th – with the host club unusually starting the rounds at the seventh and 16th holes – was third indivdiually on five-under after adding a 70 to his opening 69.
Meon Valley's George Saunders bounced back from a disappointing 77 before lunch to shoot 70, while Shanklin's Jordan Sundborg and Conor Richards shot four-over and two-over in total respectively.
Robson was also two-over while last year's captain Martin Young – who has been playing in the qualifiers for two decades – produced two 70s against the majority of the field who were half his age and younger.
While B.B.&O. can start booking their accommodation for Suffolk's Aldeburgh for Septembers finals, Roope will focus on claiming a place in October's South East Group Final, at Frilford Heath, near Oxford.

After beating Kent and Sussex convincingly – having drawn in Dorset in May – a win against Surrey at Hayling, on August 5, will guarantee a first appearance in the final since 2014 when they lost to hosts Essex.
A draw – or even a defeat – would leave Hampshire requiring help from Dorset or Kent in their remaining games – the pair meet on the same day.
Andrew Griffin