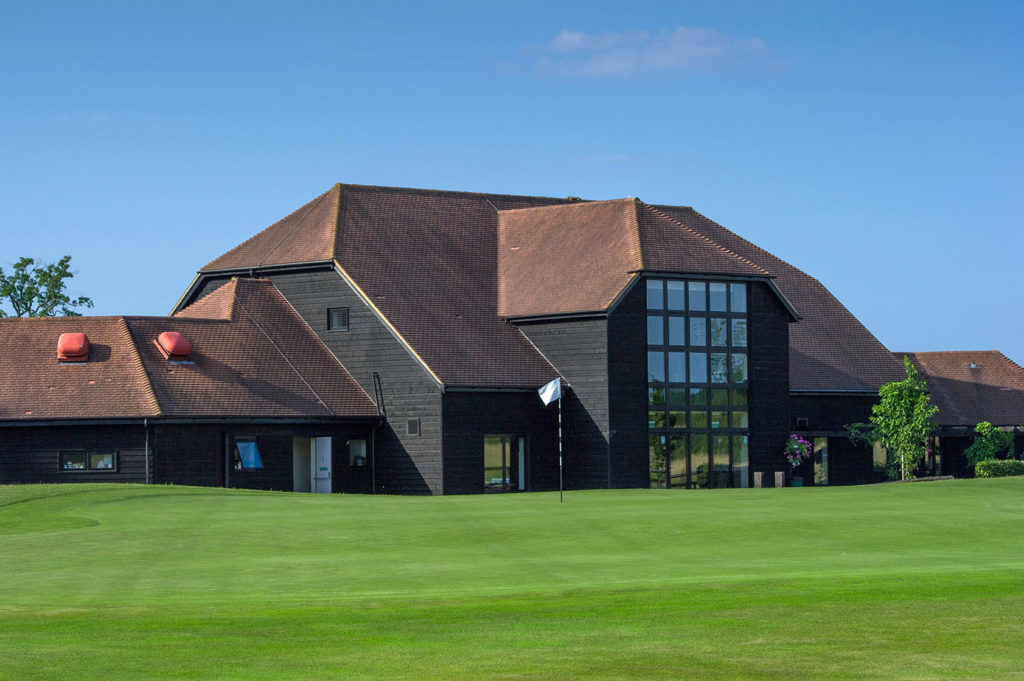 Congratulations to James Freeman (Stoneham) on his victory in the Junior County Championship.
Full list of age group winners will appear here shortly.
Scores from the Junior County Championship, played at Sherfield Oaks on Wednesday 29th July.
The Junior County Championships take place at Sherfield Oaks Golf Club, near Basingstoke on Wednesday 29th July.
The Under 18 & Under 16 will be played over 36 holes, while the U14/13/12 will be played over 18 holes (or 9 holes in the case of the Under 10).
These are the first of Hampshire Golf's re-arranged 2020 Championships that will be played between now and the end of September.
All Hampshire Golf's events will be played to England Golf 'Play Safe, Stay Safe' guidelines.
Thanks to Get Golfing Limited for sponsoring range balls for the Competitors.
Click here for........Competitors Instructions for U18/U16 Championship
Start Times for 1st Round of Under 18 Championship
Start Times for 2nd Round of Under 18 Championship
Competitors Instructions for U14/U13/U12 & U10 Championship
Start Times for U14/U13/U12/ & U10 Championship
COMPETITORS PLEASE NOTE....
Click here to read the Local Rules that will be used for Wednesday's Championship. The England Golf Hard Card, EG Code of Conduct and EG Pace of Play will also be in operation.
Competitors will not be issued with copies of these documents in order to comply with EG 'Play Safe, Stay Safe' guidelines.
Competitors who do not adhere to these rules, regulations and Covid guidance will be penalised.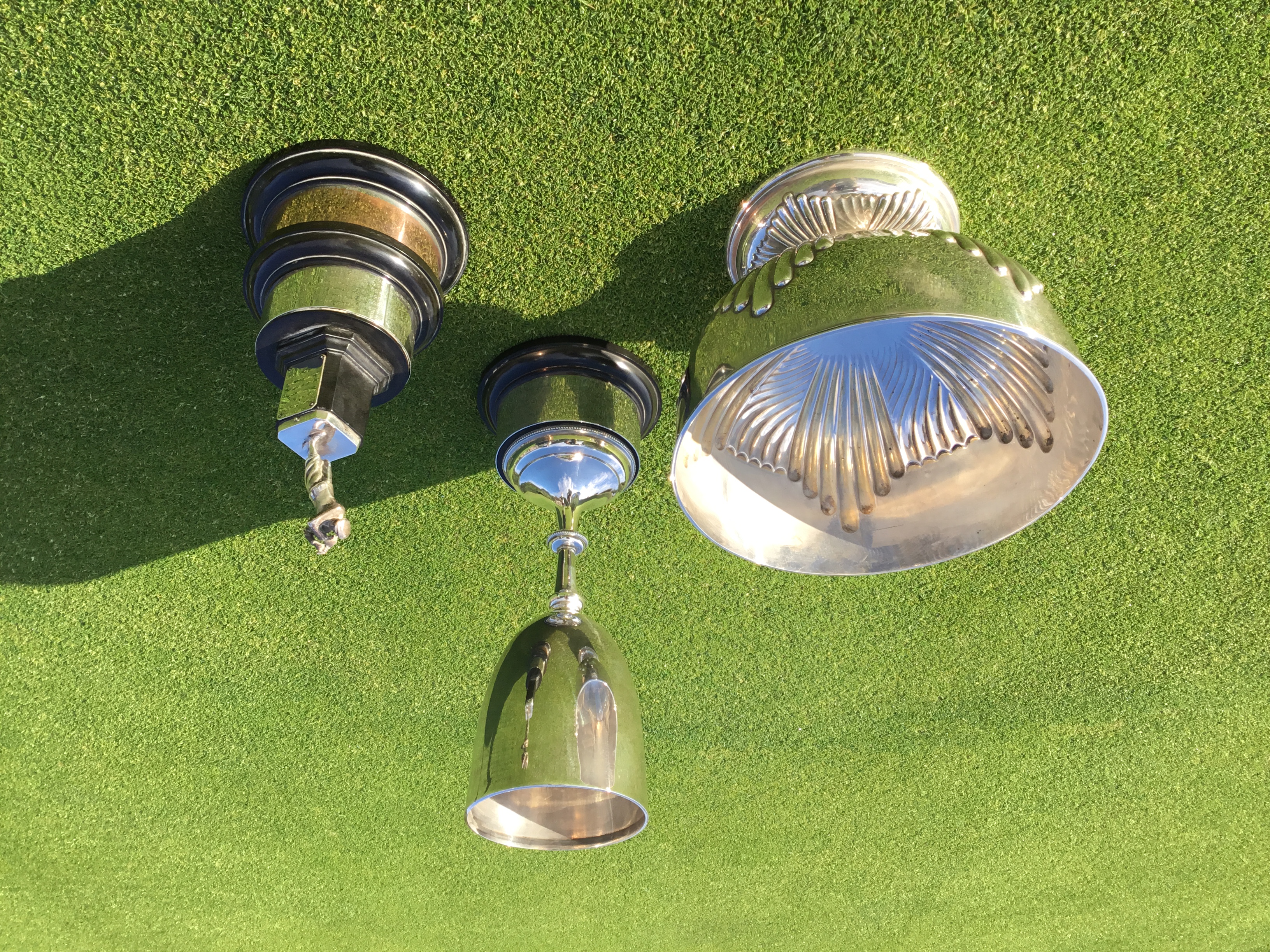 Three of the trophies to be played for. The John Hardy Bowl, The Royal Guernsey Cup and the Pechell Trophy.
INTERVIEWS.........
Andrew Griffin interviews Liphook's Sam West and Stoneham's James Freeman, two of the favourites for Wednesday's Under 18 Championship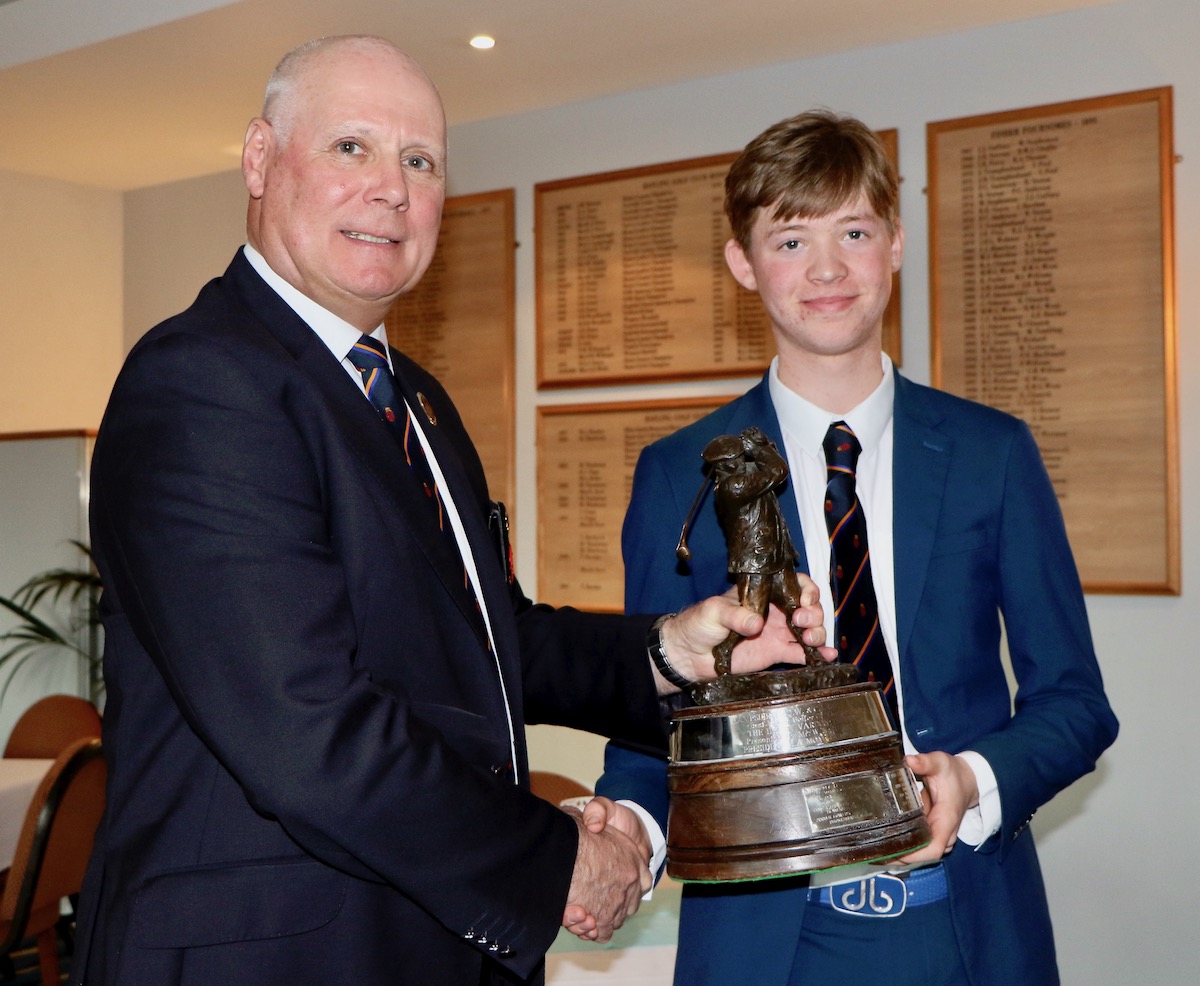 SAM West (pictured above with Hampshire Golf President Alan Drayton) has made a habit of winning big titles in his relatively short amateur career.
In 2018, he was crowned English Schools U16 champion.
And last year the Liphook GC junior claimed the South of England Boys Open (SEBO) at Yeovil and Sherborne, in Dorset.
But on Wednesday (29th July) he has the chance to put his name on the biggest prize in junior golf in the county when the 70th Hampshire Boys Championship is played at Sherfield Oaks, near Hook, in north east Hampshire.
And Hook is the village where 1996 Hampshire U18 champion Justin Rose – the most successful winner of the county junior championship – grew up.
Sam, a pupil at Churcher's College, in Petersfield, is in his first year of the sixth form.
But because he turns 18 in September, the 17-year-old only has one more crack at emulating Rose.
As well as the reigning Olympic champion's name, there are some other famous golf names on the trophy.
Other U18 winners include European Tour players Richard Bland (1990 and '91) and Jack Singh-Brar (2011), who was just 15.
The latter played in the same Walker Cup team against the USA in 2017 as that year's Amateur Champion Harry Ellis, who is now on the Challenge Tour, and Corhampton's Scott Gregory, the 2016 Amateur Champion.
The Meon Valley G&CC ace is the last player to win the Hampshire Junior Championship twice, after his wins in 2010 and 2013.
Ellis was just 14 when he won at Stoneham 10 years ago – Rose was 15 when he broke the course record to land the crown at Waterlooville.
West is mindful of the big names that have won the title – but does not shy away from the tag of being one of the favourites.
Sam said: "This is the last year I am eligible, and obviously it would be fantastic to win that trophy.
"I have won some big events and they have all been important in my development.
"Winning SEBO last summer was particularly satisfying as it gave me my first World Amateur Golf Ranking, which is key to playing in bigger and better events.
"The weather was not great in Dorset, so to play four rounds over two days in tough conditions was very pleasing."
West has been a regular member of Hampshire Boys U18 squad over the last three years.
He was also selected for England's South Region U16 and U18 training squads over that period.
Earlier this year he picked up the Harry Vardon Trophy as the county's best young golfer, in 2019.
During the COVID-19 lockdown, West along with members of Hampshire's three junior squads took part in a number of online short-game skills challenges.
West came out on top of the Hampshire Lockdown Order of Merit, which featured a couple of Ryder Cup-style matches in April and May.
Sam said: "The lockdown challenges certainly helped keep my short game sharp. They were fun too.
"I played in the Faldo Series up in Derbyshire earlier this month, and my long game was a little rusty.
"I have played Sherfield Oaks a few times – the championship was held there two years ago.
"There are some tough, tight holes, but there are places where you can hit driver and try and score.
"I played a practice round there this week as well, so fingers crossed I can get the job done.
"But we have a very strong squad with plenty of players good enough to win."
Last year's champion Aman Uddin, from Fareham's Cams Hall GC, who is now a member at Lee-on-the-Solent GC, is now playing for Dixie University, near Las Vegas.
NOTHING BLAND ABOUT FREEMAN GUNNING FOR SECOND BOYS TITLE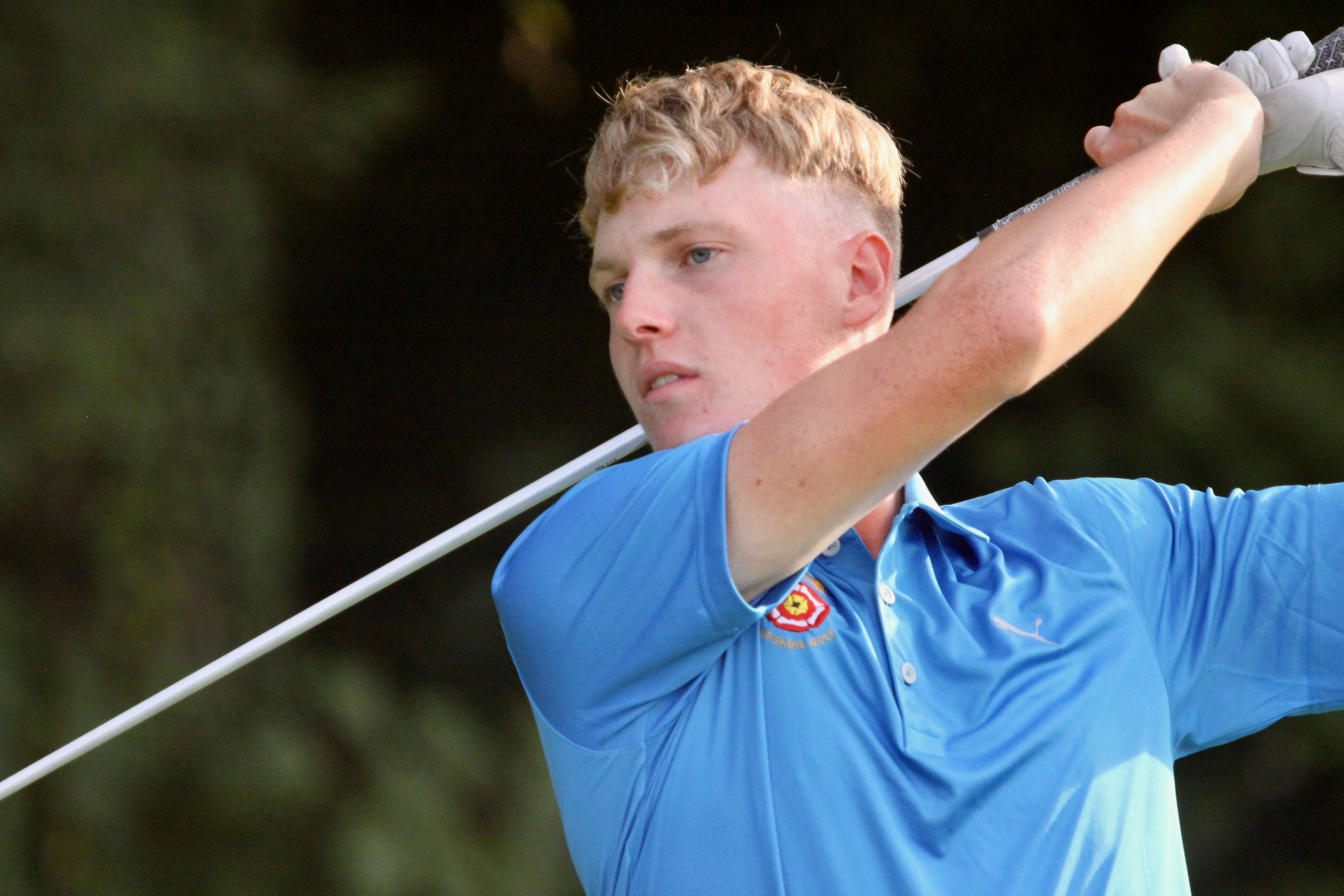 Stoneham's new short-game area helping 2018 champion's bid to join elite club
ONLY 10 players have been crowned Hampshire Boys Champion twice in nearly 70 years.
And Stoneham's James Freeman not only has the chance to become the 11th at Sherfield Oaks on July 29… but he can also become the first player from the city's famous club since Martin Ashelford, in the 1950s.
European Tour veteran Richard Bland, who is a Stoneham member, played at Bramshott Hill Golf Club (Dibden Golf Centre) in the early1990s when he became just the fifth player to land the Hampshire U18 trophy back-to-back.
And Freeman is confident Stoneham's new short game practice area could be his secret weapon in regaining his county crown in his last junior championship before he joins the adult ranks next year.
James, who started playing golf seriously with his dad Steve at Southampton municipal when he was just nine – loves the new practice facility, which opened to members earlier this month.
He said: "It is an incredible facility. I just love spending time up there. It has been hard during the lockdown when the course was closed, keeping your game ticking over.
"You want to be able to work on your short game – it's how you score. I love it, it's so good.
"I am hoping my game will be ready when it comes to the junior championship."
Another factor working in Freeman's favour is that in a quirk of the calendar, Hampshire Golf are taking the championship back to Hook where he won two years ago.
Ironically, the course is close to the family home of Justin Rose, the most famous winner of the title after his win at Waterlooville, in 1996.
James, who is completing a BTech level three in sport at Hartpury College, in Gloucestershire, added: "I have good memories obviously – winning the play-off two years ago.
"I had won the U14s championship at Test Valley in 2016, and then took the U16s and U18s on the same day at Sherfield Oaks.
"It started well when I chipped in for birdie at the first. But it was fairly unspectacular, even though I was second after the first round.
"I knew Finbar Kane made a bad start after lunch and I had possibly a six-shot lead over him.
"But then I found out Aman Uddin was four-under. I found a divot in the middle of the fairway and thought, 'oh no, maybe it's not going to be my day.'
"I hit a great shot drawing at the flag and I thought to myself, maybe it is going to be my day."
He ended up facing Uddin, from Fareham's Cams Hall GC's in a play-off, and after his opponent found the trees with a long iron, he was forced to chip out.
Freeman was on the green in two and ran his 30-foot birdie chance up to the hole to win with a par.
James, who joined Stoneham when he was 12, said: "I had lost the club championship in a play-off to Owen Grimes three weeks earlier, so I was fired up to win that one."
Uddin, who has completed his first year at Dixie University, not far from Las Vegas, gained redemption a year later at Barton-on-Sea.
Freeman lost five shots at the par four 10th – only to finish a shot behind despite making five birdies.
Uddin took the title after bad weather battered the competitors, forcing organisers to play just 18 holes.
Freeman reflected: "I genuinely felt confident I could win going into the tournament in 2018.
"It may sound a bit arrogant, but I do have belief in my ability – and expect to win things when I play my best.
"Aman played really well in 2018, but just came up short. He got his own back last year."
Andrew Griffin - Hampshire Golf Press Officer