Freeman of the County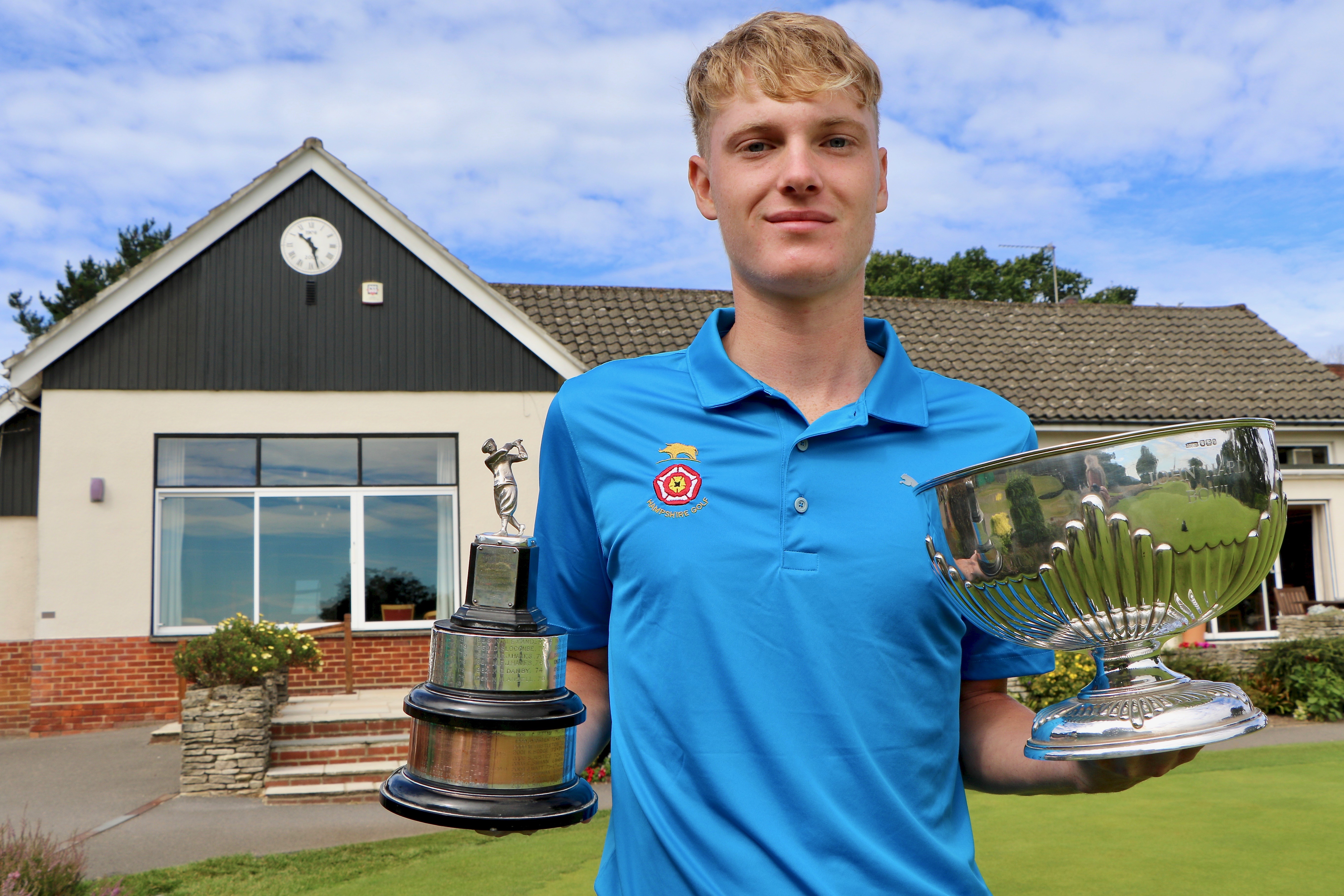 James Freeman with the Pechell Trophy and John Hardy Bowl.
Andrew Griffin reports on the Junior County Championship played at Sherfield Oaks Golf Club on Wednesday 29th July.
STONEHAM's James Freeman survived a last-hole scare at Sherfield Oaks Golf Club last Wednesday when his drive at the green found tree trouble before securing the par to claim the Hampshire Junior Championship for the second time in three years.
18-year-old Freeman finished on three-under-par, one shot ahead of Southampton's Drew Mackinnon and two ahead of Charlie Forster (North Hants).
CLICK HERE FOR ALL THE SCORES.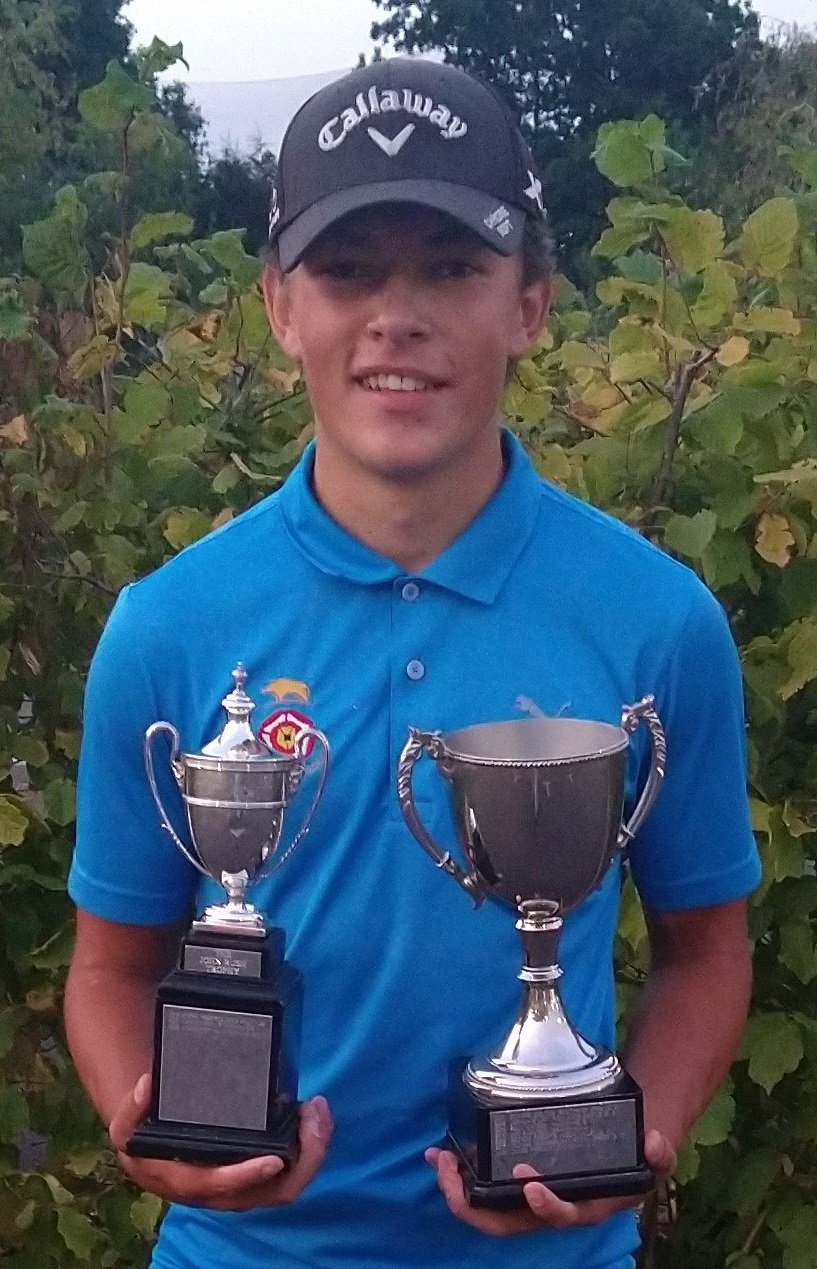 Best Nett.......Southampton's Drew Mackinnon with John Rush Trophy and Willard Trophy.
The final hole drama unfolded as Freeman attempted to drive the 325-yard 18th but after his tee shot struck a tree, he was forced to play a provisional, while a Referee tried to locate the ball.
Luckily his first shot was found and Freeman was able to play his second to within 15 feet of the flag, but left his birdie putt agonisingly just short of the hole.
Freeman, who had trailed Forster by one at lunch, said: "I had set myself a target of four-under for the afternoon because I had hit it perfectly in the first round but holed nothing.
"I thought if I could holes some putts I could shoot really low and that a four-under would definitely win it for me.
"Unlike two years ago when I found out I had been caught when leading in the second round – and was forced into a play-off – I had no idea where I stood as I got to the last hole, unfortunately.
"When I left that last putt three inches short right in the middle of the hole, I wondered if I might have needed to hole it.
"So it was nice to find out later that I had finished one shot ahead'.
"I would liked to have known where I stood before deciding to go with my three-wood on the 18th.
"I would probably have taken an iron if I knew I was one ahead playing in the last group.
"But my game plan was to go for the short par fours as long as I felt I was swinging it well, which I was."
The day started with a big scare though after picking up his first birdie at the fourth, his eagle chip on the par five fifth lipped out – and he then took three to get down from three feet.
James explained: "The pin was cut on the top of a severe slope and my first putt ran eight feet past leaving me two for a six, which was a bit of a shock."
He bounced back with a four at the par five sixth, after hitting a seven-iron to 10 feet for his eagle attempt.
Another birdie came at the 10th but back-to-back bogeys on the 12th and 13th had threatened to derail his march to a second title.
But he gave himself another eagle attempt at the par five 15th getting down in two from 15 feet.
The Hartpury College pupil, who is set to go to Birmingham University to study for the PGA degree course in golf management in September, then chipped in for a birdie two on the 17th, from 20 feet after missing the green by less than a yard.
After shooting an opening 70, Freeman was still confident of getting his hands on the Pechell Trophy (Overall Champion) and John Hardy Bowl (Under 18 Champion) again.
He said: "I didn't hole anything inside six feet all day, but I was really calm and felt I was playing really well.
After lunch, the third, the toughest hole on the course, took its toll as Freeman made five.
And the qualifier for last year's Faldo Series Grand Final in Abu Dhabi hung on gamely, making three clutch par saves before the turn.
He then lit up the course with three birdies in a row from the 10th.
His eagle attempt from 20 feet on the 11th left him another tap in before he found the green with his drive on the short par four 12th for another two-putt birdie.
A missed green on the par three 14th cost him a bogey four and two more birdie putts slid by before he made an important two-putt from 50 feet on the 17th for par.
But not even the drama on the last was going to spoil his day despite Drew Mackinnon adding a fine 68 to reach two-under.
The championship was also a first – the results were collated and turned into a virtual presentation by Hampshire coaching co-ordinator Chris Farr, with video clips recorded with the winners,
Stoneham junior joins elite club
Freeman became just the 11th player in the event's 70-year history to win the title twice – matching the likes of European Tour veteran Richard Bland Kevin Weeks and Harry Ellis who both went on to win English Amateur Championships.
And that was the perfect end to his junior career in Hampshire.
He said: "It is great to look at the trophy and see some of the names on there like Justin Rose, Richard Bland and Harry Ellis, who was the last to win it twice before me.
"Hopefully, I can go on to achieve things in the game and there will be juniors in years to come who will look at this trophy and see my name on there and be inspired by that."
Freeman will tee it up next in the Faldo Series Welsh Championship at The Vale, later this month, before heading to Dorset's Broadstone for the English Boys' Amateur Championship.
It is 14 years since Rowlands Castle's Darren Wright became the fourth Hampshire player to win the Carris Trophy, which has been won by many of the UK's greats over the last 85 years.
Justin Rose won the Carris in 1995, adding the English U18 title to the McGregor Trophy he won at the U16s earlier that summer.
Stoneham's David Porter collected the trophy – which was been won by Sandy Lyle in 1975 – in 1999 at Wiltshire's High Post GC.
Sir Paddy Hine, who was captain of the R&A 10 years ago, won the Carris in 1949 as a 17-year-old before claiming the Brabazon Trophy that autumn when the the English Men's Amateur Strokeplay was played at Stoneham, where he was a member.
James said: "I have played Broadstone quite a few times, so I know the course well. It would be great to qualify for the Faldo final for a second year in a row – I have also entered the second South Championship at Royal Ashdown Forest, so I have two possible ways of making it.
"But it would be great to go to the Carris and show what I can do on the national stage."
Apart from the Hampshire Isle of Wight and Channel Islands Amateur Championship – which has been put back from June until early September – nearly all the county's order of merit events, for both juniors and men, have been cancelled because of the coronavirus pandemic.
Haines wins U14 title by four shots
In the U14 Championship, Dummer's seven-handicapper Isaac Haines shot a 76 to win by four, while Barton-on-Sea's Josh Randall shot a nett 69 to take the handicap prize.
Barton-on-Sea's Ivo Rees was the U12 champion with a 90 while Wellow's Jamie Pang won the U10s with 26 points in the nine-hole stableford.
The 18-handicapper was second in the handicap finishing seven shots behind Oak Park's James Redfern, from Oak Park.
Click here for all the scores.