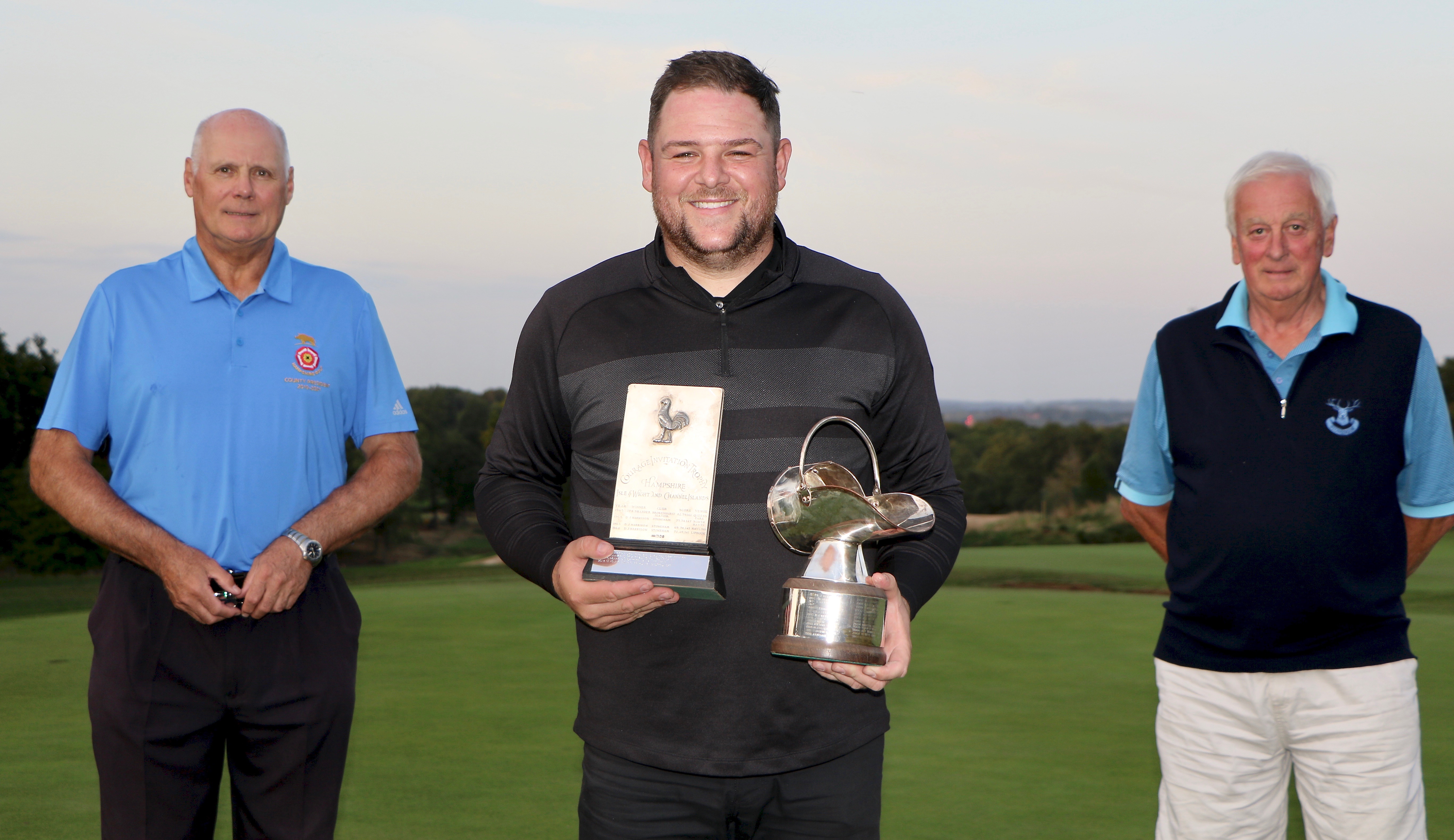 Alan Drayton (President, Hampshire Golf), Ryan Moody and Niall Fitzgerald (President, Stoneham Golf Club).
MOODY HAS THE COURAGE TO DENY HISTORY-MAKER YOUNG
Ryan Moody had the "Courage" to state he wanted to win Hampshire Golf's stroke-play championship this summer.
And after finding his game 'post Lockdown' the Stoneham member made the most of home advantage to become the sixth player from the Southampton club to win the Courage Trophy.
And after his final hole birdie Moody edged a shot clear of Brokenhurst Manor's Martin Young, Stoneham's Ryan Henley and Liphook's Sam West to post a five-under par winning total.
Moody, who works in Southampton Docks, also claimed the Cole Scuttle for the best 72-hole aggregate at the County Championship and Courage Trophy.
Ryan said: "I have been playing really well. My target was to win something this year and having the Courage at Stoneham obviously gave me something to aim at.
"I was tied for the lead at lunchtime, and playing with Martin Young meant I knew pretty much what was required".
"I was two-over after eleven holes of the second round but then birdied three holes in a row. I bogeyed the 15th and then hit a nine-iron second shot to the Par 5 18th for a two-putt birdie".
Moody's final hole birdie meant a four-man play-off was not required to settle the Courage Trophy. It also denied Ryan Henley the chance to finally land the Courage crown after more than 20 years of trying.
Martin Young's birdie at the last matched Henley and West's score (140), one shot worse than Moody (139). Young, who is the only player to win all four men's titles in the same season, had to settle for the consolation of earning a record tenth Hampshire Mid-Amateur Championship title. His rounds of 73 and 67, including seven birdies after lunch, were the best scores among the Over 35s in the 63-strong field, the biggest in recent Courage/Mid-Am history.
Young said: "I did not hit it well in the morning. In fact it wasn't great all day. But my short game was mustard. Not making birdie on the 13th was a mistake, then dropping a shot at sixteen gave Ryan a one-shot lead. It was a good comeback after a 73 in the morning. I was obviously pleased to win the Mid-Am for a tenth time."
Liphook's South of England Boys champion Sam West was tied in second place with Henley and Young. The 2018 English Schools U16 Champion made six birdies in his opening 68 to share the lunchtime lead. But an expensive double at the first and three more bogeys could not be offset by his three birdies and an eagle. The second round level-par 72 gave the scratch player, who is in the England South U18s regional squad, second best score off handicap.
His four-under total was only bettered by Waterlooville's James Pinhorn, who produced fine nett scores of 72 and 66, playing off two handicap
CLUTCH TOUR HELPED GET RYAN'S GAME IN GEAR
Moody revealed before this month's county championship he had been struggling with his game until the end of the Lockdown period.
But since he has been back on Stoneham's famous fairways from May onwards, the former mini-tour pro player has reproduced the form that earned him a place in Colin Roope's Hampshire first team two years ago.
Moody shot a five-under par 67 playing as an amateur in the Clutch Pro Tour event at Stoneham, in July.
That was only bettered by 65s from Ryder Cup player Andy Sullivan, a recent winner on the UK Swing, and Stoneham's Richard Bland, who has more than 450 European Tour appearances to his name.
Beating the likes of European Tour winners David Howell, David Dixon and Jordan Smith and a number of former top amateurs, who are now playing on the Challenge and EuroPro Tours, was confirmation – if needed – that Ryan's best is up there with Hampshire's top amateurs.
Moody took the unusual step of turning pro five years ago, having not played for the county, or tested himself in any of England Golf's national championships.
But after 18 months of playing for prize money of up to £1,500 in 18-hole shoot-outs, the Totton-raised golfer was content to return to his job as a launch driver in one of Europe's busiest ports.
When asked if he might have fared better in the pro ranks with more experience of playing for the county, Ryan said: "I am not sure really.
"Obviously playing for Hampshire is great and something I want to do. The standard is very high and now I am just trying to play the best I can.
"I would love to win some more big tournaments. I did quite well in the Hampshire Order of Merit last year.
"Shame the club events have had to be called off this year because of COVID – but we all know why.
"Hopefully, I can make up for it next year," said Ryan, who lives in Eastleigh, and is off plus-two.
Many thanks to Stoneham Golf Club for hosting this year's events.
Click here for all the scores.
Leading Mid-Amateur Championship scores
Click here for list of prize-winners.