Under 16s Archive
Competitions 2021
As we look forward to the 2021 season here's a list of competitions that we advise you to take part in:
Links and details coming soon as they get announced...
All - Hampshire Junior Opens and Order of Merit
U15
Douglas Johns
European Junior Tour
Faldo Series
U16
McGregor Trophy
Midland Boys
South East Boys
Sir Henry Cooper Junior Masters
North Boys
South of England Boys
Scottish Boys
European Junior Tour
Faldo Series
News/Infomation
Hampshire Golf Active7 2021
As we enter another lockdown and all golf is canceled we thought it would be great to bring Team Hampshire together during this time.
With thanks to David Matthews and his creative spark we've got together and created Hampshire Golf Active7.
The format is really simple, run, walk or cycle 7k a week throughout lockdown to improve fitness, stay competitive and get Team Hampshire ready for the 2021 season.
In Week 1 the challenge is just to do the 7km and submit results including an indication of your 1km time (Run/Walk) so we can form two teams starting in week 2 to make things a little more competitive and fun.
All the details are outlined on the PDF below with everything operating through the SPOND platform each week.
The event is open for all players, parents/guardians, coaches and managers to get involved no matter your ability or fitness.
It will be great if you can join us and if you have any questions let us know!
All the best and let's get ready for a cracking 2021 season in style and have some fun during lockdown!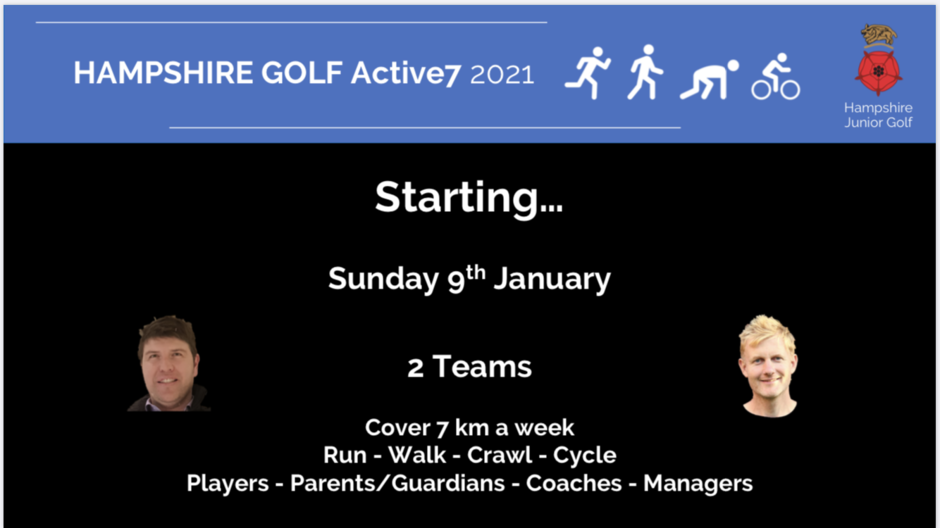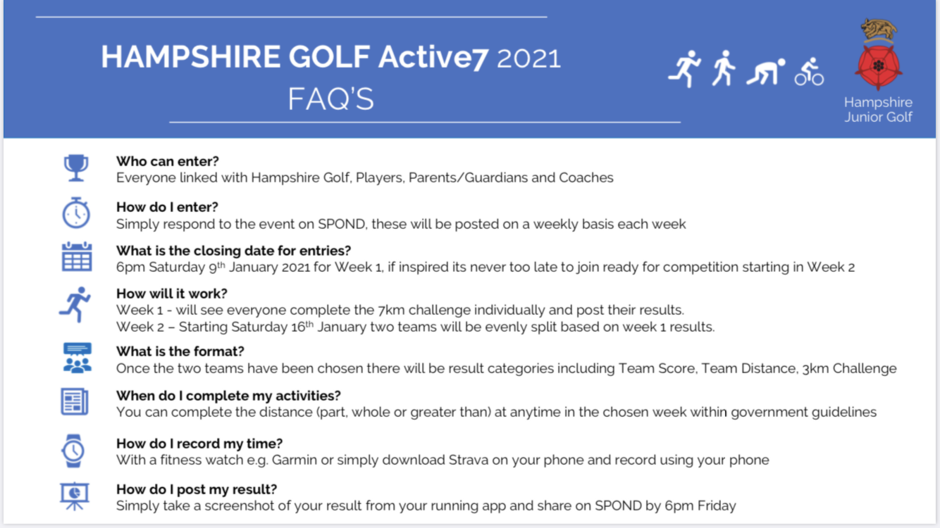 Hampshire Lockdown Order of Merit 2020
Following on from the Hampshire Stay Home Stay Safe Challenges we've put together a new challenge for all Hampshire Squad players to play in on a weekly basis starting June 20th 2020.
We're running a Hampshire Lockdown Order of Merit so players can still compete against others within the county not only in their age group but also in an all ages Top 10.
The format is really simple and will operate in the following way:
Step 1
Enter via your Hampshire Squad What's App group or email if you don't have access by simply declaring the day before you play date/course/playing partner before you play. If possible play with another Hampshire Junior or Adult
Step 2
Play the round and submit your completed scorecard via What's App or Email by attaching a photo or screenshot of the card along with confirmation of score (Nett and Gross)
Step 3
All age group results will be shared via Hampshire Facebook and What's app as well as an overall Order of Merit.
We hope this will be a great competitive addition to the players golfing experience and provide some extra motivation to improve their game playing against the best players in Hampshire.
Below is a FAQ's sheet to cover any questions you may have with all information available on Hampshire Facebook link below: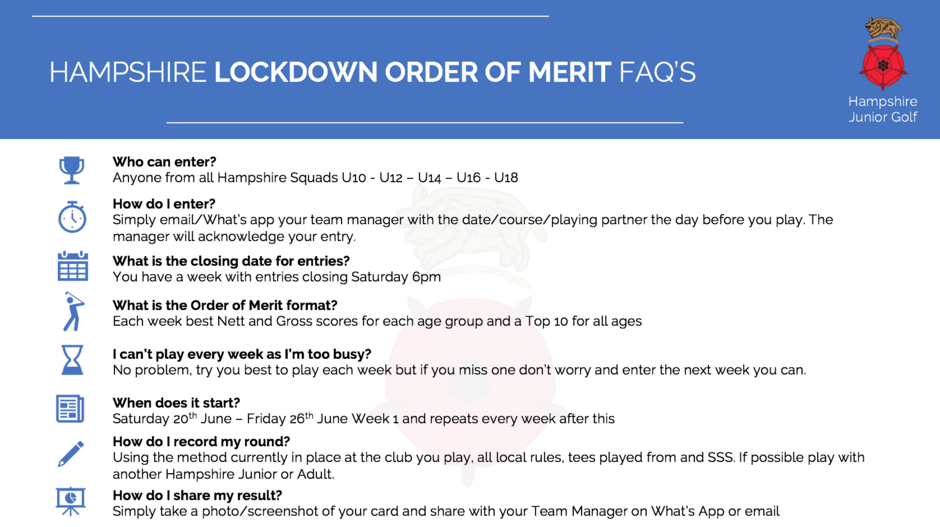 https://www.facebook.com/hampshiregolf2019/
If you have any questions don't hesitate to get in touch with your team manager otherwise we look forward to welcoming you to the Hampshire Lockdown Order of Meritand an exciting few weeks ahead!
Hampshire Lockdown Order of Merit 2020
Results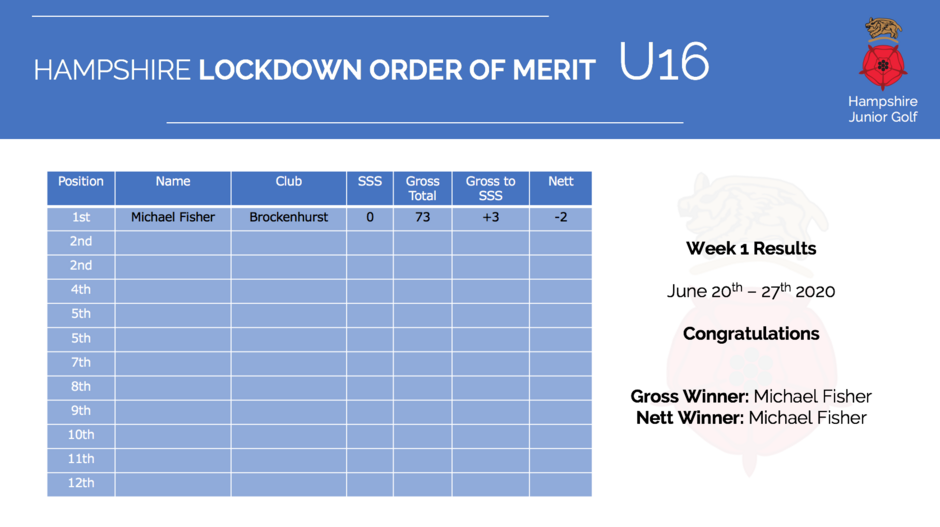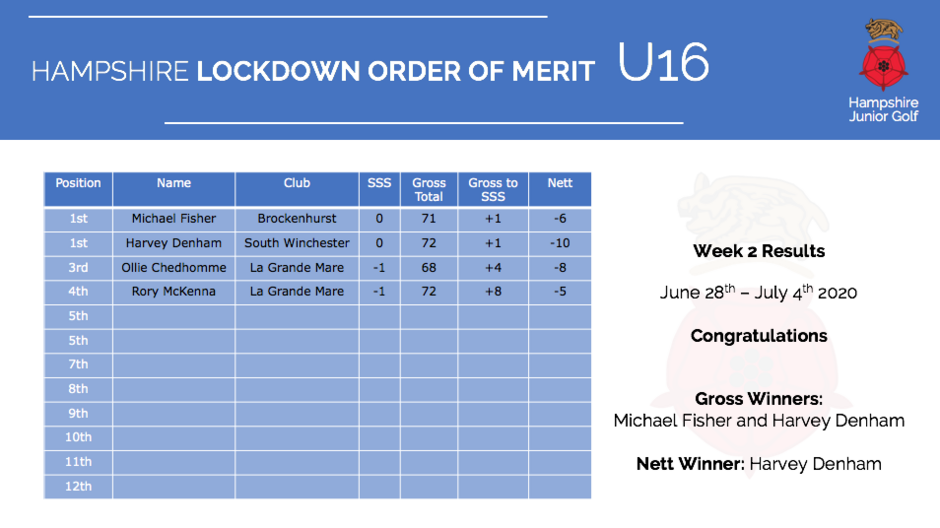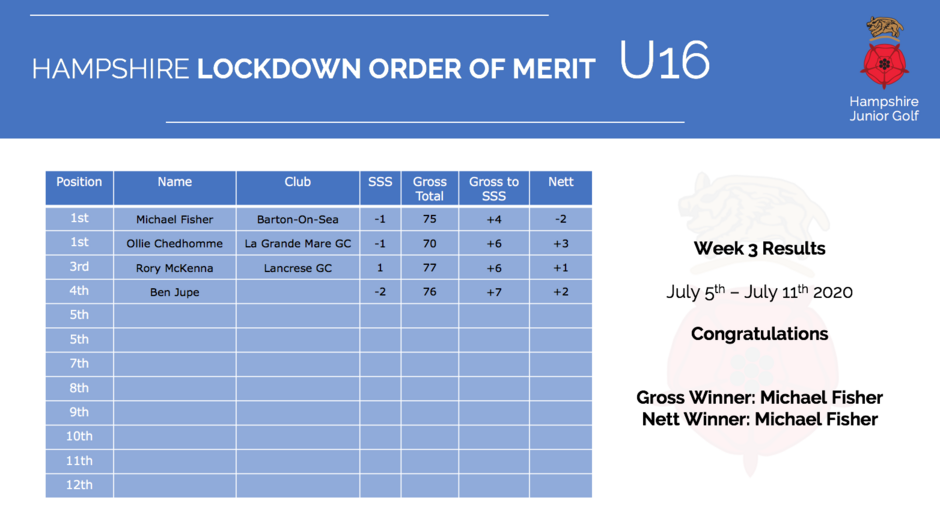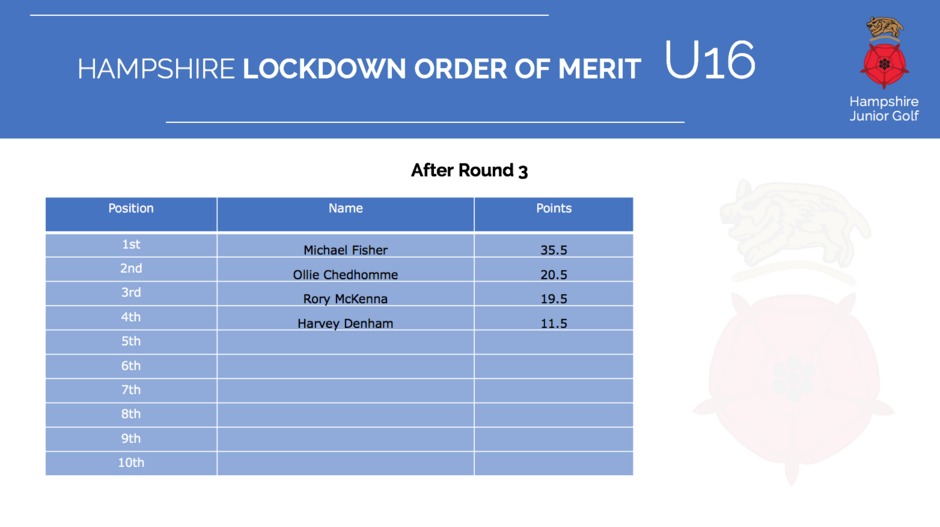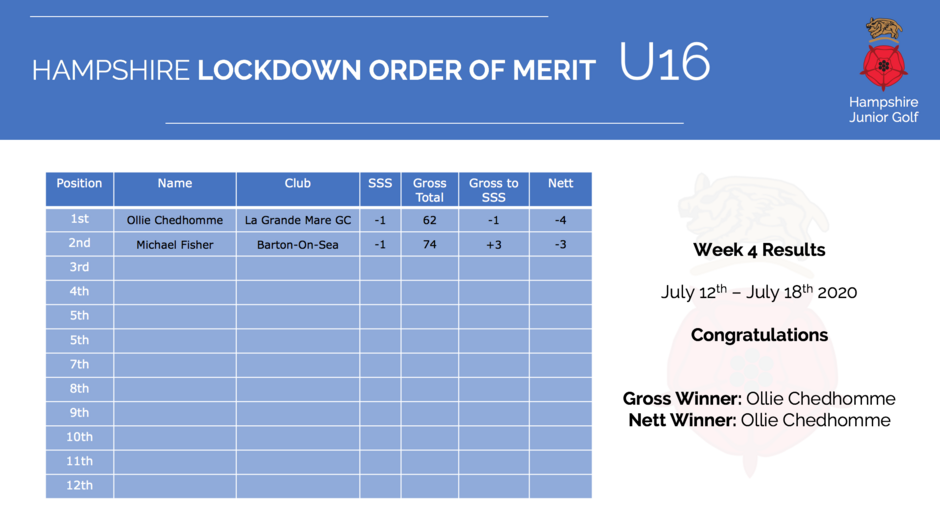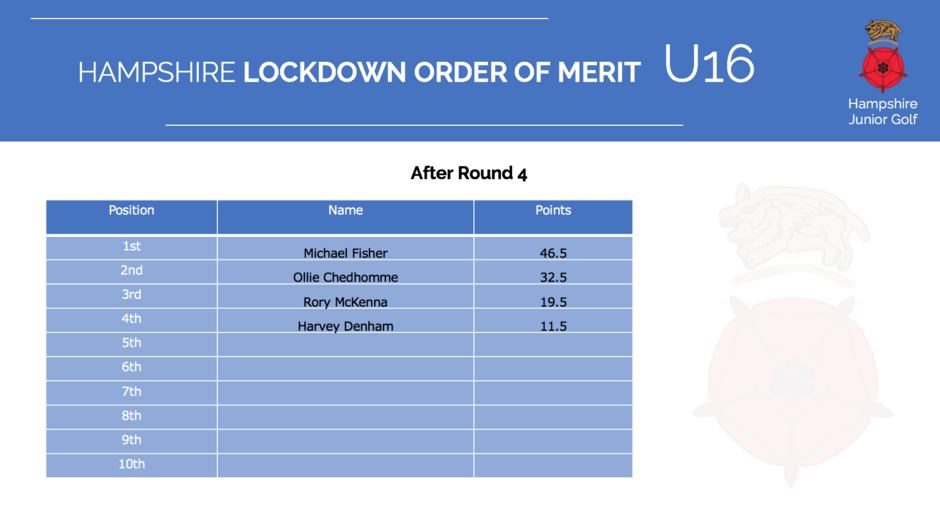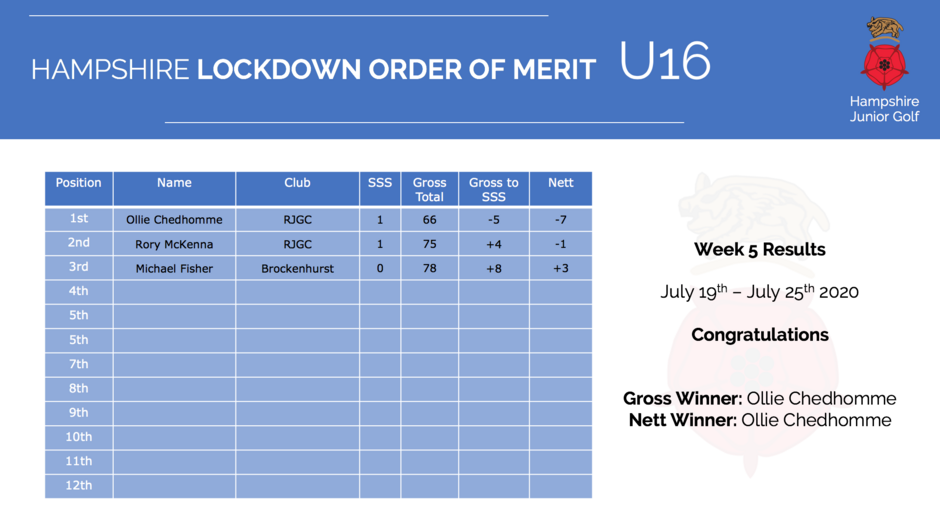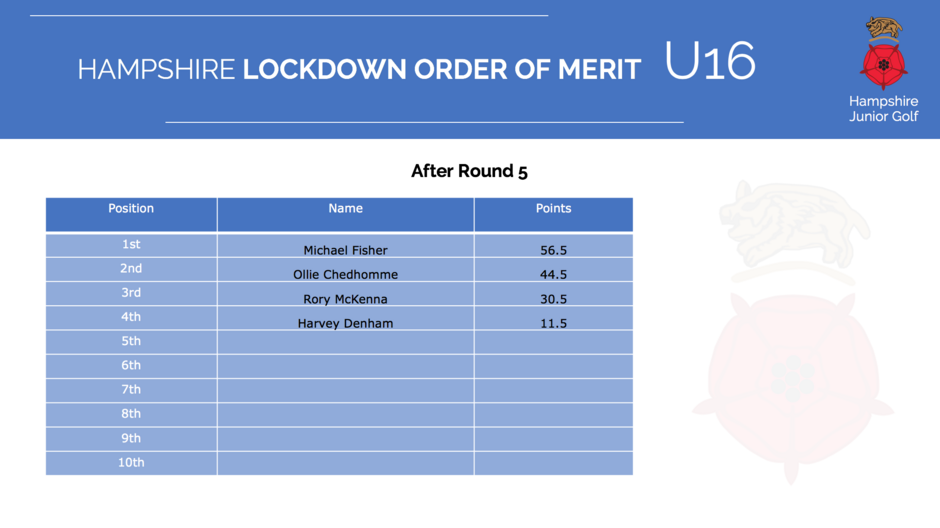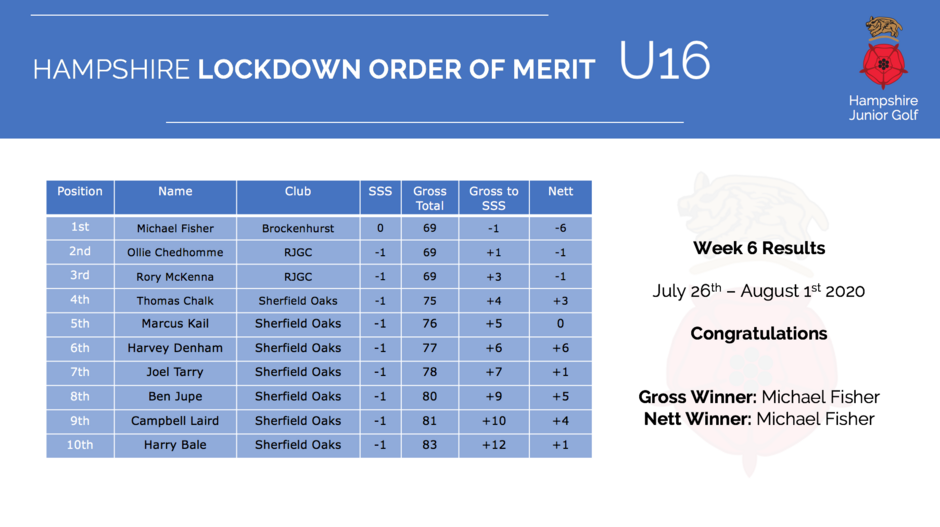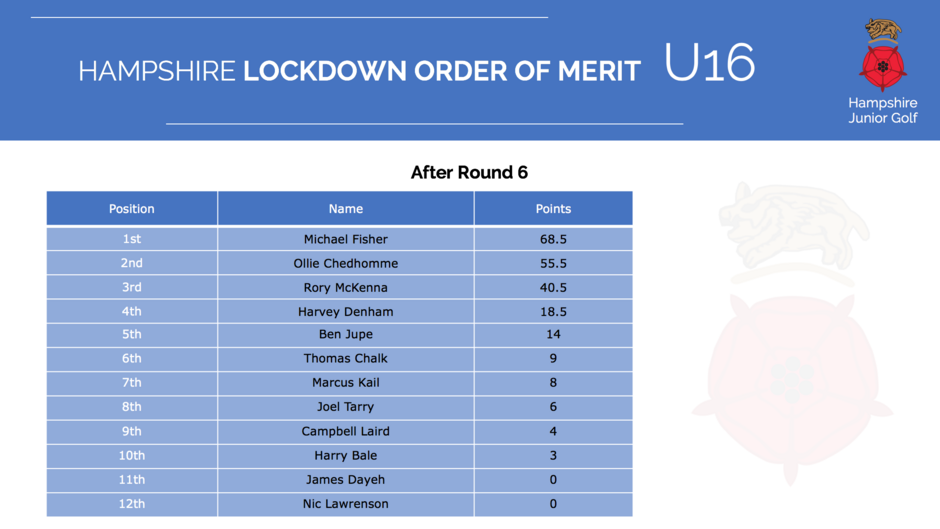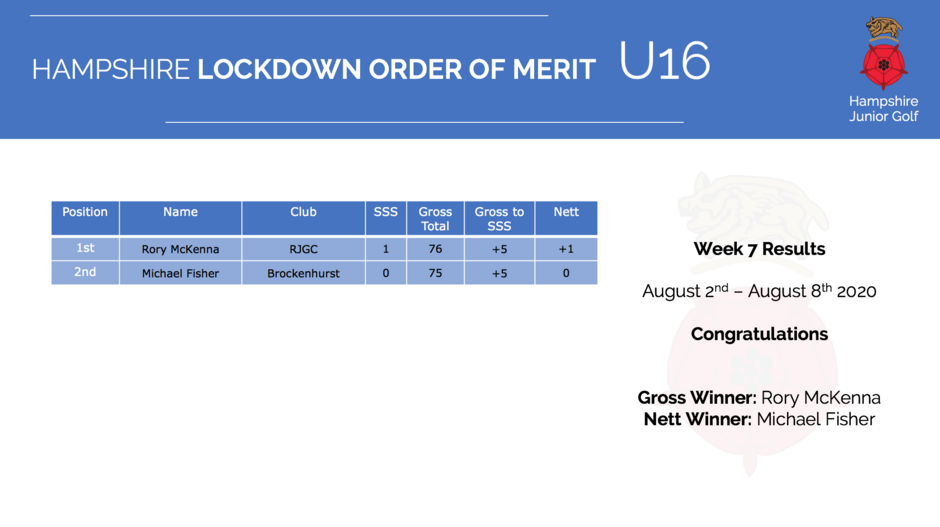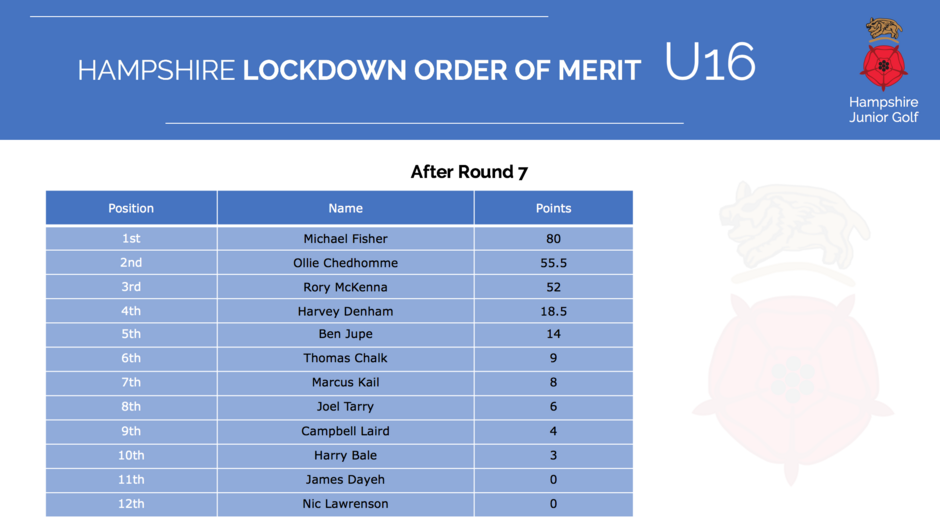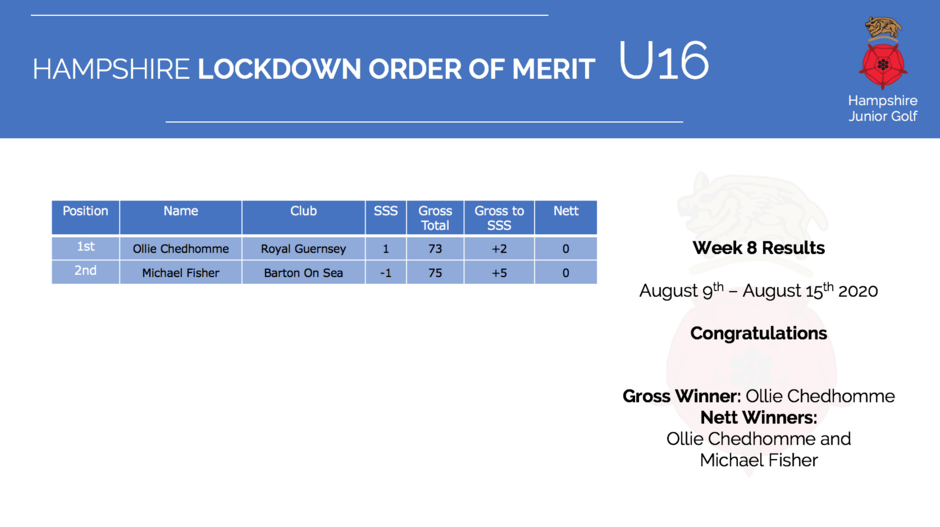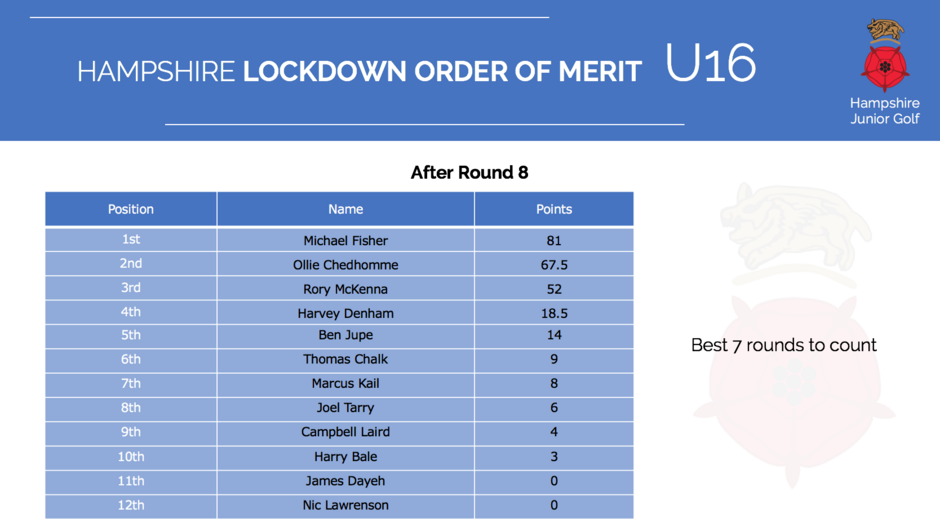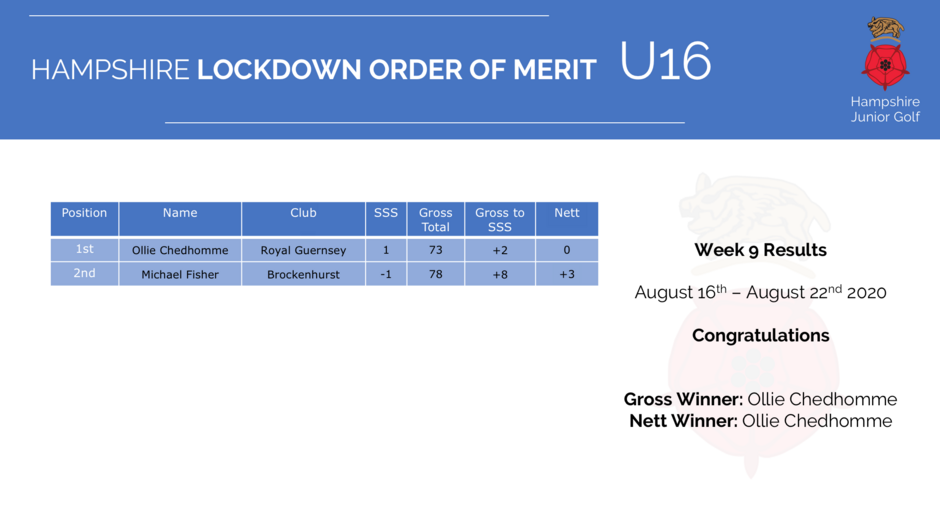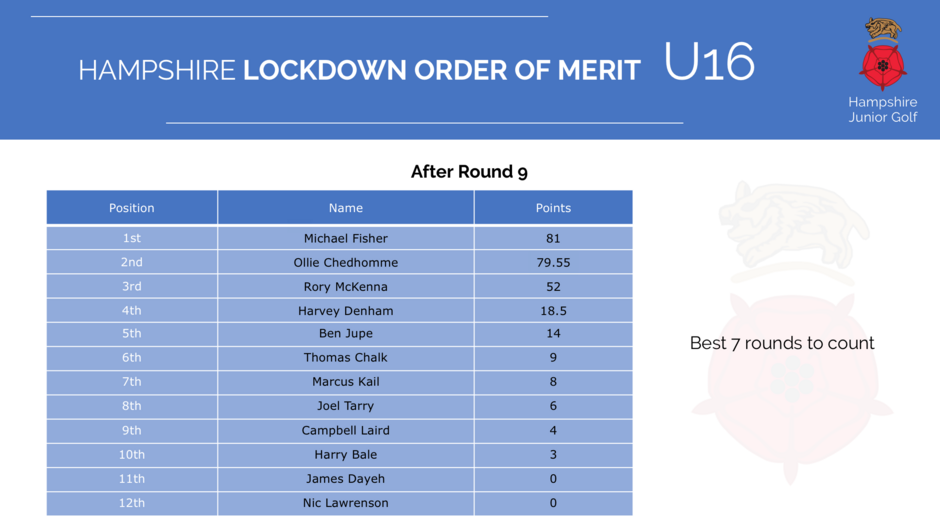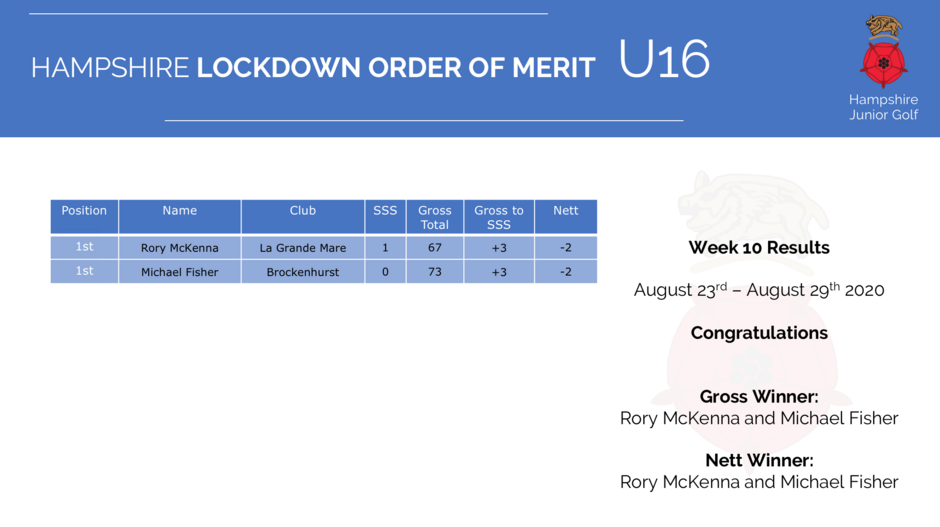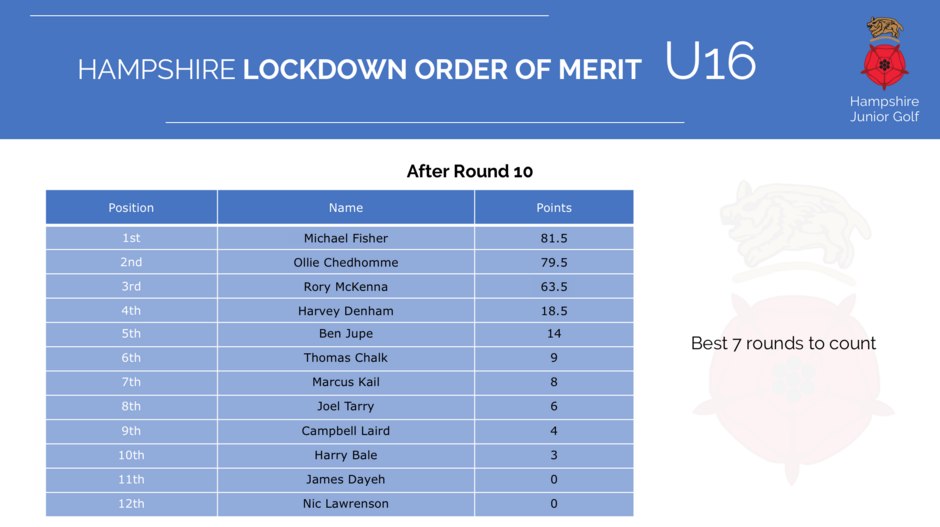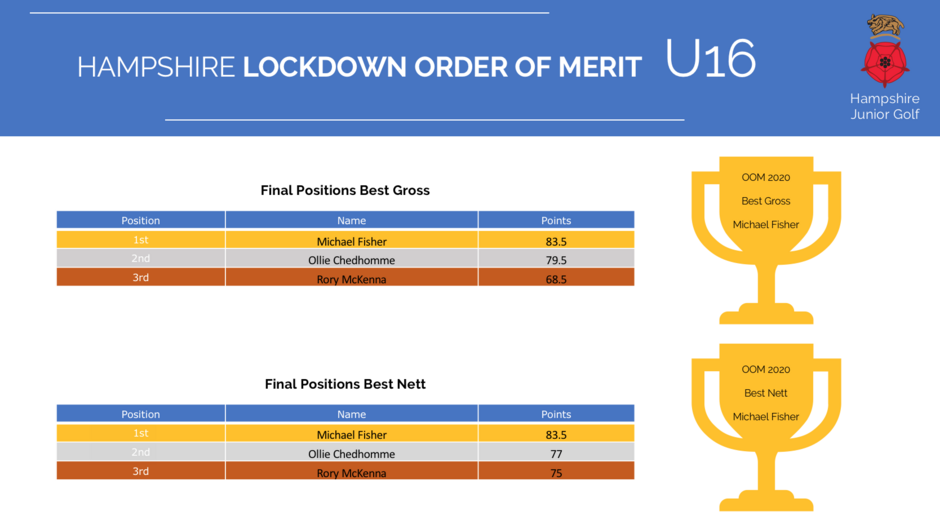 Hartpury College partnership announced!
We're pleased to announce a new partnership with Hartpury College, Gloucester.
The partnership will look to develop with time but create access to the amazing facilities, visits from Hartpury staff to explain pathways and oppourtunties to our squads, matches against some of the best players in the country and sharing of resources.
For more information click on the logo's below:
If you're playing golf competitively or you have the talent and drive to do so, you'll want to join our Golf Academy. Train with specialist PGA-qualified professionals and access state-of-the-art facilities.
You'll learn from some of the best golfing talent at Hartpury. We'll support you to achieve excellence in your academic studies and your golf. Our students often represent their country and many of our graduates go on to achieve scholarships in America.
Our staff are among the best in their respective fields. They've competed or worked at professional levels. You'll enjoy access to a PGA professional technical coach, as well as a putting expert to improve your short game. A sports psychologist will improve your mental strength for the competitive world of golf, while our biomechanist is on hand to help improve your swing.
You'll also benefit from access to our performance services. Strength and conditioning coaches, physiotherapists, and nutritionists to lifestyle management and game analysis will keep you performing at your peak.
We design your timetable with you in mind, meaning you'll get the best from your qualification and your training. As well as weekly sessions from dedicated coaches, you'll have opportunities to compete at your level of university sport. The Intercollegiate Tour (ICT) and the AoC Sport Championship Tour are your chance to compete at some of the UK's top courses.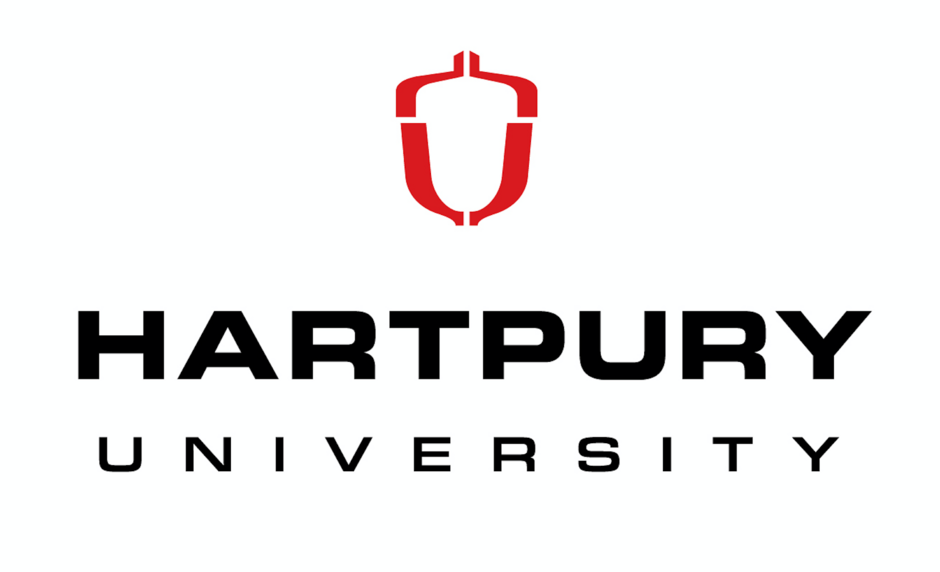 Hampshire Boys versus Hampshire Girls match announced!
A combination of Hampshire U14 and U16 squads are set to play Hampshire Girls in a match at Royal Winchester on 29th March 2020. A first for Hampshire will see some of the best players in the county compete against each other round the fantastic Royal Winchester Golf Club. Huge thanks go to all at Royal Winchester for supporting the match and we look forward to a great days golf.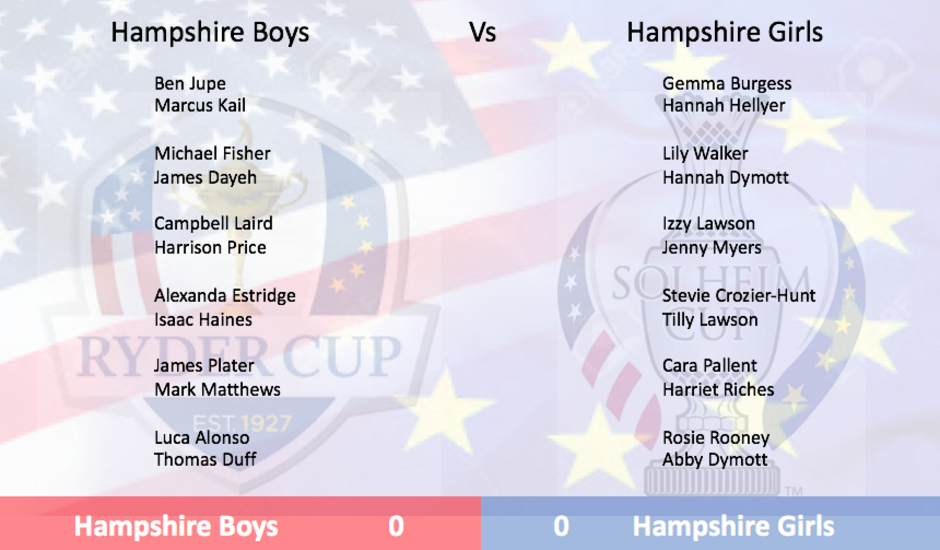 Unfortunatly this fantastic fixture was postponed due to the COVID-19 lockdown but is something we look forward to re-arranging when we're able to do so.
England Golf Pathway
If you ever wondered what the pathway is to the very top of the game (Professional/Olympic Level) heres how to get there: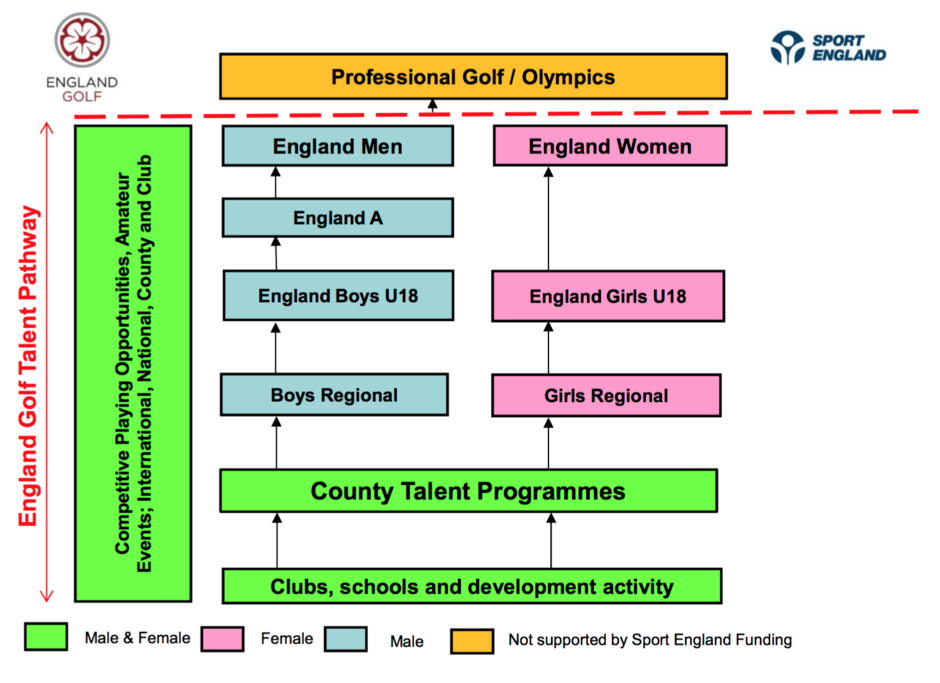 2019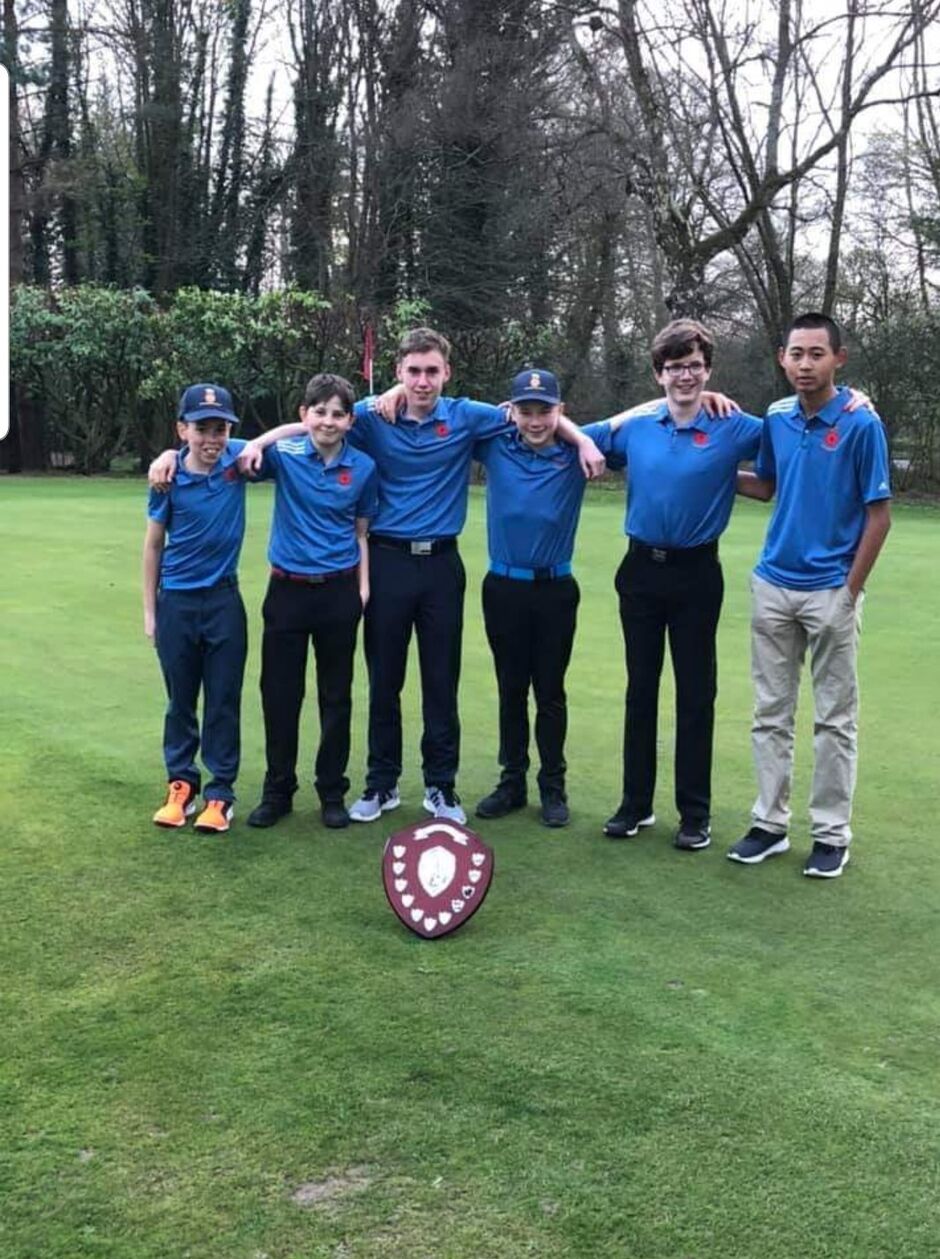 Hampshire U15 Triangle Shield winners
2018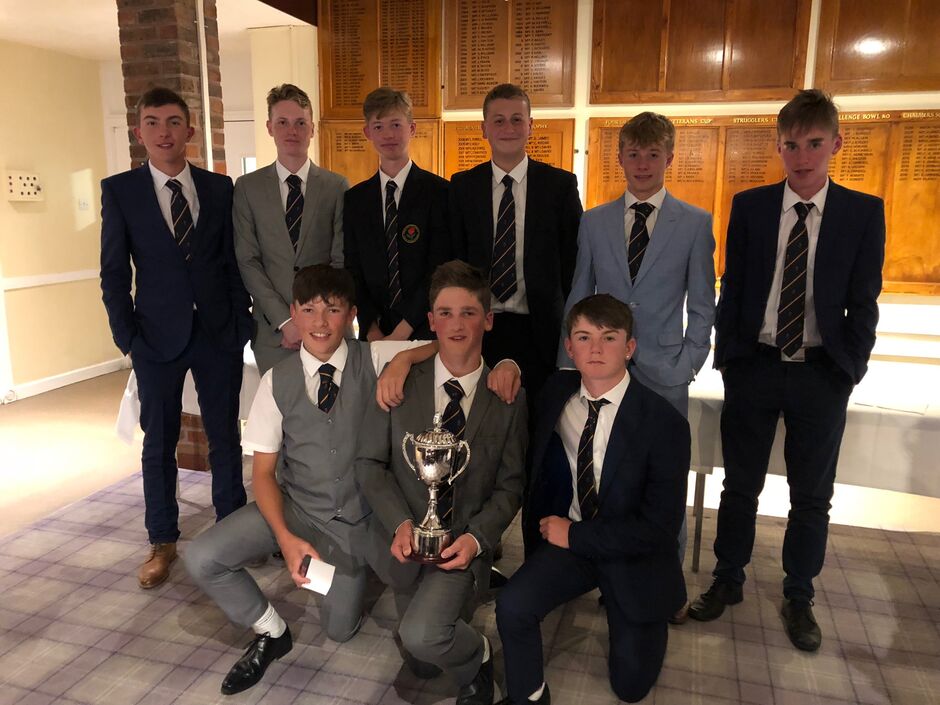 Under 16s win 2018 South-East League Final
Andrew Griffin reports...
HAMPSHIRE U16s were inspired by Europe's heroics in the Ryder Cup as they went out at the same time as the Sunday singles in Paris to win the South East League for the very first time.
Hampshire beat the East Division winners Suffolk 7-1 but Hertfordshire were much tougher opposition.
The North Division winners held Hampshire to a 4-4 draw giving Manager Wayne Matthews' 'men' victory, after Hertfordshire beat Suffolk 6-2, crucially one less game point than the new champions.
The victory also denied Hertfordshire an U16s and U18s South East League double.
Starring for the team were Meon Valley's Nick Matthews, who has also been a member of the Hampshire U18 team this summer, and Hayling's Jame Hellyer, who won his match against Hertfordshire 6&5.
Three of the team will graduate together into the U18s squad for next season to join Matthews and Liphook's English Schools South West Champion Sam West, who claimed the crucial point to take the title with a 3&2 victory in the bottom match against Herts.
South Winchester's Josh Mulcahy was beaten early in the fifth match only for Hellyer to level to make it 1-1 almost immediately by winning on the 13th.
But the top four matches were all tight affairs with every one reaching the 17th.
Freeman, at the top of the order, won on the last and Bramshaw's Joe Buenfeld claimed the 17th to go three up to make it 3-1 to Hampshire.
But Hockley's Tom Chalk and Matthews were both beaten 2&1 as Hertfordshire levelled up the scores only for Barton-on-Sea's Josh Caffyn to also lose 2&1.
It was left to West to ensure history was made by Hampshire.
Hampshire claimed the South Division title – also for the very first time – by beating Kent and Sussex at Royal Ashdown in the final league match of the season earlier in September, to qualify for the final at the end of the month.
Despite Sussex having home advantage Mulcahy watched his team inflict a 51/2-21/2 victory over the hosts in the triangular match, while recording a 5-3 win over Kent to claim their first silverware of the season.
Stoneham's Hampshire Junior Champion James Freeman picked up maximum points along with West to ensure Hampshire reached the final.
Assistant Manager Rob Mulcahy was delighted "Our U16 team have been together for a number of years and the bond and team spirit and belief wins you matches.
"The boys had been watching the first two days of the Ryder Cup and just wanted to get out there and emulate their heroes.
"Having a Hampshire legend like Justin Rose starring in the Ryder Cup is a massive inspiration for all our players.
"After all, he played in the same events as they do when he was a boy.
"The boys are a credit to their clubs and parents, as well as the county, and for the juniors in our U10s, U12s and U14s to now look up to."
Hampshire won four of their six U16 matches this summer, drawing the other two to go unbeaten and picked up 28 points out a possible 48.
Their progress will raise Hampshire's hopes of reaching the 2019 English Boys Finals for the first time since 2015.
The U18s qualified as South East Champions three times in four years from 2012 – when future British Amateur Champions Harry Ellis and Scott Gregory were in the squad along with Walker Cup team-mate Jack Signh-Brar.
Corhampton's Jamie Markwick, who became just the second Hampshire player to win the South East Junior Championship at Moor Park, in July, still has one more season in the junior ranks.
After the U18s could not cash in home advantage when hosting the South East Boys Qualifier at Blackmoor back in July, Hampshire's junior team managers cannot wait for next season.
Team: James Freeman (Stoneham), Joe Buenfeld (Bramshaw), Tom Chalk (Hockley), Nick Matthews (Meon Valley), Josh Mulcahy (South Winchester), James Hellyer (Hayling), Josh Caffyn (Barton-on-Sea) and Sam West (Liphook).
ANDREW GRIFFIN
Golf Writer, Media and PR Consultant
Mob 07773 848832
Twitter @griffinongolf